"The inspiration for this dish was the classic steak tartare that you can find in so many restaurants all over the city and across the country," says Jeremy Bearman, Executive Chef of NYC's Michelin-starred Rouge Tomate. "I wanted to replicate the flavors and textures that make this classic dish what it is, but I wanted to do so using a vegetable. The dish is made with so many strongly flavored ingredients — mustard, house-made ketchup, Tabasco and Worcestershire — that the meat primarily contributes texture. We needed to find a vegetable that could fill its shoes."
And so began the search. The dish was originally offered as eggplant tartare, but the restaurant had to scramble to find a new star at the end of summer. Enter the humble mushroom. "The texture of mushrooms when cooked can often be very 'meaty,' so we decided to try it with portobellos," explains Bearman, whose diners enjoy this new preparation as much as the last one. The full dish breakdown, below.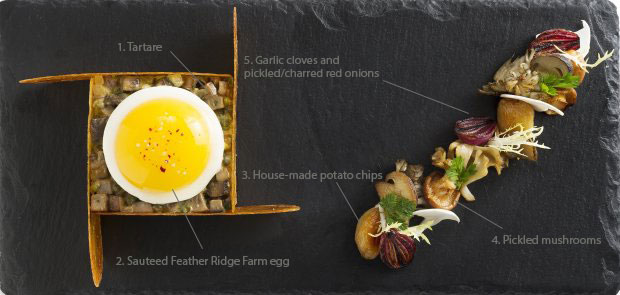 Tartare | "Portobello mushrooms are diced and then quickly sautéed and cooled. They are mixed with capers, parsley, house-made ketchup, mustard, egg yolk, olive oil, Tabasco, Worcestershire sauce and Spanish onion."
Sauteed Feather Ridge Farm Egg | "It's served runny on top of the tartare, sprinkled with piment de espelette. It adds a bit of richness to the dish."
House-made potato chips | "They are inlaid with tarragon and made from Idaho potatoes baked on silt pads with olive oil and sea salt. Of course, they add a nice crunch, but they also contribute a unique look."
Pickled mushrooms | "Chanterelles, porcini and hen of the woods mushrooms are pickled with Banyuls [fortified wine] vinegar."
Slow roasted garlic cloves and pickled/charred red pearl onions | "The onions and pickled mushrooms add a nice refreshing reprise from the tartare, as long as you eat them along with the garlic."
Check out more plate deconstructions on Food Republic: