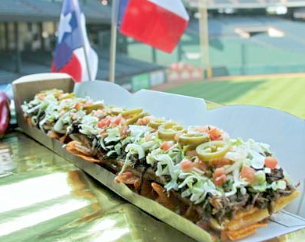 When I think of the words "spring" and "farm system" I know we're talking about either baseball or cheese. Either way, spring is an incredible time for both of my favorite pastimes. Baseball players surface from hibernation to work off their beer bellies and get back in shape, fields are meticulously tended to as maintenance crews work to sow their life back and the 162-game season commences.
Springtime on a farm is a much cuter visual. Picture baby lambs and goats taking their first wobbly steps while their moms feast on the rich, nutritious spring grass that produces the best milk for cheese.
While the winter months are known for hard, aged cheeses that can survive the cold without freezing entirely, spring sunshine stimulates homesteads all over the Northern hemisphere. Spring cheese offers delicate, mild, floral, and herbal flavors that can only be found during this prized season. Yes, spring is cheese season.
And meanwhile, back at the stadiums, chefs are concocting culinary home runs that keep ballpark food aficionados coming back year after year. Here are five cheesy ballpark creations to seek out this year that put the stadium dog to total shame.
Indulge in Buffalo chicken mac 'n cheese at Minnesota Twins Target Field. Classic elbow mac sports a blanket of creamy sharp cheddar and pepper jack and gets topped off with spicy Buffalo chicken chunks and bleu cheese crumbles for the perfect sporting event feast. Cut the richness with a local Summit extra-pale ale or Surley Furious IPA — Minnesota's craft brewing game is truly on point.
U.S. Cellular Field, home of the Chicago White Sox, serves up elote, grilled corn on the cob slathered with salted butter, lime, chili powder and fresh crumbly cotija cheese. While the traditional Mexican street food is not hard to recreate at home, there's something about chowing down on one of these at the stadium that makes it so much more satisfying. Insider tip: they'll take it off the cob for you for more convenient chowing if you ask.
Safeco Field, home of the Seattle Mariners, slings poutine topped with braised pork shoulder, rich pork gravy and plenty of Beecher's cheese curds. Beecher's Cheese Shop has been a Seattle favorite for over a decade, offering an impressive selection of artisan cheeses, and their salty, squeaky curds are a cult favorite. You will not want a hot dog after a hefty serving of this stuff. You will want another hefty serving of this stuff.
Vegetarian baseball fans (yes, they do exist) will be happy to nosh at Denver's Coors Field, where if they haven't ruined their appetites with those vegan Rocky Mountain oysters (no, those don't exist), they can fill up on an excellent roasted mushroom strudel stuffed with tangy goat cheese that melts and oozes like any good stadium snack should. If you're more of a flexitarian/total carnivore, try the Rocky Mountain oysters.
I had to save the best for last. The Texas Rangers Ballpark in Arlington, where "everything bigger"-style stadium food reigns supreme at the Texas Sized 24 stand. While their half-pound bacon cheeseburger on a pretzel bun the circumference of a dinner plate certainly appeals, the "Murph-A-Dilla" is a 24-inch long cheddar cheese quesadilla topped with braised brisket, shredded iceberg, pico de gallo, nacho cheese and pickled jalapeños…wait for it…served on a bed of Doritos. Be still my heart. Literally.
More Cheese Diaries on Food Republic: