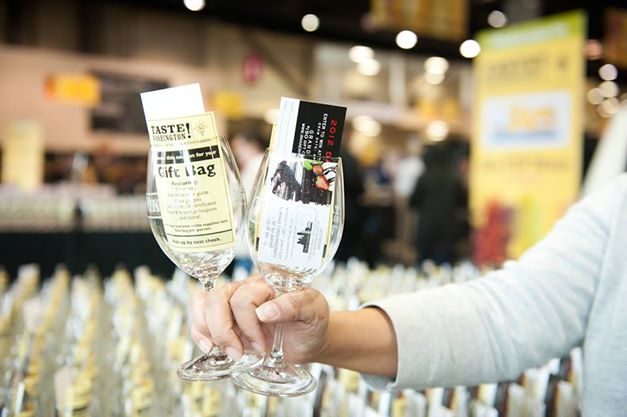 This week, the NYC Hot Sauce Expo is getting a jump on spring by turning up the heat with hot pepper-infused pizza and knish-eating contests, while Seattle's Penumbra Beer Bash holds onto the last vestiges of winter with an underground party featuring local bands and craft brews. See whether the food or wine guys have more pairing game at Taste Washington's "Chef vs. Somm Smackdown" and enjoy the sights and flavors of Taste of Vail. Plus, Jersey City's Zeppelin Hall turns all your fried pork fantasies into realities with their bacon-centric menu.
NYC Hot Sauce Expo
New York, NY
March 29-30
It may not be summer yet, but there's a serious heat wave coming to the city. Held at the Penn Plaza Pavilion, the NYC Hot Sauce Expo, presented by Sweet Heat Gourmet, will host a series of contests that will test your threshold for spice. Kick off with Defcon Sauce's chicken wing-eating contest and keep it hot with I Love It Spicy and Volcanic Peppers' spicy pizza-eating contest. Sunday features a spicy knish-eating contest, a Bloody Mary mixdown championship and culminates in a chance to get into the Guinness Book with Puckerbutt Pepper Company's Reaper pepper-eating contest. We'll be there. At the expo, not participating in contests.
Taste Washington
Seattle, WA
March 29-30
Book a ticket to Taste Washington in Seattle, and attend the largest single-region wine event in the nation, packed with the state's top winemakers and chefs. The festival hosts 200 wineries and more than 60 restaurants and food vendors including Dante's Inferno Dogs (but what do we pair with those?) Stick around for seminars and discussions: discuss vine age with the pros at "An Old Vine's Tale," then experience chefs and sommeliers pitting their wine pairing skills against one another in the "Chef vs. Somm Smackdown."
Zeppelin Hall Bacon Festival
Jersey City, NJ
March 20-April 1
Through April 1, Zeppelin Hall Restaurant and Biergarten in Jersey City is sporting a menu loaded with thirteen different bacon-centric dishes. Dishes range from the Fifty Shades of Bacon BLT, to Double Smoked Bacon Mac and Cheese to The Baconpop, a honey-cured bacon lollipop encased in caramel and apple-cider coating. Guests can also enjoy bottomless bacon strips at the bar from 4-7 daily, as bacon pairs extremely well with any number of Zeppelin Hall's 144 craft brews. If you need any more convincing, indulge in some mouthwatering visuals here.
Penumbra Beer Bash
Seattle, WA
March 29
Held at underground event space King's Hall, the Penumbra Beer Bash features seven musical acts including Olympia-base pop-grunge band Broken Water and DJ sets by Peel Slowly. Guests can choose from twenty-six craft brews from local breweries, plus CommuniTea Kombucha and Finnriver Saffron Botanical Cider. Don't miss the Randall Competition in which eleven breweries will infuse their beers with unique ingredients to be judged by VIP ticket holders.
Taste of Vail
Vail, CO
April 2-5
Taste of Vail is one of the nation's premier food and wine festivals, featuring excellent cuisine from renowned venues throughout the resort town. The celebration kicks off with the Debut of Rosé Event, where blush wine season officially begins. At the Beer vs. Wine Smackdown between La Tour and Flame restaurants, Four Seasons Executive Chef Jason Harrison and La Tour Executive Chef Paul Ferzacca will go head-to-head, creating menus from mystery ingredients while "Beer Boss" Steven Teaver of Flame and "Wino" Paul DiMario of La Tour compete in selecting the best pairings. Attend a seminar on extra-virgin olive oil varietals and a mountaintop picnic, where guests travel by gondola to the top of Vail Mountain to enjoy a feast prepared by Vail Valley chefs.
Upcoming:
Vin Diego Wine & Food Festival
San Diego, CA
April 4-5
The 2nd annual VinDiego will bring winemakers from all across the West Coast to San Diego to showcase over 200 handcrafted wines. Grab a glass and sample wines from favorites like Ahnfeld and Sokol Blosser. And because every wine festival is better when paired with good food and music, enjoy gourmet meals from top San Diego restaurants like Mimi's Café and Royal India and a steady stream of live music.
Smorgasburg
Brooklyn, NY
April 5
New York's favorite waterfront weekend food festival comes back to Brooklyn April 5. You may remember Smorgasburg as the place where you had your first ramen burger, but with 100+ vendors to sample from, there's always something new to try — sticky rice snacks from Bamboo Bites, schnitzel sandwiches from Schnitz and barbecue from Mighty Quinn's to name a few. Make sure to get the venue straight: the festival is held in Williamsburg on Saturdays and Brooklyn Bridge Park on Sundays. And if you're rusty on sampling etiquette, make sure to brush up before you go.
Houston Press Menu of Menus Extravaganza
Houston, TX
April 8
Stella Artois is joining Houston Press to host one of Houston's biggest food events featuring over 40 local restaurants and beer, wine and spirit stations. Sample food from Houston favorites, including Danton's Gulf Coast Seafood Kitchen and Fluff Bake Bar. And at this year's third annual Iron Fork Competition, returning champion Kevin Naderi of Roost will pit his talents against challenger Kevin Byrant of Eleven XI Restaurant to create a series of dishes from a basket of secret ingredients.
Pebble Beach Food & Wine
Pebble Beach, CA
April 10-13
The seventh annual Pebble Beach Food & Wine festival packs 100 chefs, 200 wines and over 50 events into just four days. Tee up at the celebrity chef and winemaker golf tournament (with supplemental wine and beverage stations, of course), then attend cooking demos with Carla Hall, Tyler Florence and Andrew Zimmern. Plus, at the Junk Food and Wine Seminar, Anthony Giglio will teach you which wine to pair with your favorite snack-in-a-crinkly-bag.
French Quarter Festival
New Orleans, LA
April 10-13
The 31st annual French Quarter Festival was created to bring the community together in the French Quarter to celebrate its iconic food and drink culture. The festival kicks off with the Opening Day Gala at Antoine's Restaurant where guests can enjoy an open bar courtesy of Abita Brewing Company and dance to jazz tunes from the New Orleans Moonshiners Trio. The festivities continue all weekend with jitterbug dance lessons, a crawfish eating contest and more.