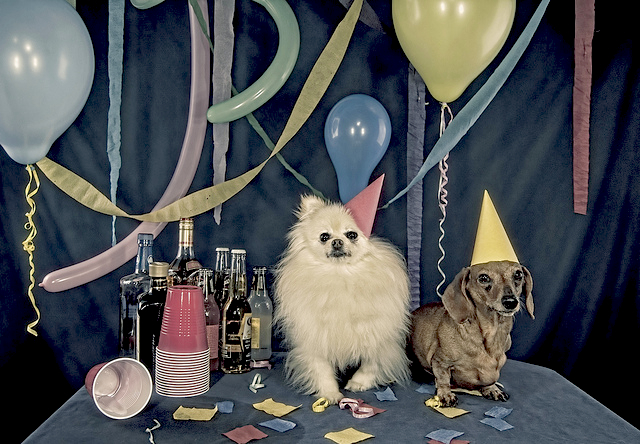 Celebrity endorsements are nothing new. Charlton Heston shilled for clothing brand Van Heusen over 60 years ago and the first baseball cards were really just tobacco ads. In the past 20 years, though, the endorsements have morphed into creating and distributing actual products, from a KISS-branded coffin to George Foreman's eponymous (and ubiquitous) grills.
One of the most visible categories of celebrity products is liquor. It's an easy pitch. "Hey (celebrity), do you want to put your name on our (liquor)? You'll get a swimming pool full of cash and all the booze you can stomach." Which is why you see this celebrity swill all over the place. Diddy has Ciroc. Sammy Hagar has Cabo Wabo. Danny DeVito famously flamed out while pitching his limoncello. Now, I'm a man of big dreams and one of those dreams is that every C-list celeb in the world would get their own liquor brand to push. It would be so glorious to offer guests a glass of Craig Ferguson's Scottish Scotch or Charlie Sheen's #WinningSangria. Of all of my terrible celebri-slop brainstorms, though, these are my top eight:
The Ying Yang Twins' The Pinot Twins
The Pitch: What's better than one pinot? Two! You'll be shakin' it like a salt shaker as you get low with this urban blend of pinot noir and pinot gris grown on the exclusive Ying Yang Twinyard on the roof of the Lennox Hill Mall.
Bruce Jenner's Unisex Grappa
The Pitch: Looking for an after-dinner digestif that goes with asexual long-flowing locks? Look no further than Bruce Jenner's Unisex Grappa. With an Olympian pedigree and a penchant for screentime, this grappa will haunt you for days as you constantly look into any available mirror and ask 'how did this happen to me?'
Missy Elliott's Supa Dupa Fly Mezcal
The Pitch: Make your order from South of the border and after two shots, you'll be putting your thang down, flipping it AND reversing it with the newest hip-hop mezcal to hit the market. Join Missy Elliott as the smoky brother to tequila becomes the sister's favorite mister!
Renee Zellweger's Bridget Jones Wine for Single Ladies
The Pitch: Say goodbye to Cupid with this exclusive new Wine for Single Ladies from the patron saint of singledom, Bridget Jones herself. You won't be writing any diaries after taking down this smooth moscato, and tell Mr. Darcy to get his own because this bottle was made for one!
William Shatner's Boston Legal Clam Chowder Vodka
The Pitch: This savory spirit gives a shout-out to Shatner as Denny Crane on the former hit Boston Legal with a clam chowder-flavored vodka that hits just the right balance of clam and chowder. As an added bonus, each bottle comes with a personal package of Shatner-recipe oyster crackers. One sip and you'll be cursing in a Boston accent!
The Situation's DTF* (Down to Fizz)
The Pitch: Get your fists pumping, bro, because Mike "The Situation" Sorrentino is back on the scene with the only carbonated vodka endorsed by the majority of the cast of Jersey Shore, seasons 1-3. Drink it while you gym! Drink it while you tan! Drink it while you laundry! You can even use it to give your penne vodka a fizzy boost! Shorelife 4eva, bro!"
*comes with free action figure
Terrell Owens' T.O.'s O.T. O.J.
The Pitch: Ever wake up in the morning and wish you could feel as good as you did at the club last night? Try Terrell Owens' Overtime Orange Juice (T.O.'s O.T. O.J.)! It's the alcoholic orange juice that will get you to the end zone in style! Great with pancakes! Amazing with bacon! Not so great with yogurt parfaits! [Note: please keep away from children]
Nancy Grace's Gracenote Pruno
The Pitch: Who better than legal crusader and professional make-up wearer Nancy Grace to introduce pruno to the American public at large? A staple in prisons all over this great nation, pruno is the affectionate name for prison wine (made in real American prison toilets) and now regular non-criminals will get to experience the joy with Gracenote Pruno, the official pruno of false accusations.
More of The Kessler Report on Food Republic: