8 Bottled Small-Batch Syrups, Bitters And Shrubs Worth Adding To Your Drink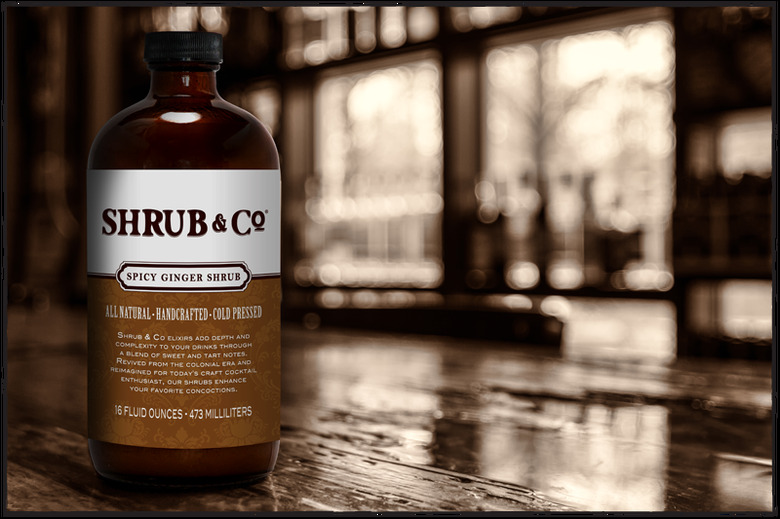 What a waste it would be if all those painstakingly made craft-distilled spirits were sullied with impure ingredients. While from-scratch syrups, bitters and shrubs are de rigueur for today's thoughtful bartender, sometimes the only convenient solution is the stuff that comes out of a bottle. When that need arises, luckily the options are increasingly growing stellar in quality, incorporating fresh, natural, organic ingredients. Get to know the craftsmen behind a few impressive small-batch brands.
Related: How To Make Your Own Maple-Walnut Bitters
Wilks and Wilson
History is the incentive behind Wilks and Wilson. Helmed by Zacahari Wilks and Gregory Wilson, the Indianapolis-based company creates syrups like the Mai Tai-perfect Adelaide's Orgeat, flavored with rosewater; Geraldine's Grenadine made with real pomegranate; and Millicent's Lime Mint Simple, a zesty complement to mojitos. Soon, the duo will debut a pineapple gomme and passionfruit elixir. wilksandwilson.com
Jo Snow Syrups
Melissa Yen first started making syrups to lace coffee drinks. Then the Chicago entrepreneur began tinkering with options for booze, like the whiskey-friendly fig vanilla black pepper made with organic cane sugar. She brightens sour Berliner Weisse beer with woodruff herb, melds tangerine with lavender and honey, and once strawberries hit the farmers' market, she'll unveil a strawberry-mint balsamic rendition. josnowsyrups.com
P&H Soda Syrup
In his commercial Greenpoint, Brooklyn, kitchen, former chef Anton Nocito makes syrups with ingredients like dried hibiscus leaves spiked with organic ginger and cane sugar that's ideal for margaritas. The savory celery-like lovage, a boon companion to gin, is heightened by the addition of sweet golden raisins. pandhsodaco.com
Royal Rose
Brooklyn is where husband-and-wife team Forrest Butler and Emily Butters first launched Royal Rose Syrups. Now, out of their commercial kitchen in Biddeford, Maine, the couple make global-inspired concoctions in flavors like tamarind and saffron, along with a three-chile version that begs to be paired with tequila. Butler and Butters' lineup will soon include orange-vanilla and masala chai iterations. royalrosesyrups.com
Bittercube
Milwaukee-based Bittercube is the brainchild of talented Midwest barmen Nick Kosevich and Ira Koplowitz. Their range of bitters, which integrates spirits from Yahara Bay Distillers in Madison, includes the Jamaican #2 with grapefruit molasses. That one adds depth to daiquris, but for vibrant Manhattans, try the bottle that pairs wild cherry bark with Madagascar vanilla. bittercube.com
Bittermens
Back when they were living in San Francisco, Avery and Janet Glasser experimented and made Xocolatl Mole Bitters, which have since emerged as an indispensable tool for bartenders. Their floral Burlesque Bitters with hibiscus, acai and long pepper are another hit. The New Orleans-based couple also whip up popular shrubs: a celery-apple-vinegar one and the spicy Hellfire Habanero. bittermens.com
Cecil & Merl
Bryan Calvert and Deborah Williamson, aka Cecil & Merl, are best known for the feathery, loaf-shaped cheesecakes they sell out of Brooklyn restaurant James, in Prospect Heights. But in collaboration with local barkeep Justin Lane Briggs, they've now added cherry bitters to their repertoire. Its sour cherry notes and burst of soft vanilla make for a bright gin rickey. cecilandmerl.com
Shrub & Co.
Shrubs were all the rage during the Colonial era, and now Berkeley-based Shrub & Co. has made the vintage favorite a home bar staple with inventive, cold-pressed recipes devised by a slew of local bartenders. Consider the one that stars spicy ginger, the one with organic ruby red grapefruit from California or the blood orange variety infused with a smack of cardamom. shrubandco.com
Try out these shrub recipes on Food Republic: