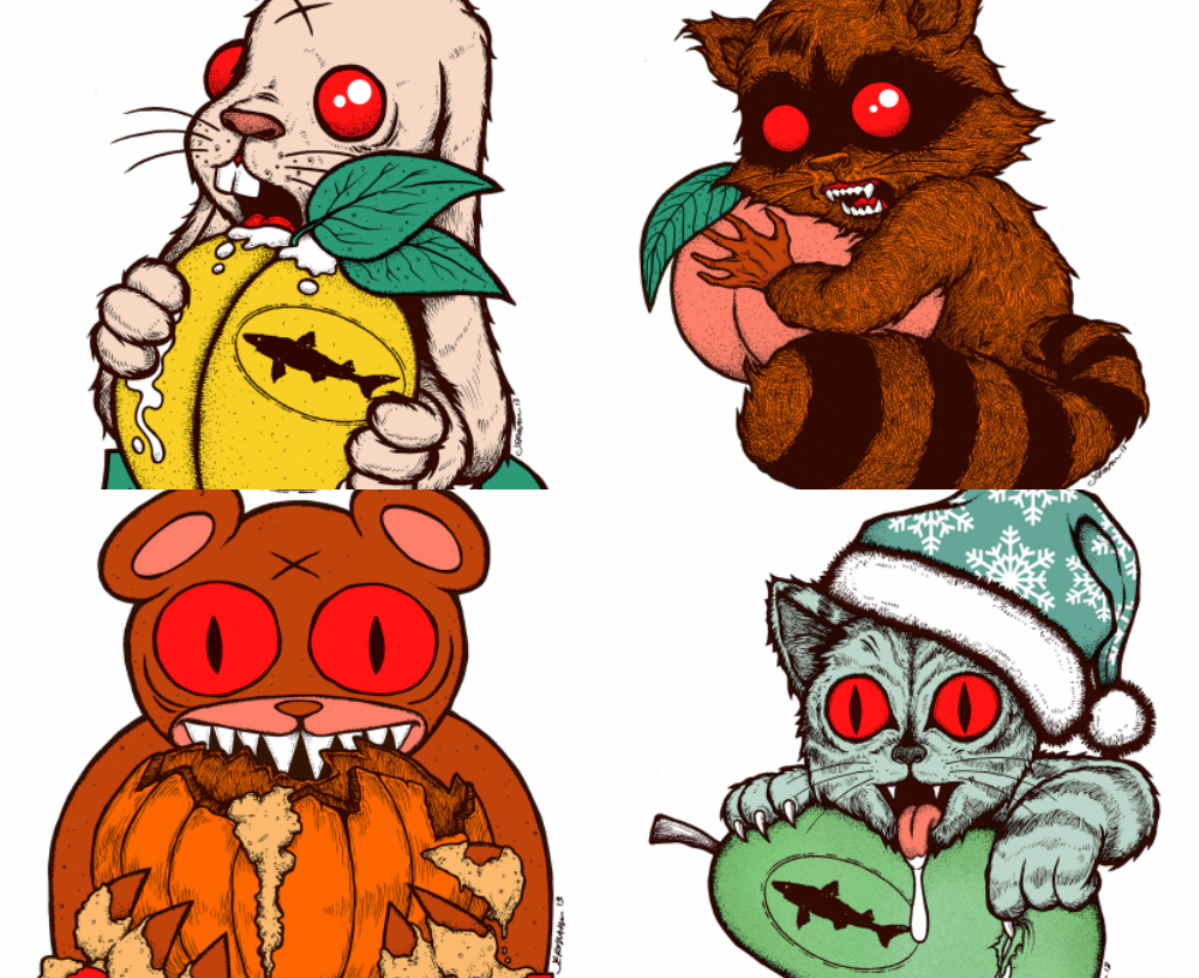 Staying true to its slogan — "Off-centered ales for off-centered people" — Dogfish Head Craft Brewery has never really been one for convention. Just one of the many examples of the brand's outside-the-box philosophy is its annual collaboration with an artist to celebrate its four seasonal beers: Aprihop, Festina Peche, Punkin Ale and Piercing Pils. Last year, Jim Mazza's colorful, trippy illustrations gave a nod to '60s and '70s psychedelia. Up next: artist Jermaine Rogers, best known for his dark, cartoonish animal characters in poster art for musicians and bands running the gamut from SKRILLEX to Radiohead. And as a first for the brand, Rogers' designs will actually adorn the beer labels themselves, instead of just limited-edition prints (those too will be available).
For Aprihop, currently available in stores now, Rogers created a red-eyed rabbit fiendishly clutching an apricot, with a similarly mischievous-looking raccoon on deck for next season's Festina Peche. "The off-centered animals he did for us are perfect," says Dogfish's founding frontman Sam Calagione. "Enticing, a bit intense, wicked and whimsical at the same time. Much like the liquid inside our bottles." Check out more of the images below, along with a Q+A with Rogers on the year-long project.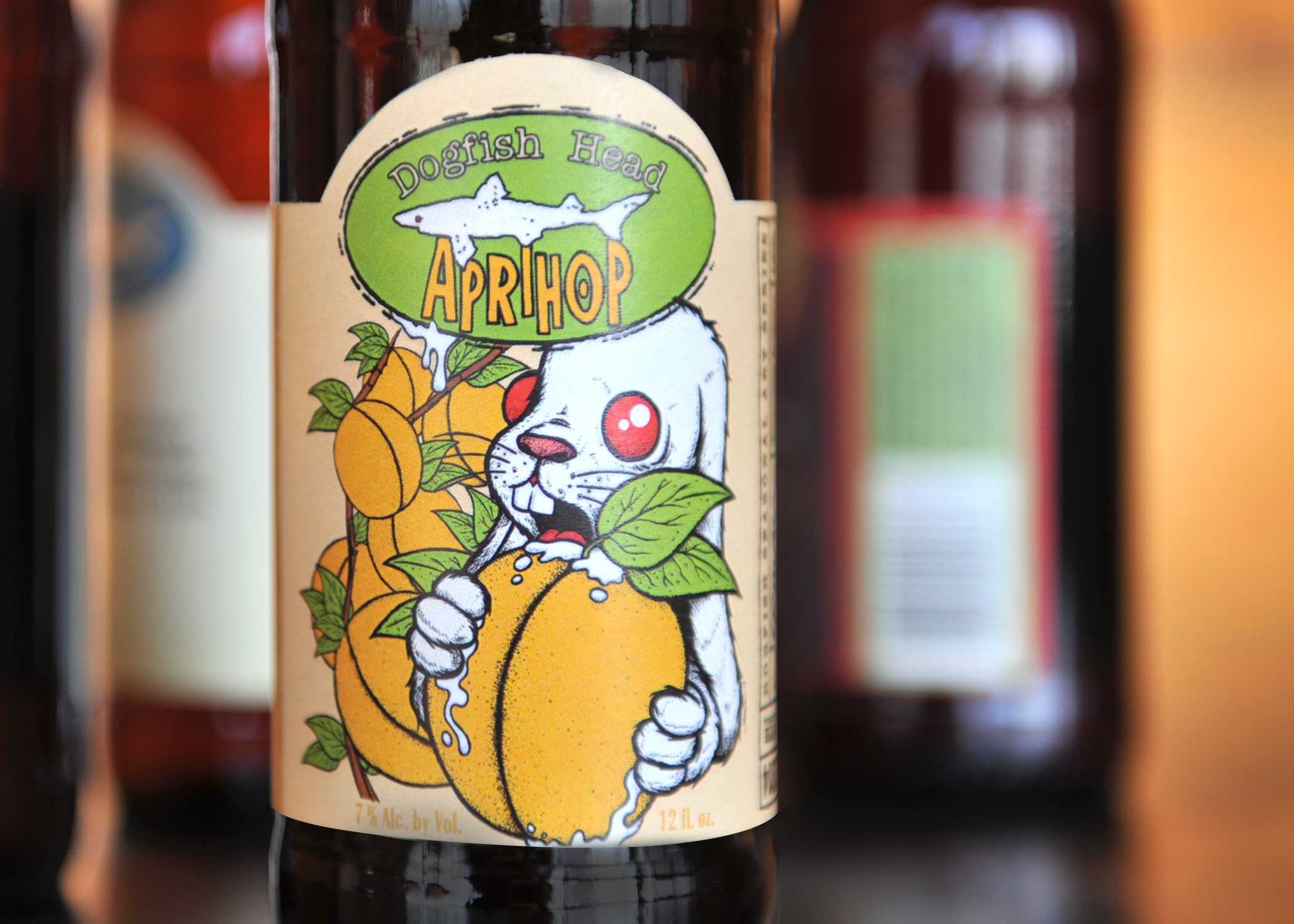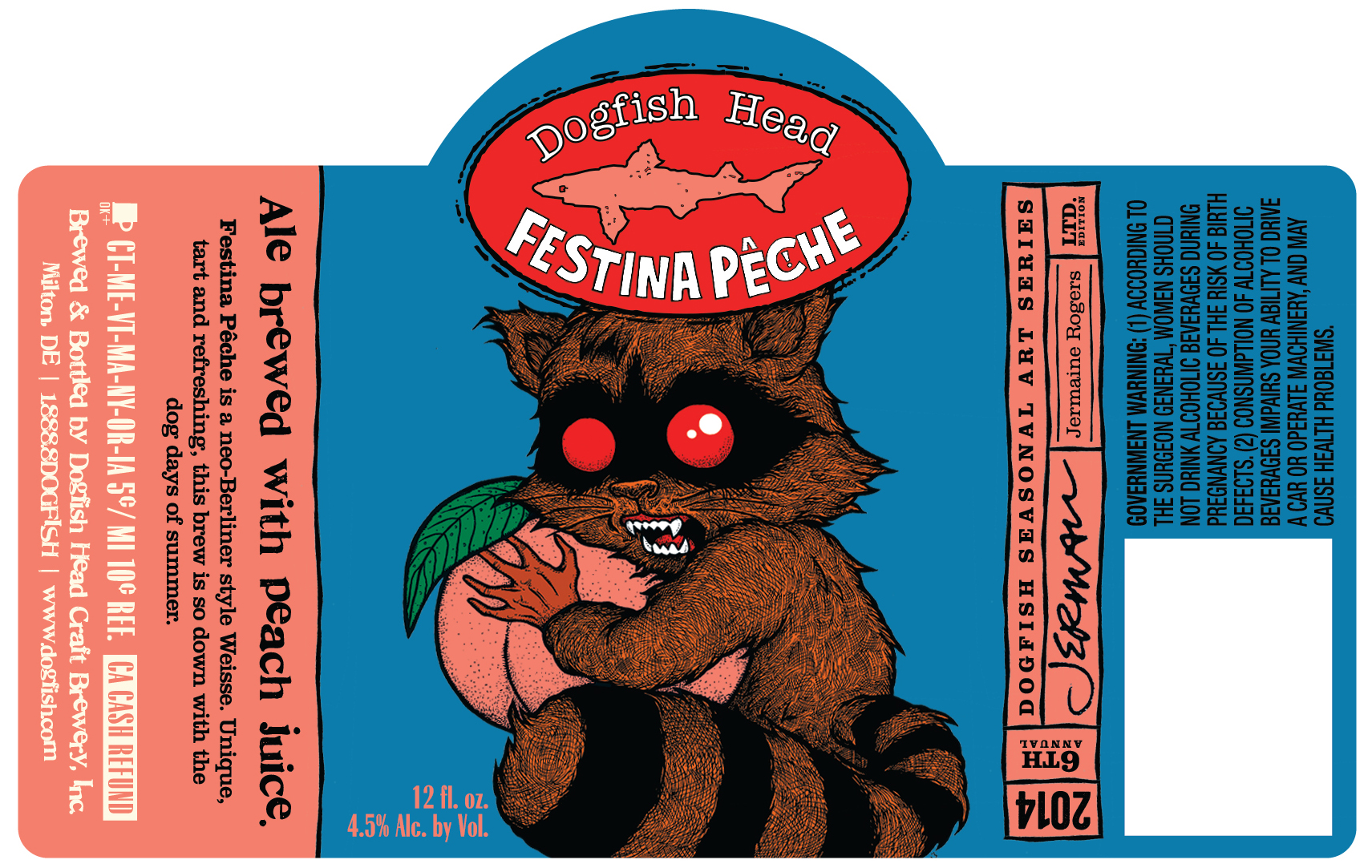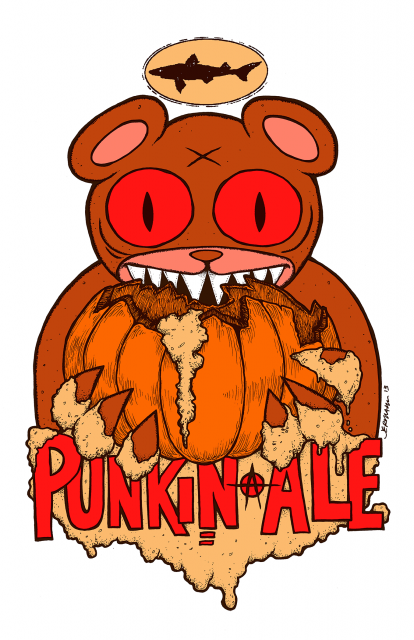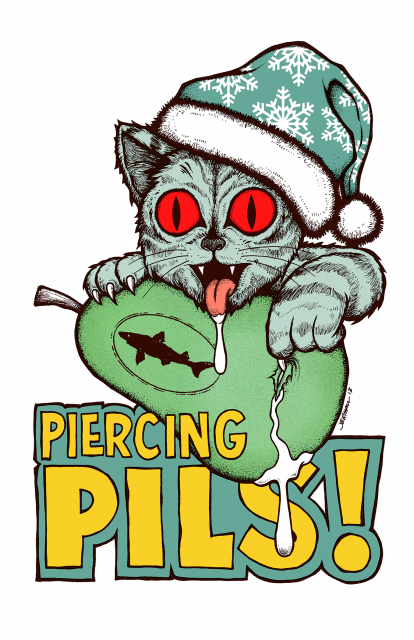 You've worked with several brands before — not just musicians — but is this the first time you've designed a beer label?
That's correct.
When it comes to your poster art, you've said in the past that you have no problem turning down a brand or musician you don't respect. What made you say yes to Dogfish Head for this particular project?
It's a case-by-case basis. I've turned lots of tobacco brands down — it's my own personal thing. Dogfish Head was awesome because I like the beer. That was the number one reason. And I dig the idea of independent anything. I dig that they're not really wired into the machine per se.
Did they give you any kind of direction?
They knew I wasn't going to do anything conservative. They just wanted to reflect that it was off-centered ales for off-centered people and they saw that I did that. They gave me a lot of respect to go where I wanted to go. The revisions process was very minimal.
What were your mediums?
Ink on illustration boards with marker, along with a brush. After it's digitalized, I handle the coloring on the computer.
Of the four seasonal ales, have you tried any?
I've tried the Punkpin and the Aprihop. I kind of like the Aprihop…I'm from Texas and it's not something I was really exposed to when I was younger. It's got punch. It's a really spring-y taste. Strangely enough to me, it goes well with meat — salty meat.
Ok, last question: For the Festina Peche, it looks like that raccoon's clutching an ass…a peach ass. Was that a delibrate "wink" on your part?
If I gave you a definite answer, than I'd be taking away the power of interpretation. But you're not the first one to suggest that.