And now, on to the good stuff: eating shellfish in the months that have an "r." If you can think of a better way to enjoy this prime season than a 3-tiered stand layered with freshly shucked and shelled crustaceans and bivalves, we'd like to hear it. The pride you'll take in sourcing seafood, assembling the tiers and above all, taking pictures of your craftsmanship, beats a seat at the raw bar any day. Hit the fish market, follow our illustrated guide to building the shellfish tower of your dreams and impress a fellow oyster lover.

You'll need:
A 3-tiered serving stand
Crushed ice
Kosher salt
Decorative seaweed (optional, ask your fishmonger)
Whole lemons, plus 2 tablespoons of lemon juice
6 stone crab claws
1 1/2 pounds of shelled, deveined jumbo shrimp (about 20)
A dozen each: oysters and Littleneck or Cherrystone clams, scrubbed
Assorted accoutrements like mignonette, cocktail sauce and clarified butter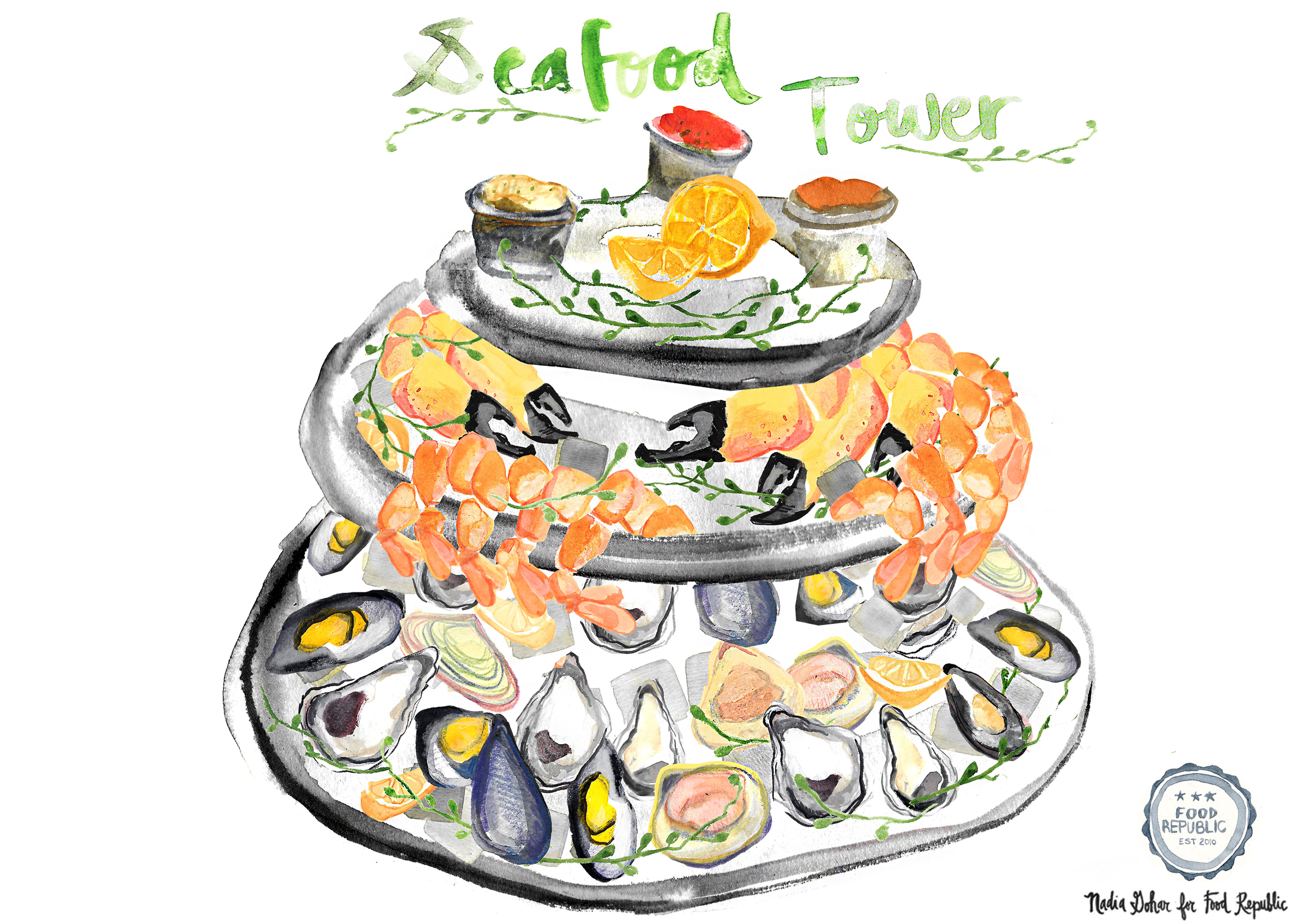 Fill a 

3-gallon stockpot with 2 1/2 gallons of cold water. Add 1/4 cup of kosher salt, 1 cup of dry white wine and 2 tablespoons freshly squeezed lemon juice.
Bring the water to a boil, reduce to a vigorous simmer and add the stone crab claws to the pot. Boil for 7-8 minutes, then transfer to an ice-water bath and allow the water to return to a boil. Replenish ice as needed.
Add shrimp to the boiling water and cook the shrimp until just opaque. Transfer the shrimp to the ice bath.
Blanch 20 mussels just till they open, for a minute or so. Remove using a slotted spoon and set aside.
Place the stone crab, shrimp and mussels in the refrigerator to chill for one hour. Fill the trays of the 3-tiered seafood tower with crushed ice and arrange seaweed if using on top.
Shuck a dozen oysters and a dozen clams, taking care not spill the shellfish liquid or "liquor" contained in the shells, and arrange them first around the edge of the bottom tray.
Place the clams and mussels inside the circle of oysters, making a second circle. Place the shrimp and crab claws on the second tier, then place lemon wedges and ramekins or small dishes of sauce in the center of the top tray.  If there's room, you can also include a tartare or ceviche, or even a small caviar set-up.
 More Illustrations on Food Republic: