Food Republic Craft Beer Power Rankings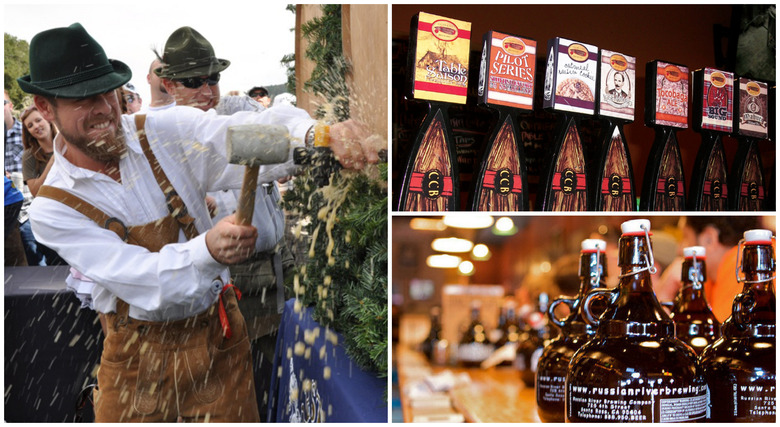 Thirty years ago, the concept of a craft-beer power ranking system was inconceivable. Back then, there were only a handful of breweries pumping out brews that deviated from the watery-lager norm. Fast-forward to 2014, and there are more than 2,800 breweries in the country — with another 1,500 or so on the way. The scope of innovative beers is nothing short of stunning, with sour ales, bitter IPAs and barrel-aged stouts now the norm. Who's leading the charge? Here's our list of the most influential craft breweries today, as determined by new product releases, buzz, expansion and innovation.
10. Prairie Artisan Ales
Originally started as a gypsy brewing project in Krebs, Oklahoma, brewer/owner Chase Healey funded a brewery of his own last year off a wildly successful Kickstarter campaign. While Prairie has already wowed critics with an impressive lineup of saisons, the focus has shifted to mastering the art of the imperial stout with their explosively good Bomb! — which uses coffee, cacao nibs, vanilla beans and chili peppers. Look out for a new collaboration with Evil Twin called Bible Belt, which uses the adjunct list from Bomb! combined with Evil Twin's excellent Even More Jesus Imperial Stout as the base beer.
9. Deschutes Brewery
Big things are happening at Bend, Oregon's finest brewery, including the highly anticipated return of their Mirror Mirror oak-aged barleywine after a five-year hiatus. It joins their stellar Reserve Series lineup of The Abyss, The Dissident and soon-to-be-released, Not the Stoic. Perhaps the biggest news of all is Deschutes expanding distribution all the way east to Pennsylvania, which means favorites like Black Butte Porter and Fresh Squeezed IPA are now officially on the East Coast!
8. Stone Brewing Co.
After years of keeping their Quingenti Millilitre exclusive to Southern California, Stone finally broke the locks off the safe last fall and shipped out three special bottles nationwide with Southern Charred — gorgeous barrel-aged version of Double Bastard Ale, along with two red-hot chili beers, aptly named Crime and Punishment (respectively). There are plenty of things to look forward to this spring starting with the newly released Go-To IPA, an excellent session ale at 4.5% ABV with a bounty of hop flavors, as well as a new round of their famed "Enjoy By" double IPA series and a barrel-aged version of their Old Guardian Barley Wine.
7. Founders Brewing Company
Founders hit a winner last year with the launch of All Day IPA in cans, which proved big flavor could come in small packages (with the added benefit of not leaving you with an awful hangover). The West Michigan brewer also had great success going back to maple syrup bourbon barrels, previously featured in cult classic Canadian Breakfast Stout. Also be on the lookout for their famous bourbon barrel-aged Kentucky Breakfast Stout (KBS), which is currently being sent out for distribution. Let the hunt begin!
6. Cigar City Brewing Company
The news that Hunahpu Day, the annual release party for Cigar City's Mayan-inspired imperial stout, is no more will probably go down as the worst hangover effect of a beer festival, ever. Thankfully Hunahpu (the beer) will live on and the newly released Double-Barrel version, which uses both apple brandy and rum barrels to age the base beer, is amazing. Another underrated new release is their Hopped On the High Seas featuring Citra hops, which showcased the hops' massive citrus flavors perfectly.
5. Three Floyds Brewing Co.
It's probably too cruel to yammer on about the awesomeness known as Dark Lord Day, taking place this year on April 26, especially since it's now completely sold out. However, even if you can't make it to Munster, Indiana to pick up a bottle of Dark Lord, you can get your demonic drink on with recently released Blakkr, a 9.99% canned Imperial Black Ale brewed in collaboration with Minnesota's Surly and Real Ale.
4. Russian River Brewing Co.
Russian River might not have the distribution footprint or new release schedule of other big time brewers, but give brewmaster Vinnie Cilurzo a ton of credit for sticking to what he does best: puckeringly awesome sour brews and huge tropical fruit IPAs. Once again, this year's release of Pliny the Younger had fans so excited that one bar cleverly sold the sought-after suds as "Miller High Life" to keep the herd at bay. If you live on the East Coast and pine for Pliny, don't stress: a little known fact is Russian River occasionally distributes to Philadelphia, including the Younger. Road trip!
3. The Alchemist Brewery
Although it may seem like ages ago, The Alchemist actually served up a variety of world class beers before Hurricane Irene destroyed the brewpub in 2011. While their classic canned Double IPA Heady Topper still sells out instantly (despite being their only distributed offering), the exciting news is several more brews are finally on their way. Newly released Focal Banger, an American IPA with Citra and Mosaic hops, and Petit Mutant, a wild ale made with Brettanomyces yeast and Montmorency cherries, are the first two of several planned new releases over 2014.
2. Firestone Walker Brewing Co.
Home of perhaps the best barrel program in the country, which is currently showcased in recent release Parabola Imperial Stout, Firestone Walker gave us reason to geek out even more with their new line of wild ales which premiered with the now sold-out Feral One — along with several draft-only sour brews. While wild and sour enthusiasts have reason enough to rejoice, one of the most intriguing new additions is a canning line which will produce two session beers: 805 Blonde Ale and Easy Jack Summer Session IPA, perfect for when the warmer weather hits.
1. Hill Farmstead
No other brewer on the planet puts more character and ingenuity in their beer than brewmaster Shaun Hill. His mission is personal: he names ales after his ancestors and has committed to staying small and local, capping production permanently at 150,000. Do you need an excuse to trek up to gorgeous Greensboro, VT in the early spring? Try a Double Citra IPA, bursting with citrus flavor or the newly released Madness and Civilization #3, a blend of the incredible Damon and Everett aged in a bourbon barrel for 18 months. Also look out for Shaun's Grassroots label for treats like Convivial Suarez, a saison brewed with hibiscus and lemon.
Read these Craft Beer & Spirits Week stories on Food Republic: