Behind Bullet-Proof Glass You Will Find A Great Craft Spirits Shop In Brooklyn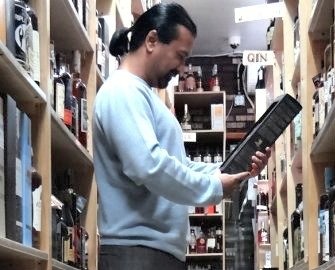 On an unassuming corner of Park Slope, Brooklyn sits a small store called Borisal Liquor & Wine. I had walked past it many times, but nothing from the outside had ever drawn me in. On the contrary, the counter looks like it is protected by bulletproof glass and the store eschews the traditional format of fine wine racks and stacked displays, as most of the products are sold from behind the counter. I had written it off as a store where you might find the latest vintage of Mad Dog 20/20. Of course, this was a classic case of judging a book by its cover, because behind this modest exterior is a treasure chest of craft spirits run by a man who decided to champion the movement.
Kamal Mukherjee wanted a store that specializes in hard-to-find products for connoisseurs and soon became a go-to place for specialty spirits and liqueurs in Brooklyn. Now he ships bottles around the U.S. (to destinations he is legally allowed to) through his online shopping forum DrinkUpNY. I popped over to Brooklyn to ask Kamal about the state of craft spirits.
Related: 32 Independent Craft Distillers You Need To Know Right Now
When did you start working in wine and spirits?
Professionally, I have been in this industry since 2006. Before that, I was an IT consultant, but trying out different wine and spirits and seeking out lesser-known brands has been a hobby for most of my adult life. Putting together an e-commerce focused wine & spirits store and filling up the shelves with world-class, craft brands seemed like a natural transition for me.
How do you discover so many unique craft spirits?
It really is a two-way street. Our buyers and I maintain close contact with the industry and over time we have developed a reputation for being the go-to place for hard-to-find artisanal brands. To that end, producers often contact us as early as when their product and business plan is merely at the incubating stage.
Do you have a philosophy on what you stock in your store?
We are always looking for craft, artisanal brands that are true to their category. Small batch, limited release brands that are not available in most markets are very well-suited for our portfolio.
What are some of the latest spirits to launch that have really impressed you?
It is a conflict of interest for me to name names. However, I am really impressed with our homegrown craft, artisanal brands and how quickly some of them are making it to the big leagues. Be it an obscure category like absinthe or a good old whiskey, American brands can be found practically in every category that delivers superior quality and a great price performance.
You have a store in Brooklyn that is well known for its tastings. Can you tell us more about those tastings?
Offering consumers the chance to taste a new product is a critical tool for a brand to grow. In our store, we host free tasting on Thursdays, Fridays and Saturdays in the evenings. Most of these events are managed by the producers, brand managers or some other key person behind the brand which allows them to have a dialog with the consumers, explaining the products to them and most importantly, gather end-user feedback which is extremely vital for the continuous improvement for any business.
Can you deliver anywhere?
I wish we could! For now we are shipping only within the U.S. There are even more restrictions from state to state. Some states are reciprocal, others will allow us to ship via a special permit and certain states will not allow us to ship at all! We always encourage our customers to contact us before placing an out-of-state order to make sure we can ship it there.
Do you have a favorite cocktail?
If I am not drinking Absinthe or a heavily peated scotch, I would go for a sazerac or Manhattan.
Check out these Drink Ford Tough columns on Food Republic: