Weekend Drinking Assignment: Spring Session IPAs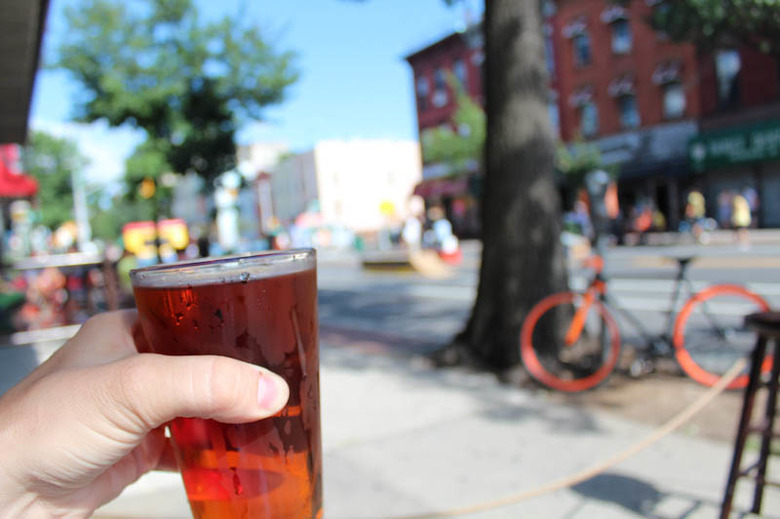 Extreme trends in the beer industry can be a tricky thing. As it goes, no sooner has one brewer done something experimental that creates hype than another even more extreme product is tossed on the scene by a competitor. The hype train is a tricky one to ride, and if you took the time and money to chase, say, the high-ABV beers of Brewdog, Schorschbräu or Brewmeister you've probably burned an equally awesome hole in both your wallet and liver.
It may be against everything being a beer geek stands for, but I try as hard as I can not to gravitate towards a brew based on its alcohol content or bitterness. Brewers "tipping the scales" by breaching the 100-IBU mark isn't really anything special these days, but sure enough, even the most respected brewers are cranking up the hops so high that one beer literally eliminates your palate for the foreseeable future. What do you pair with that? Absolutely nothing. While there's a time and place for the bitterness and high-ABV of double IPAs, the spring is really making me pine (get it?) for an IPA that favors balance, drinkability and, above all, flavor.
Along those lines, a trend that I can get on board with is making a beer that you can drink in multiples. If your reaction to that is, "I totally took that 13% barrel-aged barleywine to the face and didn't even feel it" well, my friend, you're an alcoholic. For the rest of us who look forward to hanging out in the sunshine and kicking back three or four brews over a few hours, the newly coined category of "session IPAs" offers something for everyone – light bitterness, juicy hop flavor and low alcohol (under 5%).
Hoppy session beers didn't exist in the U.S. until a few years ago, but England has had a long and revered history of sessionable bitters, often referred to as English bitter ales, which have set the standards for our own.
You may recall Founders All-Day IPA was one of the releases we were most excited about, especially now that it comes in a can. Thankfully for hop heads, there are more than a handful of session IPAs now on the market. If you want to test your drinking endurance but don't want to let up on hop flavor, Stone Brewing Company's Go To IPA might be your best bet. At 4.5%, this beer packs 65 IBUs of Stone's signature tropical fruit flavor into one little giant.
If you want something lighter and less abrasive, check out Pop-Up Session IPA from Missouri's Boulevard Brewing Company. Sweet lemon, orange and grapefruit mix with mango and light bitterness, but at just 4.3% and 41 IBUs, this one goes down easy without sacrificing taste. Perhaps our favorite of these newer releases is Carton Brewing Company's Boat Beer, a killer session IPA at just 4.2% and 35 IBUs. Brewed in Atlantic Highlands, NJ, Carton might not be the most recognizable name but Boat has to be recognized for packing a ton of grapefruit, lemon and pine into a tiny beer.
Now you're covered for session IPAs no matter where you are in the country, so get out in the sunshine and drink some!
More Weekend Drinking Assignment on Food Republic: