"This dish came together because there's not as much to work with in winter," admits Shaun Hergatt, Executive Chef of New York City's Juni, which opened in the Hotel Chandler last fall. "We wanted to create a comfort food dish that would appeal to the American palate. The cheesy polenta is something people really identify with." Indeed, the combination of polenta and Parmesan eases the average diner into sampling veal tongue, which Hergatt claims "is near and dear to me. I grew up eating it in Australia." Finally, the dish is dusted with maltodextrin, which looks like snow and signifies winter.
The addition of common, seasonal ingredients makes for a seemingly familiar bite, despite the inclusion of the exotic element of the tongue. Chef Hergatt is definitely on point citing the marriage of cheese and polenta appealing to the American palate, and it's only a matter of time before diners at Juni will seek out veal tongue and other exceptional bits on a more regular basis.
Here's the dish breakdown: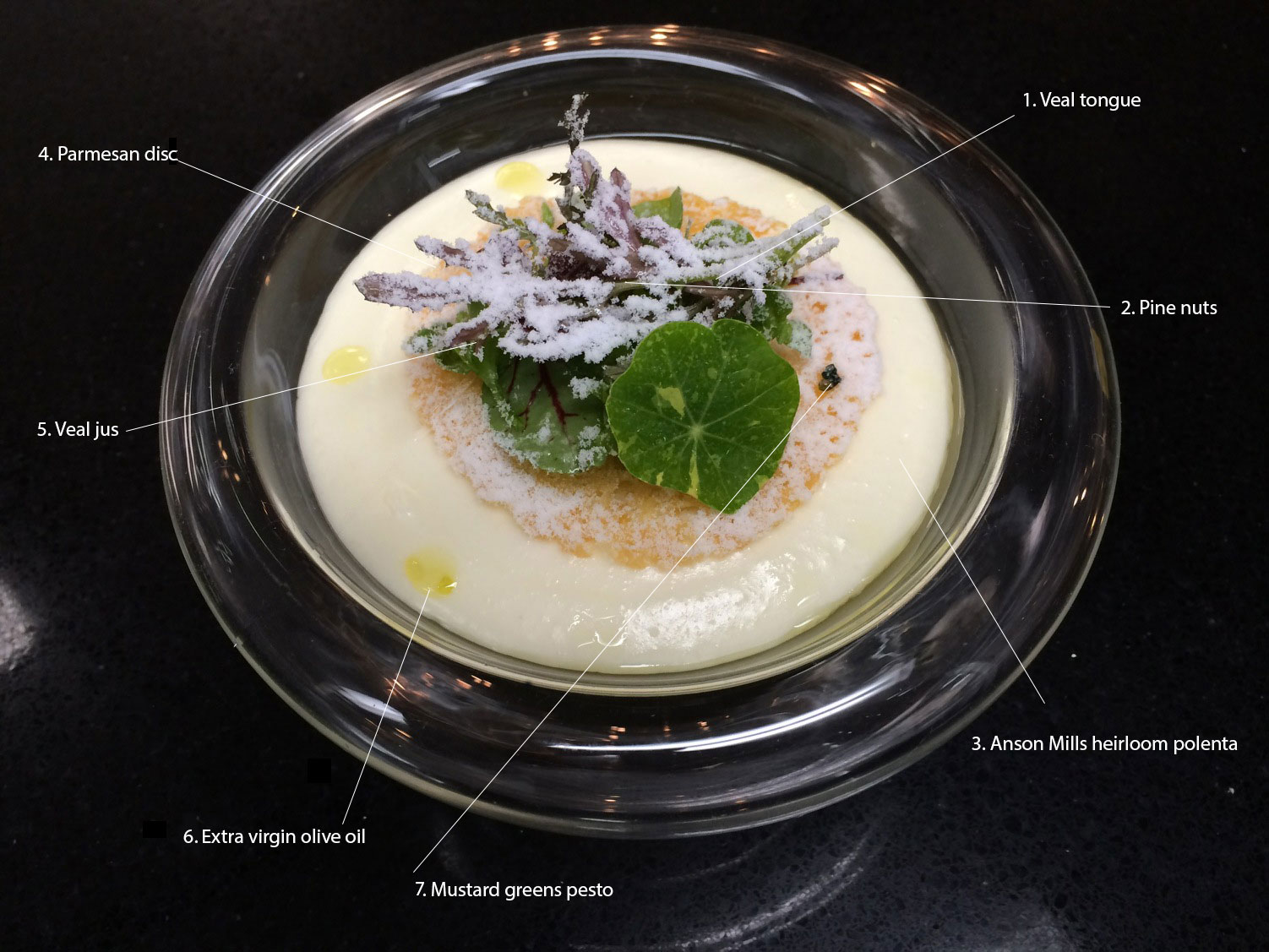 1.Veal tongue | "It's marinated, braised and glazed in chicken jus. It's a classic combination of textures."
2. Pine nuts | Pine nuts add texture and umami.
3. Polenta| White polenta prepared with heavy cream, butter and parmesan cheese. "We use Anson Mills, which is a great provider."
4. Parmesan disc | Parmesan cheese and flour baked into a disc, which "gives the dish another element of texture."
5. Veal jus | For flavor depth and richness.
6. Extra-virgin olive oil | A drizzle of extra-virgin olive oil to finish.
7. Mustard greens pesto | Blanched mustard greens, arugula and pesto.
Juni, 12 East 31st Street, 212-995-8599, juninyc.com
More Plate Deconstruction on Food Republic: