Not A Love Letter: Di Fara Is Home To New York City's Junkiest Pizza Slice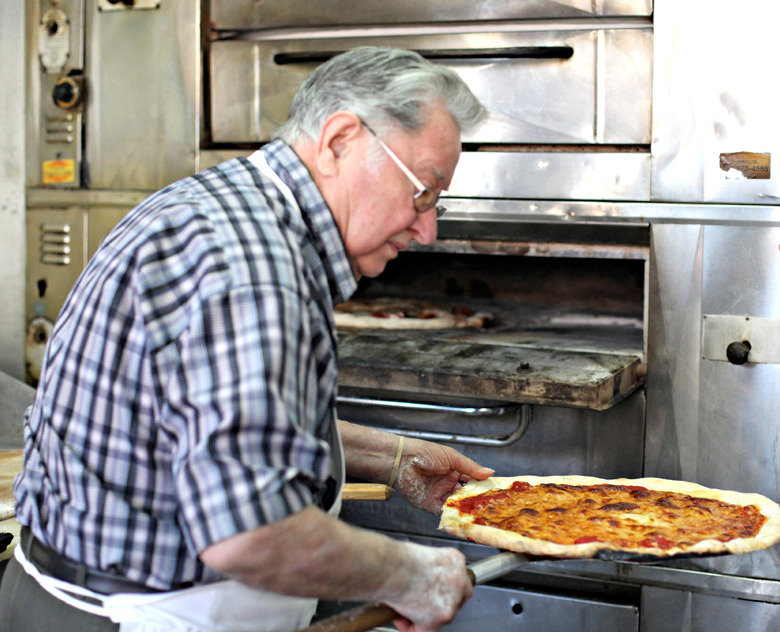 "This is New York's best pizza, bruh!" exclaimed one self-proclaimed expert and Di Fara diehard as he carried a $28 cheese pie to his table in the cramped Midwood institution. As the superlatives continued, I surveyed the joint, observing obvious evidence to the contrary. Cans of Filipo Berio olive oil, notoriously bland and low-quality industrial junk, sat in the prep area. Owner Dom DeMarco grated Grande brand mozzarella from a block — each flaccid shaving was an affront to nature and dairy. The basil was plucked straight out of its transport box and trimmed, unwashed, onto every pie. The oven was opened and closed repeatedly, causing temperature fluctuations that wreaked havoc on the pizzas within.
Nothing seemed to indicate we were about to experience pizza nirvana, and the clear — blatant — display of squalid ingredients registered somewhere between disheartening and repugnant. Yet DeMarco and his family-run pizzeria have been praised by critics and clients, from Bourdain to de Blasio and customers queue, often for hours, for a taste of what they are told is the best of the best.
It was a chorus of critics that whipped diners into a frenzy about Di Fara in the first place. When the pizzeria was first lauded by Eric Asimov in the New York Times back in 2001, the pizzeria was pulled out of relative obscurity and more positive reviews rolled in. One and a half decades later, Di Fara is now a full-blown NYC institution and has the framed accolades, passionate clientele and escalating prices to prove it.
Institution status at Di Fara was achieved not on the pies alone. The pizzeria's success hinges largely on its story. At Di Fara, the story revolves around proprietor Don DeMarco, who rarely takes a day off, makes all the pizzas himself and shuffles into the back to fetch dough for each order. Articles and TV shows have cast him as a perfectionist with a slavish devotion to tradition and quality. Yet his poor choice of ingredients and disappointing pizzas seem to suggest otherwise.
But Dom's lazy sourcing and banal product has somehow transcended criticism. Journalists and bloggers perpetuate his mythology, telling his story ad nauseum (hey, here's a documentary, here's the Times covering its slice price hike...to $5) and drawing attention away from the food's shortcomings. Pizza tourists who cling to articles and blog posts live to collect experiences like Di Fara. That is, they thrive on the feeling of exclusivity associated with waiting in lines. Judging from Di Fara's popularity and nearly universal appeal, most diners are ill equipped to discern truly high quality ingredients from what DeMarco uses.
The pizzas we tried confirmed that even a six-decade veteran can't transform industrial toppings and ordinary flour into spectacular pizza. Those "Made in Italy" ingredients everyone gets so worked up about aren't actually any good. After all, San Marzano is not necessarily synonymous with quality. In pizza making, if you start off with poor quality ingredients, the final product is doomed. Indeed, at Di Fara, the sloppy crust made from Italian flour ranges from overcooked and chalky to chewy and insipid. The meat toppings are ordinary. But the cheese was the most terrifying part. With each bite, the grease from both the melted mozzarella and Berio's sub-par oil hit my palate, coating it with a bland viscosity. This was immediately followed by the liberally salted tomato sauce; its straightforward savory note was the only thing that made the pizza a slight notch above edible. But by the second slice, the grease from the pizza had soaked through the dough, leaving it flabby and dull.
The oil slick caused by the three-cheese cocktail that tops each pie (cow's milk mozzarella, buffalo mozzarella and either grana padano or parmigiano reggiano depending on who you talk to) — not to mention the difficulty with which it is digested — makes Di Fara pizza boring at best, and at worst a Q express train ride to stomach cramps. After three slices and two whole pies (costing $75), we were full, but not sated, and needed a well-made, crisp-crusted, fairly priced pie (or two) to get our minds off the great Di Fara disappointment. So we drove directly to Best Pizza in Williamsburg. Over slices of a properly made cheese pizza served by a polite staff in a clean environment, Di Fara's flaws seemed even more egregious. But for Di Fara's fans, ignorance is oily bliss.
Di Fara
1424 Avenue J, New York, NY 11230
718-258-1367
Best Pizza
33 Havemeyer St
Brooklyn, NY 11211
718-599-2210
Katie Parla, a New Jersey native, writes about food, drinks and travel for the New York Times and Australian Gourmet Traveller and is the author of the blog ParlaFood.com. She splits her time between Rome, Istanbul and the Tri-State Area.
Read more pizza stories on Food Republic: