TOMS Shoes Branches Out Into Coffee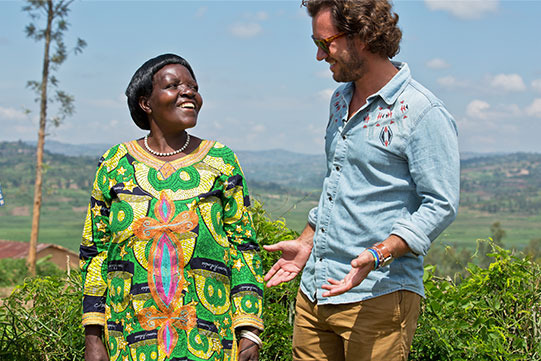 You probably first noticed the shoes six years ago. TOMS classic canvas slip ons are functional, practical and cute to boot. And when you learned that for every pair sold, the company gives a pair of shoes to a child in need, you probably went out and bought some. Five years after its 2006 launch, TOMS proposed a similar concept with eyewear, donating eye care to someone in need for every pair of glasses sold. Now, it's applying its One for One model to a new effort: coffee beans for you, water for a community that needs it.
Related: Food Republic Coffee Power Rankings
"About two years ago, I started to get really focused on how TOMS could have more impact on the economic development of countries we give our shoes to," says TOMS founder Blake Mycoskie. "I've seen so much poverty up close in the past seven years that I wanted to do more than just provide aid in the form of shoes and cataract surgeries."
One industry that kept popping up again and again during his travels was coffee. Specifically, he noticed small coffee companies buying high-quality beans directly from farmers. By paying top dollar, they were able to help farmers develop agricultural skills and fund projects to improve production. It was a mutually beneficial relationship.
Upon visiting his first coffee farm in Rwanda, Mycoskie learned that coffee processing requires tremendous amounts of water. And this, of course, is in countries where clean water is not always easy to come by. Immediately, he realized how he could apply TOMS One for One model to a coffee program: by donating clean water to local communities.
He just launched TOMS Roasting Co. at SXSW along with a coffee bar in Austin, one in Los Angeles and another coming to New York this summer. Cafés are planned for Portland and San Francisco this fall, with several more opening around the world, including in Amsterdam, Greece, Turkey, Korea and the Middle East. TOMS is also selling its beans online through a roasting club that allows subscribers to get beans delivered monthly. The company also struck a deal with Whole Foods to sell its beans at stores nationally.
The coffee is sourced from several countries TOMS had previously worked in: Malawi, Rwanda, Guatemala, Honduras and Peru. The company buys beans direct from farmers, promoting economic development at a grassroots level, then invests profits into local water systems through non-profit organizations.
Heading up roasting is Angel Orozco, founder of L.A. craft roaster Cafecito Orgánico. Each coffee is single-origin except for the espresso, which is a blend of the Rwandan and Peruvian coffees. When you unroll your bag of beans, there's a little message printed on the packaging: "Start your day by improving someone else's."
"I just like that whole mentality of mindfully starting your day and thinking about others that maybe aren't as fortunate as you are. And how you're helping them have a better life," says Mycoskie.
It's a lovely sentiment. But we had to ask: is his coffee geekery cred up to scratch?
"I wouldn't say I'm a coffee geek," admits Mycoskie. "I definitely didn't understand the nuances of this so-called third-wave of coffee roasters. And I didn't know how much I appreciate light roasts. I always loved coffee. Or maybe I just loved caffeine. Now, I like my espresso to have more of a citrusy or fruitful flavor, and we get that from the Central and South American coffees. But at the same time, I love our light roast Rwandan single-origin, as well. So, I've learned a lot. And I still have a lot to learn."
Read these Coffee Culture stories on Food Republic: