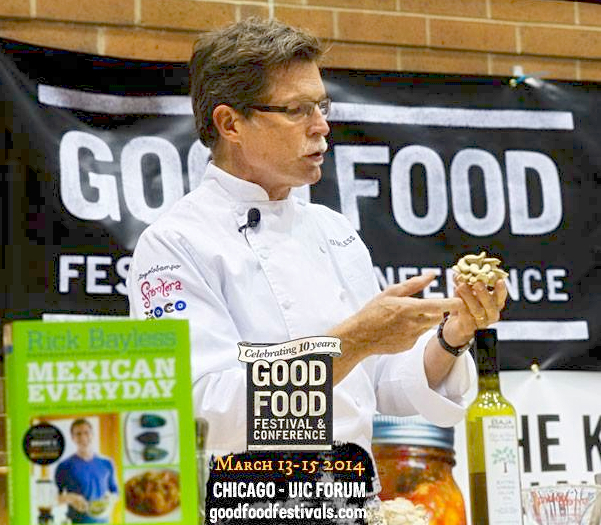 Spring is in the air, so there's no excuse not to get out and hit a food festival. If you're eager to learn more about top food businesses in the U.S. (and have a penchant from gourmet, locally-sourced meals) you'll definitely want to attend Chicago's Good Food Festival & Conference. At Savor Sonoma Valley, sample the best varietals from top-notch wineries. It's all about cultivating your inner food enthusiast.
Good Food Festival & Conference
Chicago, IL
March 13-15
Chicago's Good Food Festival & Conference is the largest gathering of local, sustainable food advocates in the Midwest. The three-day event is packed with programs celebrating the Good Food Movement. At the Good Food Financing & Innovation Conference, Co-CEO of Whole Foods Walter Robb will give a keynote address and lead a discussion of food business in the U.S. Be sure to stick around for the Localicious Party, where Chicago's premier chefs whip up dishes from locally-sourced ingredients paired with local wines, beers and spirits. Guests can enjoy sustainable cuisine to live bluegrass music.
Savor Sonoma Valley
Sonoma Valley, CA
March 15
26 wineries from across Sonoma Valley come together to offer the ultimate wine-tasting experience. Guests can mingle with the winemakers, peruse art, listen to music and sample 2013 vintage wines straight from the barrels along with other new releases paired with culinary confections from local chefs. Participating wineries include Arrowood Vineyards & Winery, Enkidu Wines and Loxton Cellars.
Upcoming:
Pigs and Pinot
Healdsburg, CA
March 21-22
As far as wine and protein pairings are concerned, pork and Pinot Noir is a tough combination to beat. At the 9th Annual Celebration of Pigs and Pinot, hosted by Chef Charlie Palmer, international celebrity chefs like Amanda Freitag and master sommeliers will showcase the ingredients at a series of dining events and juicy seminars. Don't miss Spoonbar's Swine and Wine Dinner, where Top Chef contestants Louis Maldonado and Carrie Mashaney will serve Spanish pork chops with premier Flanagan and Banshee wines.
Beer, Bourbon & BBQ
Timonium, MD
March 21-22
The touring Beer, Bourbon & BBQ Festival comes to Maryland, giving guests the chance to indulge in "beer-sippin', bourbon tastin', music listenin', cigar smokin', and barbeque eatin'." An admission ticket buys you a glass for unlimited sampling, so try the forty bourbons and sixty beers on tap until your stomach (or a good friend) tells you to stop. Attend seminars from master distillers, brewmasters and pitmasters to learn all about what you're consuming, listen to live rock, blues and bluegrass music on The Main Stage and enjoy watching (or, if your appetite allows, participating in) the BBQ Bean-Eating Contest.
All-Star Chef Classic
Los Angeles, CA
March 21-23
On March 21, the stars will align over Downtown Los Angeles, bringing together 27 international celebrity chefs to cook together in the never-before-seen Restaurant Stadium and Chef's Tasting Arena. At the French Masters Dinner, Ludo Lefebvre will collaborate with chefs Alain Passard, Marc Meneau and Iñaki Aizpitarte to prepare a five-course dinner with French wine pairings. And at the Grill & Chill international cookout, 10 diverse chefs, including Roy Choi and Ricardo Zarate, will show work their culinary magic over an open flame.
Food + Wine Festival Palm Desert
Palm Desert, CA
March 21-23
At the Food & Wine Festival Palm Desert, organized by Palm Springs Life and hosted by emcee Mark DeCarlo, the brightest chefs from around the country will gather under The Big White Tent to inspire, educate and showcase Coachella Valley as a culinary hotspot. The festival kicks off with a James Beard 4-course auncheon featuring Beard-recognized chefs David LeFevre, Brooke Williamson, Matthew Accarrino and Gale Gand, and continues with the "California Dreamin'" Grand Tasting, which casts the spotlight on local brewers, winemakers and chefs. Plus, a nuts and wine sampling event will have you wondering why you never thought to pair Cocoa Roast Almonds with Renwood 2011 Premier Old Vine Zinfandel before. Now you know.