NYC: Apotheke's Owner Is Designing Restaurants. Up First, Chicane.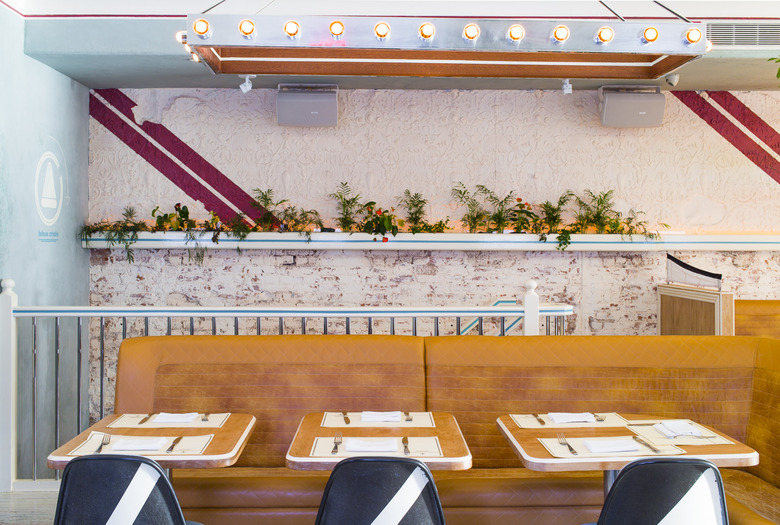 "I definitely did not want it to be a brasserie," explains Christopher Tierney of Chicane, the newly opened French restaurant in Soho. If his name sounds familiar, it's because Tierney (along with his sister Heather) is the proprietor of the the perennially popular Chinatown cocktail bar Apotheke and its Mexican offshoot just next door, Pulqueria. At Chicane, the first project undertaken by Tierney's recently formed creative agency TIER, the need for a different kind of French vibe — one separate from NYC's recent burst of French and French-inspired brasserie style eateries — wasn't just to be different. The cuisine called for it, too.
Here, diners take a trip to southern France's Cote D'Azur, an often overlooked area on the city's culinary map, where the seafood-rich menu features Riviera standards like pissaladière, bouillabaisse and barbajuans (crepes made from chickpea flour and olive oil). To match the menu, Tierney created a chic and breezy hangout redolent of Monaco's vintage racing days, where surfers would feel equally at home.
Tierney, who also created Chicane's branding identity, including menus, coasters, placemats, logo and business cards, says his experience as a bar and restaurant owner definitely helped shape his new role as a designer: "I've had to learn how to design and build bars and a restaurant on my own time and dollar, teaching myself along the way and learning greatly from costly mistakes. I've been forced to be creative with materials and fixtures on tight budgets, which has led to me making many custom fixtures." More on that — and a look inside Chicane — below.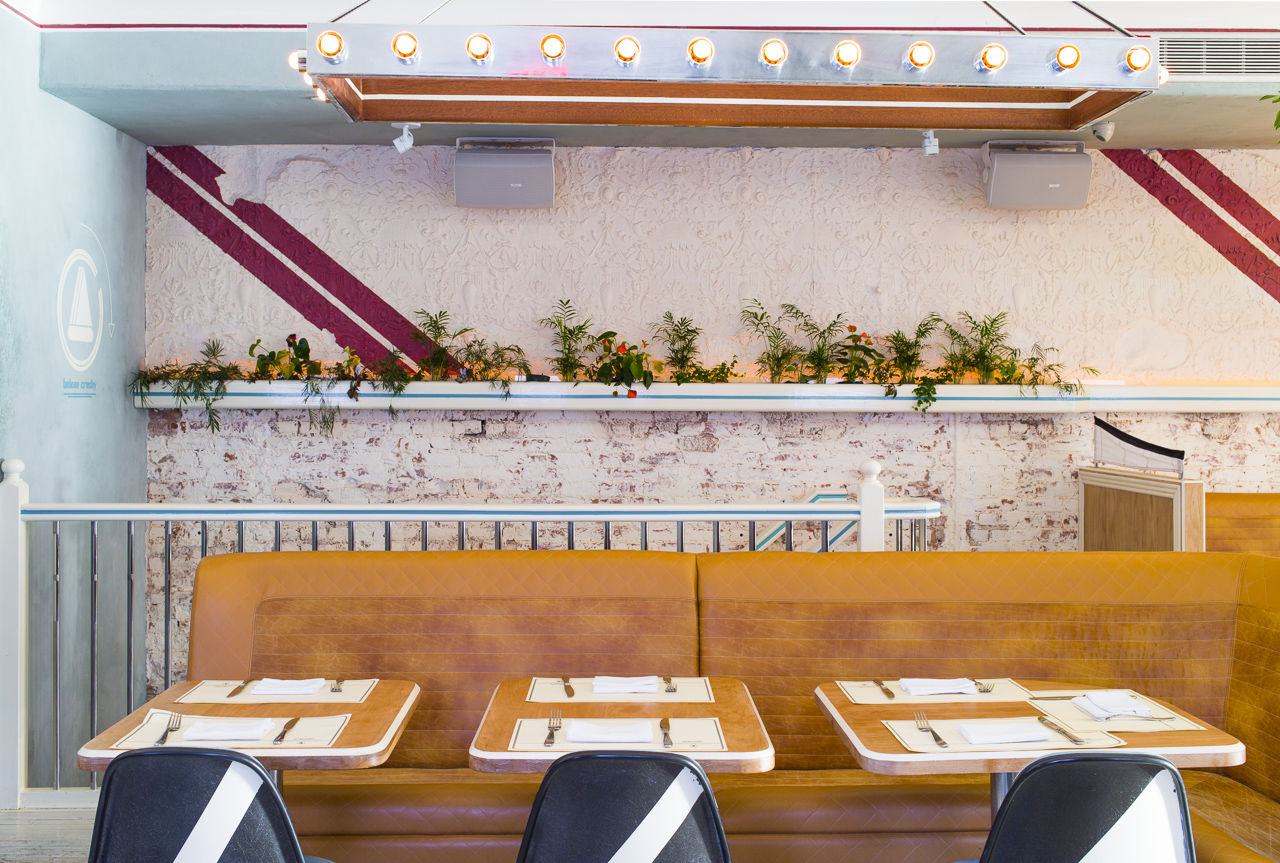 A pastel palette, graphic black and white tiles, and curved wood tables recall a Riviera haven that matches the light and seafood-rich "cuisine du soleil" of the Cote d'Azur. [/caption]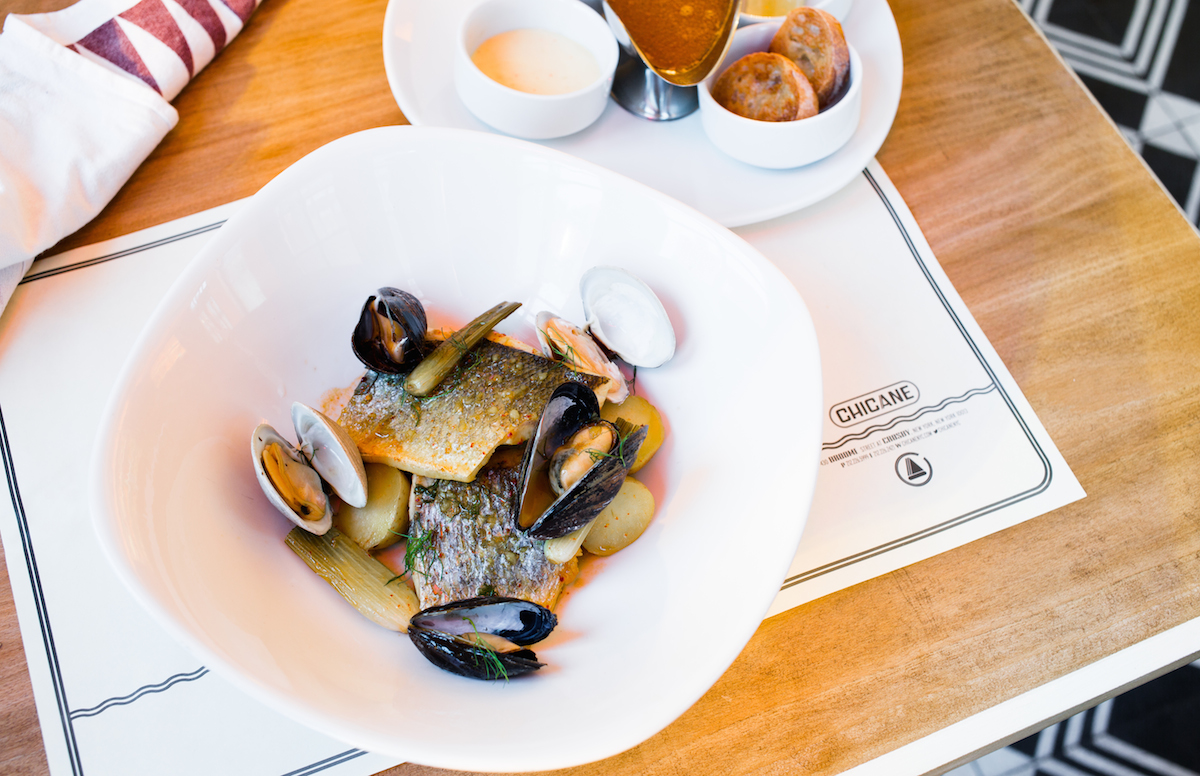 From soup to nuts (and bolts): In addition to the interior design concept, Tierney's newly formed firm TIER created Chicane's branding and identity concept.[/caption]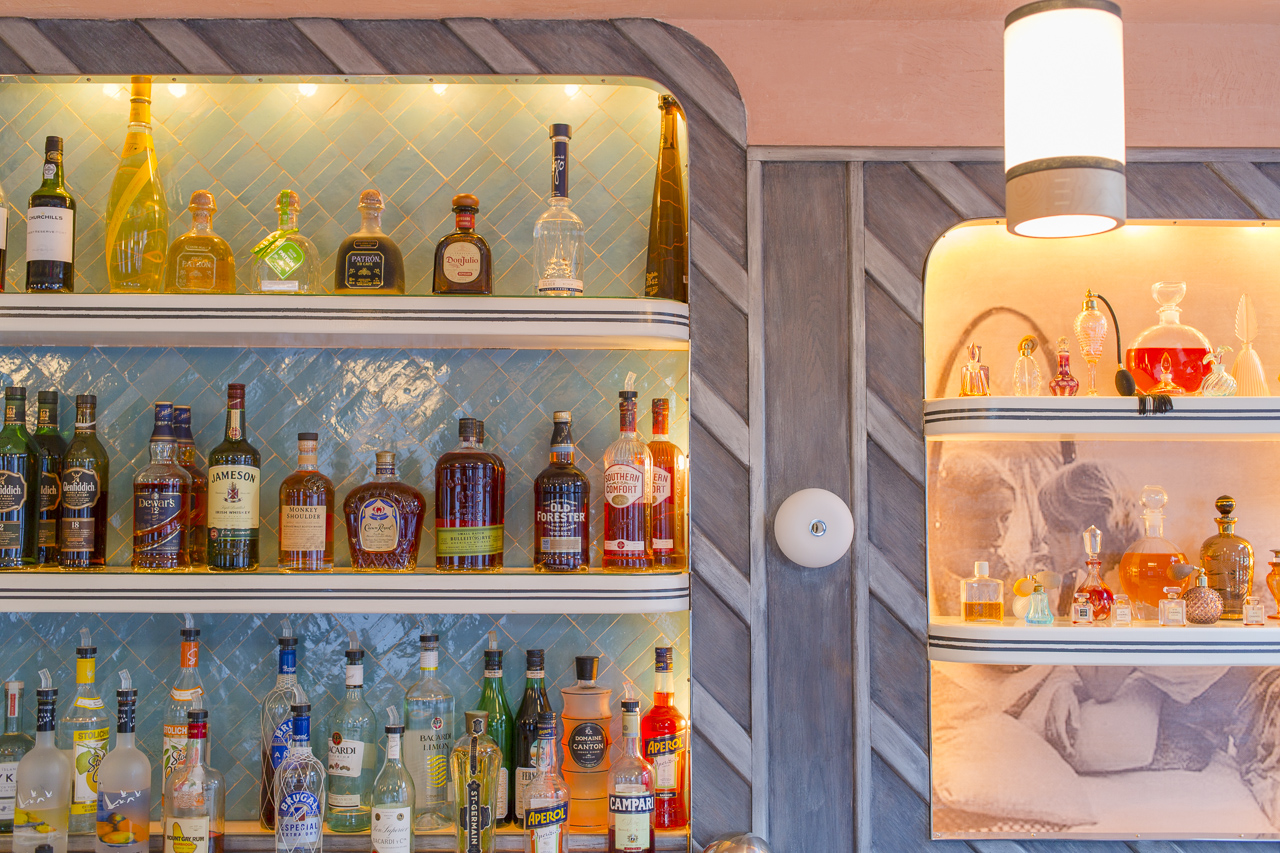 Mixed materials like weathered wood, sun-faded azure blue tiles and racing stripes make a clean break from the typical old-timey bar tableau that's been heavily trending for several years now.[/caption]

Still effortless, but by night, the Soho corner spot takes on a more sophisticated, smoldering vibe.[/caption]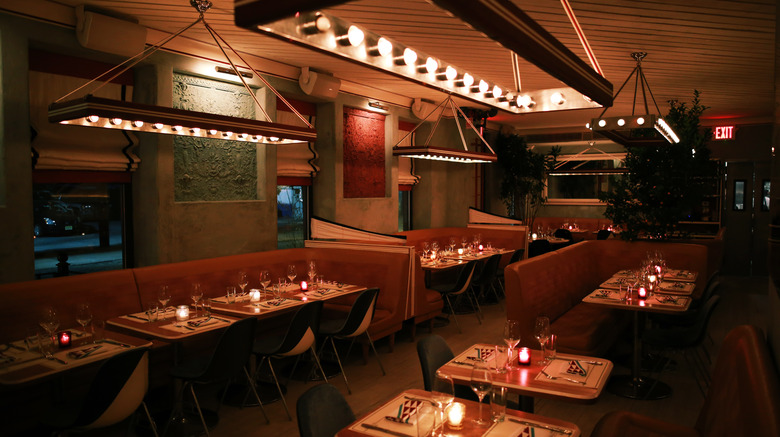 Tierney's custom-made lighting fixtures. (All photos by Joy Jacobs)[/caption]
How did you interpret the owner's direction into that particular iteration of the French Riviera? Where there any clichés you wanted to avoid?
I wanted to combine the mid-century era with the Riviera to make the foundation classic and cool — fun in the sun, sex and automobiles, and a dash of glamour. I aimed to create something fresh in NYC's French restaurant world. I definitely did not want it to be a brasserie, but something light and airy.
How does travel inspire your aesthetic? Or the way you consider design in general?
Travel is always good for inspiration because it is exciting to discover new things and have new experiences. In the end, the goal is to create an experience from the interior that you've made.
When you go out to a restaurant or a bar for your own enjoyment, what's the first thing that your eye tends to gravitate towards?
Lighting and fixtures. You can get a lot right if the lighting is executed well!
What did you do with the lighting here at Chicane?
The main dining lights I had custom made. I used store-bought chrome vanity strips and framed them in mahogany, rounded the edges, and suspended them with vintage trim straps. I finished them with hand-painted racing stripes.
What's next for TIER?
We're in between projects at the moment, but I'm looking for a hotel project. I'm also looking to build out and open a Los Angeles Apotheke in the near future.
To you, good design is...
Good function meets great aesthetics.
More: 6 Stories That Highlight The Importance Of Restaurant Design