Our Month Is Made! Ivan Orkin Sets A Date To Open His Real-Deal Ramen Shop.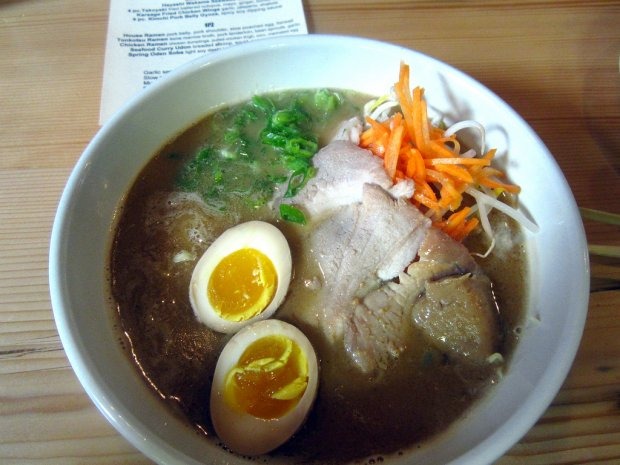 We may receive a commission on purchases made from links.
The statement has been said aloud in the Food Republic office on a near-weekly basis since just around August 22, 2013. "When is it going to open?" And so it began on that humid summer day, when we published an interview with ramen god Ivan Orkin, that the countdown began for the opening of Ivan Ramen on the Lower East Side. "This is not a slam dunk," said Orkin in the interview around the corner from his restaurant, then under construction, at 25 Clinton Street. But by now we already know that it's a slam dunk, and as news leaked out this morning that the shop would finally open at the end of the month, we're already anticipating lines we are certainly willing to wait in.
A little back story: Orkin is a 50-year-old chef from Long Island who spent nearly half his life living (and eating ramen) in Japan. His book, a must-read titled Love, Obsession and Recipes from Tokyo's Most Unlikely Noodle Joint, tells his life story and the secrets to constructing his famous shio ramen (in eight detailed steps that runs over 36 pages). Yes, a 30-page recipe exists.
Any follower of the NYC ramen scene might be thinking one thing: Hey dummy, Ivan already opened a ramen restaurant in the bottom level of a fancy apartment building! And it's good! And you are correct. Orkin did open his Slurp Shop at the Gotham West Market on 11th Avenue. We've been there a couple times and liked our bowls of shio and mazemen. It's big and noisy, and you really don't have to wait in line.
Related: Ivan Orkin Faces Off With Toyko's Most Feared Ramen Critic
So why are we so excited he's opening a soon-to-be crowded ramen shop serving a similar menu in a much-less-crowded space? A couple reasons. First, his new LES location is going to feel like the Japanese ramen bar Orkin intended to open — a tight space with mostly counter seating. Ivan will serve diners personally, at least in the first few months. Second, while Slurp Shop has dialed a few classic bowls of ramen and rice bowls, the new location will expand and evolve on the concept. It's the place where critics will flock and (possibly) drop the stars Orkin so very much wants. Basically, the training wheels are off and it's time to enter the race. "We'll get to have more time with our customers, greet them, seat them, give them a drink and give them a lot of different dishes," Orkin told the Daily News. "It will be much more of a chef-y kind of place." And this is why we're exited.
Update: A PR rep for Ivan Ramen has written us. "We want to point out that the opening date is still TBD and we cannot say whether it will be within the month." Translation: The wait continues.