I Have The Best Job In The World, But Only One Night Of The Week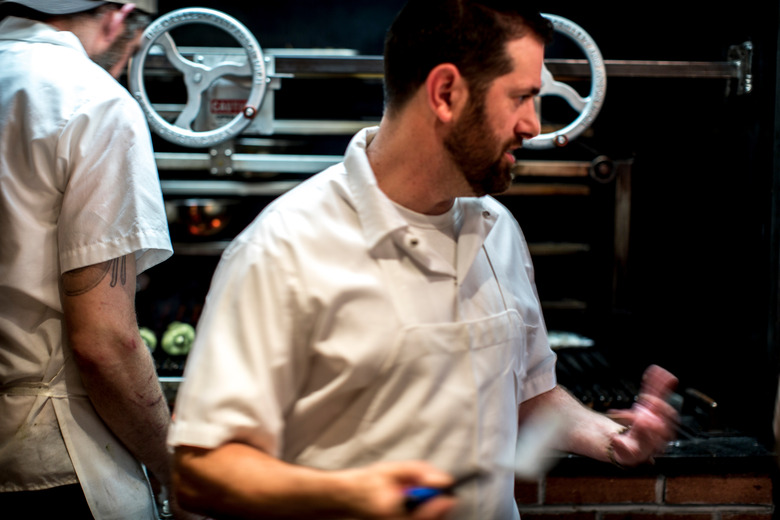 With a cooking style that blends pork pyrotechnics — a Vermont pork trio of suckling confit, grilled belly and spice-crusted rib, for example — and a deep knowledge of New England fishing and farming, Tony Maws has become one of Boston's kitchen heroes. And with awards from the James Beard Foundation (Best Chef Northeast 2011) and  Food & Wine  (Best New Chef 2005), the country has taken notice as well. His Craigie on Main in Cambridge has roots in France, while the newly opened Kirkland Tap and Trotter tips its hat to the grill. This is his regular letter from Boston.
The other 6.5 days, I am the chef and owner of two restaurants – my other great job. Opening a second restaurant was completely my decision. Friends love to remind me how I told anyone who would listen that I couldn't imagine having two restaurants. But here I am. No one made me do it, and I'm not complaining about any of the obvious (and not so obvious) challenges.
Related: 5 Tips To Opening A Restaurant. As In, 5 Reasons You Should Not Open A Restaurant.
What's it like? How am I holding up? Overall, when I'm not being driven mad (or driving myself bonkers) I'm enjoying the ride — and holy crap, what a ride! Mostly, though, I consider myself pretty fortunate. Each place has its own personality, so I can conceptualize dishes and styles of service through two different lenses – both of which I love. After a few beers at the end of the night slumped over one of my bars, I imagine this might be like a rock musician having a country music side project. When I boil it down, life can be summed up with one word: meetings. Lots and lots of meetings. Two management teams, two sous chef teams, an HR manager and senior leadership teams (12 managers overall), each requiring their own meeting. I also like to meet with each of my chef de cuisines individually to plan menus, discuss their challenges and strategize how we'll continue to improve the food and our respective teams. Monday, Tuesday, Wednesday and Thursday are filled with meetings. Friday I try to leave open, but inevitably I'm talking to someone — game planning, listening, coaching. It's cool as I'm at the point where I like this varying perspective. People said I could never give up the control and in many ways I haven't. I just get a lot of my work done through other people.
Then comes Saturday. While it's later in the week, I travel back in time and become a line cook again. It is one of the best jobs I've ever had.
Tony Maws spends Saturday nights cooking on the line at his new Kirkland Tap & Trotter.
I love my job now, but I really love being a line cook. Focused responsibilities (my station), I can just cook. Living the life — single, out late, early workout, cook, do it again. For me, on this one night, I actually block out most of the other chef/owner BS and just cook (that is, until someone screws up and I have to make sure one of my managers is on it).
The tickets start rolling in. It's a tsunami of orders. And then the dance begins. I call to Danny (two pork chops, three skewers, one medium and a chicken on hold...ordering two lamb ribs NOW!!!"). Pull out my own mise en place (two whole dorade, one sardines, the chicken and a couple orders of mushrooms). Organize the tickets with the already existing tickets on the board (three more pork chops, four skewers, one medium well, three dorade, four ribeyes) and begin to look around, evaluating everyone else.
Most of this food is now on the grill, undergoing the transition from cold and raw to charred, seared, crisped and bursting with flavor. But this grill is not a range or flattop. The heat changes dramatically, along with the size of the flames, depending on where in the lifespan of smoldering logs and coals I'm currently working. But each piece of meat and fish needs to be cooked properly — on the right temperature, with the correct flame and appropriate distance from the hotter than Hades, scintillating, sexy fire. If not done properly, the sardines will be "cooked" but the skin won't have the color or char that makes them special, and the steak will be medium rare but have charred and carbonized to the point of bitterness and acridity. I'm only after perfection — great color with just enough char, a pleasant crispness while maintaining the juiciness that makes us salivate. And I'm nailing it. In the chaos, my grill is quiet personal space. All the sizzles, sears, crackles, and flares meld symphonically into one gorgeous note.
And then the printer interrupts like a gong and we change the tune. I'm going to be sore tomorrow but I'll have a week to dream about my next night on the grill.
Read more Tony Maws Letter From Boston columns on Food Republic: