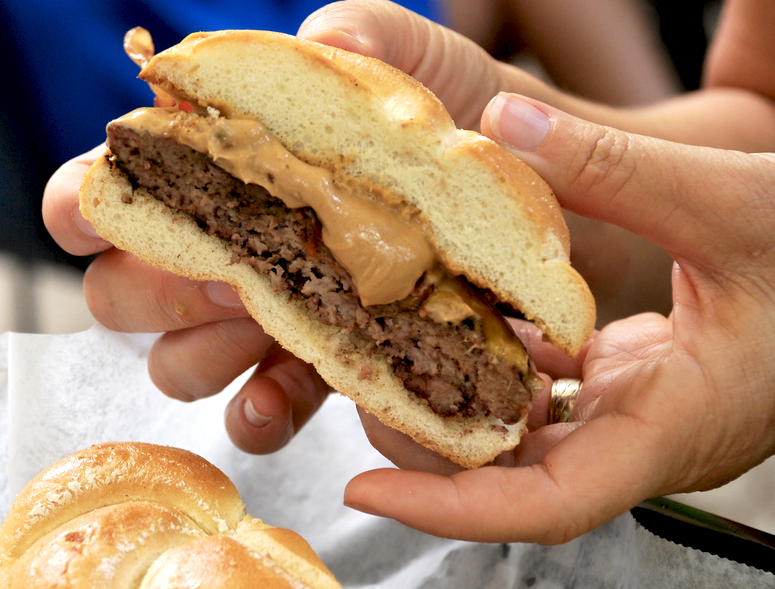 Reeling from the delightful excesses of the Charleston Wine and Food Festival, I hit the airport bar with the intention of enjoying naptime on the flight back home…at exactly just the right time for an epic conversation. This chat surprised me for a number of reasons. Every person at the bar (and those behind it) participated, the crowd was split 50/50 on opinion, and everyone was being SO NICE about their disagreements.
The topic at hand, as you may have surmised, was whether peanut butter burgers are appealing. The bartender brought it up as a cure for her recent heartbreak, and everyone just pounced. Can I just emphasize what a crappy bar this was? Like, bottom of the barrel, "you do not want to be at this airport bar" kinda bar, let alone one where the patrons are discussing their broken hearts' secret cravings.
"Yes sir, peanut butter on a burger. Maybe banana. A little pepper jack if you want it spicy," she insisted, hauling a fresh magnum of terrible, terrible Chardonnay out of the fridge.
"Darlin', who on earth was this boyfriend of yours that you're smearin' peanut butter on a hamburger?" asked the old Southern lady, raising her third glass of frosty magnum vino. By the way, everyone has Southern accents for this.
"You never tried an Elvis burger? They're not for every day, but every once in a while it's about the best thing you can eat," a paunchy businessman piped in.
"Your mind says no, why am I about to do this?" replied the bartender, with no trace of defensiveness, "but I made one here after-hours to prove it was good, and everyone agreed. Maybe they were just being polite." The thought of this slight, adorable Southern-drawling lady-bartender serving up portions of her patented peanut butter burger at 1 a.m. to her Terminal Whatever friends with an angelic, vulnerable smile was almost more than I could handle. I had sat down at the bar intending to depart immediately to naptime, but noooo, I had to open my fat mouth.
"I'm a food writer, and I think peanut butter burgers are awesome," I said in my decidedly New York accent. "Dammit," I said in my head, expecting to be called a bougie snob or worse. But like many of my pretentious Yankee theories, this too was dashed and the six or so of us proceeded to discuss innovative and regional burger toppings until they called Zone 4. Cause I roll Zone 4-style.
I now realize my life has been incomplete, as such incredible things like pimento cheese burgers, fried pickle burgers and burgers topped with Georgia peach preserves and Golden Flake potato chips have never crossed my lips. I've never had a cheeseburger on a biscuit, nor have I honored the temple that is my body with a breaded and deep-fried beef patty on a squishy white bun. I have so much to learn, and the seal was broken at literally the best worst little airport bar ever.
Also, more Southern travel needed. Much, much more.
More tales from the airport for lunch on Food Republic: