5 American-Made Irish Red Ales To Drink On St. Patrick's Day, And 364 Other Days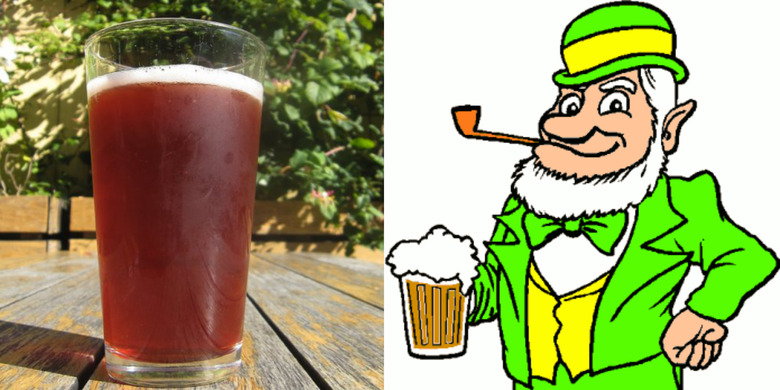 St. Patrick's Day originally began as a commemoration of the patron saint of Ireland, but has grown to be a celebration of Irish culture as a whole (also, drinking beer). Bars around the world are packed with revelers who literally celebrate from dawn until dawn. While we're all about wearing green on March 17th, we encourage you to drink something a little darker.
And immediately you thought of Guinness, didn't you? Well, who could blame you? So often is Guinness associated with St. Patrick's Day it's a common misconception that dry Irish stout is the only style of beer you should be drinking. Despite the way it may look in a dimly lit room, Guinness isn't pitch-black, but actually a very dark red (see 10 more great facts about it here), so red is more of a native Irish beer color than you might have thought. Especially if you're celebrating all day, Irish red ale is generally lower in alcohol and therefore extremely sessionable and while not widely brewed in the U.S., it's a style worth seeking out on your quest to avoid green-colored beer. Here are five of my favorite American-brewed Irish red ales.
Casco Bay, a small brewery in Portland, Maine owned by Shipyard Brewing, makes a fantastic Irish Red called Riptide Red Ale. I discovered this brew on draft earlier this year not knowing what to expect, and it turned out to be a favorite new discovery. While most Irish reds aren't too hoppy, this one has a delightful hop presence that works great with the malt sweetness. It's a perfect pairing for lobster in the summertime, but at 5.4% it's a worthy go-to as an all-day brew.
If you're in the Midwest, chances are Great Lakes Brewing Company's Conway's Irish Ale might even be in your regular winter rotation. This excellent red from the Ohio-based brewery focuses on bold toasted bready malt with flavors of caramel, toffee, grains and a small hop presence. This would be a perfect choice if this St. Patrick's Day ends up being on the colder side, as the 6.5% is hidden but certainly warming after picking a few of these choice clovers.
Alpine Beer Company is best known for their incredible IPAs, so much so that their other solid offerings are sometimes lost in the mix. If you're in Southern California, Alpine's Mcilhenneys Irish Red should be in your pint glass. It has a beautiful malt flavor with a touch of rye, caramel, chocolate, brown sugar and a balanced light hop flavor.
Few Saint Patrick's Day celebrations outside of Dublin come close to those in Boston, where the numerous local breweries turn out excellent red ales. A particularly good bet is Harpoon's Celtic Ale, which has a ton of toasted malt flavor, caramel sweetness and breadiness. It's quite drinkable at 5.4% and would go great with a hearty meal of meat and potatoes.
There are so many Three Floyds brews I wish I could get on a regular basis, but when Saint Patrick's Day comes around I really start pining for Brian Boru, one of the very best American-made Irish reds. Unlike other examples, which can be malt-dominated, Brian Boru has both excellent malt and hop character. The caramel sweetness is there, as is the traditional bready malt flavor, but there is a special citrus and tropical fruit hop presence which really makes this a stand-out.
And sure, have a Guinness for good measure. They're surprisingly light.
More beers to drink on Food Republic: