Big Weekend: Charleston Wine & Food Festival 2014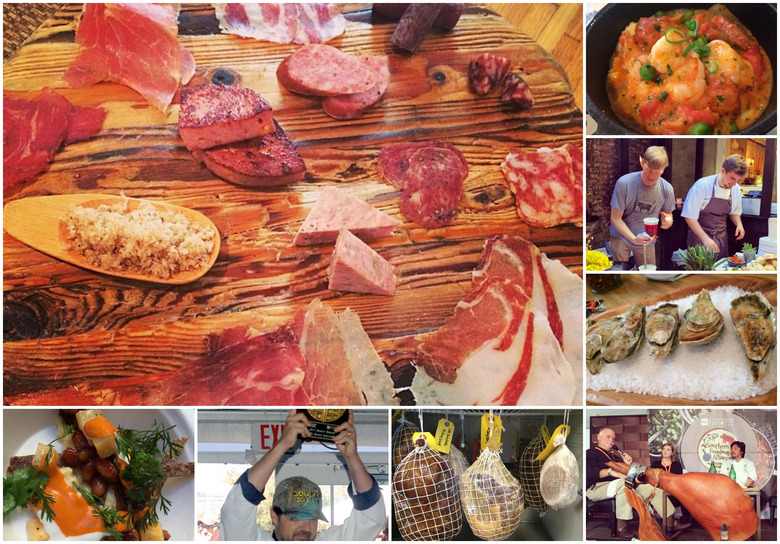 The 9th Annual Charleston Wine & Food Festival was a sunny showcase of the explosively popular Lowcountry cuisine the region is famous for. With no shortage of celebrity chefs and, more importantly, about a thousand masterful preparations of fine heritage pig, this is one destination the traveling food enthusiast shouldn't miss. We hopped down for Hoppin' John, Charleston Ice Cream (no ice cream involved) and enough legs of aged country ham to feed a small army. Here's what happened, per our two correspondents on the scene.
---
The Southern Foodways Alliance Culinary Alliance Hub was a popular destination, particularly during the cold misty weather on Friday, thanks to a heated tent, free beer and booze — and fascinating presentations on topics like "The Oyster Shucker," "Whole Hog," "Alabama Ribs" and "Interpreting the South Through Place." The first panel discussion got steamier than a Bowen's Island oyster roast as championship shucker Deborah Pratt from Virginia described her technique in decidedly carnal terms.
"Some folks go in from the hinge. I don't do that because it breaks the beautiful shell. Just like sex, you can start wherever you want and move around wherever feels good! If you go into the oyster at 3 o'clock, 6 o'clock and 9, you will always get in. Personally, I like to come in from the lips and move from 6 to 9. But don't come poking from the back!" Suddenly that whole oysters as aphrodisiac deal makes a lot more sense...
As Pratt verbally sparred with master oyster knife manufacturer Quintin Middleton over his preferred technique, some attendees began to wonder if these two needed to get a room. Middleton finally knuckled under saying, "Ma'am, I'm just a knife maker. I'll do it however you want." Pratt seemed pleased with her conquest, and proudly demonstrated her championship skills alongside her sister Clementine Macon Boyd at the unofficial "Lambs and Clams" after party at The Grocery on Friday night. Revered shepherd Craig Rogers and Rappahanock oyster purveyor Travis Croxton provided the lamb and the bivalves for  a cadre of chefs to convert into amazing small plates for the assembled masses who partied until the wee hours.
The highlight of Saturday morning's agenda was the second annual Waffle House Smackdown hosted by Bon Appetit editor Andrew Knowlton. Local hero Mike Lata of FIG and The Ordinary, returned to defend his title as Master Blaster, and he took the competition quite seriously. Even after hosting an amazing multi-course dinner the evening before with guest chef Michael Anthony of Grammercy Tavern, Lata woke up early on Saturday to work the line at his local Waffle House outpost to get in a little last minute cramming on the arcane language and techniques of the line cooks.
Lata entered the tent to the strains of "Also Sprach Zarathustra" holding his 2013 Golden Waffle trophy over his head like a WF wrestler displaying his bejeweled belt. This year's competition was stiff, with Michael Hudman of Memphis' Hog and Hominy, Chris Shepherd from Underbelly in Houston and Kevin Gillespie from Gunshow in Atlanta all vying to topple Lata off his throne.
Gillespie admitted a secret advantage thanks to the fact that one of his first culinary jobs was as a line cook at the Ritz Carlton in Atlanta where the head breakfast chef was a former Waffle House cook who used the same verbiage and mysterious plate marking system to indicate each order without the use of paper tickets. Gillespie easily topped Hudman in the first semifinal round, despite the fact that someone may have sabotaged his toaster turning it up to 11 resulting in blackened bread. In the second semifinal, Chris Shepherd was cool under pressure and upset the defending champion. Lata made a few key errors and admitted that his hash browns were really more like "hash golds."
In the final, Shepherd was a machine, effortlessly translating the "scattered, smothered, covered" orders and whipping up a fluffier omelet that impressed the judging panel much more than Gillespie's eggs. It probably didn't help that Gillespie proudly displayed his University of Georgia leg tattoo and then found out one of the judges was a Florida Gator fan. Prejudices aside, Shepherd took home a convincing victory and will proudly hold the title of Master Blaster until next year's festival. — Chris Chamberlain, Writer
---
I was down in Charleston armed with no information about the culinary scene other than it hasn't stopped winning awards since Food & Wine named Sean Brock's Husk as best restaurant of 2011, and that I've always loved their tangy, mustard-based barbecue sauce. Hitting the scene hard proved well-worth the strategic appetite management and perseverance.
My first stop was the charcuterie closets at Husk. Yes, closets, multiple. I'll be diving into much further detail next week, but when the back of the house is turning out masterful salumi, pâtés, terrines and all inventive manners of cured and paper-thin sliced pig, duck, lamb and beef it's really something to behold. I spoke at length with the entire charcuterie team. Yes, a team of charcutières managing multiple closets of cured meat. The small charcuterie platter at the restaurant consisted of 14 completely different items, ranging from salami cured in a bourbon barrel full of salt, smoked chicory kielbasa, addictive homemade Slim Jims and moonshine-cured and fermented country ham. The large platter? Well, you'll just have to see for youself.
And speaking of country ham, the Southern Foodways Alliance hosted a "ham panel" with 3rd-generation Virginia ham curemaster Sam Edwards and Kentucky chef/restaurateur Ed Lee. The latest issues of SFA's quarterly publication, GRAVY, were scattered around boasting cover art of, very simply, a ham slice. The discussion was on the origins of country ham, and its journey from American settlers' survival food to Southern staple and now, gem of any charcuterie platter worth its curing salt.
The conversation kicked off with the nuances and preparations of various ages of country ham: straight-up, boiled and sliced for biscuits, carved into steaks. Like cheese, the meat becomes sharper and more nuanced as it ages, said Edwards. His family has been curing Virginia country hams for generations and knows more about raising heritage pigs specially for this preparation than perhaps anyone, and Lee discovered its enormous potential upon adopting Kentucky as his home state.
"I'm trying to find a different approach to it. Right now we're doing a curry prosciutto because curry spice preserves the ham. There's lots of turmeric which has a golden hue and it tints the ham. I'll send you some," Lee offered Edwards, who looked skeptical but open to the idea. Then he shared something diabolically genius.
"After you're done with the 'slicing meat,' the scraps and trimmings and fat make the best ramen broth you could ever have. The fat just emulsifies into it with the salty umami from the ham. You won't find that in Japan. There's so much more that people aren't doing with it, I want to make love to it. Dehydrate it til it's rock-hard and and grate it on pasta like bottarga or use it as the salty, tangy component in a martini. There are endless ways to manipulate that ham."
I guess my next stop is Kentucky for the ham ramen, speaking of things I've never said before. — Jess Kapadia, Senior Editor
More Big Weekends on Food Republic: