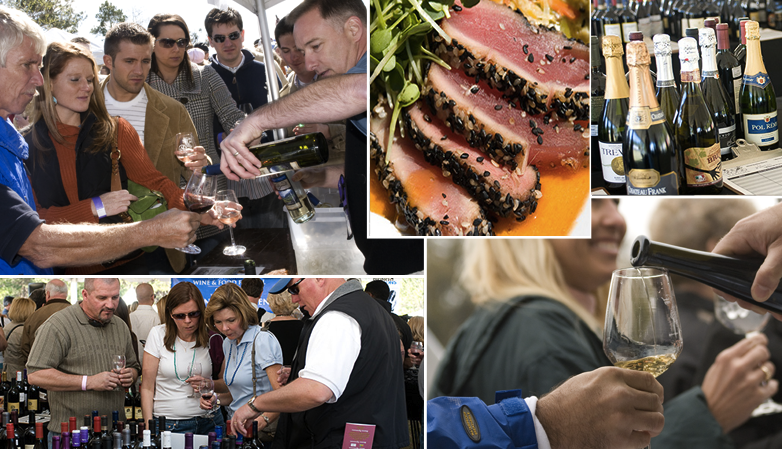 If you've ever found yourself wondering how to butcher a whole lamb most economically, you'll want to attend Chicago's Women Chefs & Restaurateurs Conference (and follow our ongoing Butchery & Charcuterie series while you're at it). You heard us. But if butchery's not your calling, attend the largest outdoor tented tasting on the East Coast at the Hilton Head Island Wine & Food Festival, or celebrate Maine Restaurant Week and order up some truffled mac 'n cheese with an appetizing price tag.
Charleston Wine and Food
Charleston, SC
Through March 9
The BB&T Charleston Wine and Food Festival celebrates Charleston's distinctive Lowcountry cuisine while benefitting scholarship programs for the culinary and hospitality workplace. The festival kicks off with a Top Sommelier Competition where local wine connoisseurs test their tasting skills against 2013 champion Rick Rubel of Charleston Grill. More events include "Butterscotch and Barley: The Union of Candy and Beer" cooking demonstration and tasting with Chef Mindy Segal of Hot Chocolate Restaurant and a Southeast Asian street food demonstration and tasting with Chef Andy Ricker of Pok Pok restaurants in New York and Portland.
Women Chefs and Restaurateurs Conference
Chicago, IL
March 9-11
The 21st annual WCR Conference will be held in Chicago's Magnificent Mile, and this year's theme is "Keeping it Green." These food and drink superstars will be discussing how financial and environmental factors affect the culinary industry. Don't miss "American Lamb: Nose-to-Tail Butchery," in which master butcher Kari Underly, the author of the James Beard Award-nominated book The Art of Beef Cutting will give a hands-on master class on how to divvy up meat most economically. "Truth in Living" is a seminar in exploring and clarifying food labels, and at "Yoga for Green Living," WCR Director Lisa Necrason teaches culinary professionals the value of getting out of the kitchen and onto the yoga mat for some much-needed relaxation.
Hilton Head Island Wine & Food Festival
Hilton Head Island, SC
March 10-15
Twenty-eight years ago, the Hilton Head Island Wine & Food Festival began as a simple three-hour tasting, but it's expanded into a full week of wine dinners, author receptions, movie screenings, seminars and grand tastings. At the "Wine & Cinema Festival Kickoff Event," viewers will enjoy a private screening of SOMM the Documentary with hors d'oeuvres catered by Redfish and award-winning wines. At the public tasting at the Historic Honey Horn Plantation (that is, the largest tented outdoor tasting on the East Coast), guests can sample 250+ wines and purchase gourmet treats from premier restaurants on the Island.
Maine Restaurant Week
Downeast Maine
March 1-10
It's that time of year when summertime lobsters rolls may seem like a just a distant (and delicious) dream. But Maine has delicious food year-round. Maine Restaurant Week offers multi-course meals for sweet prices at over eighty restaurants in Downeast Maine, including The Salt Exchange in Portland and Shipyard Brew Pub in Eliot. If you're having trouble making a decision, let us help: head to Portland's Five Fifty-Five — where you can order celery root soup with fried capers, truffled "mac and cheese," and lavender lemon drop sponge cake, sure to tide you over until lobster season rolls back in.
Upcoming:
Pigs and Pinot
Healdsburg, CA
March 21-22
As far as wine and protein pairings are concerned, pork and Pinot Noir is a tough combination to beat. At the 9th Annual Celebration of Pigs and Pinot, hosted by Chef Charlie Palmer, international celebrity chefs like Amanda Freitag and master sommeliers will showcase the ingredients at a series of dining events and juicy seminars. Don't miss Spoonbar's Swine and Wine Dinner, where Top Chef contestants Louis Maldonado and Carrie Mashaney will serve up Spanish pork chops with premier Flanagan and Banshee wines.
All-Star Chef Classic
Los Angeles, CA
March 21-23
On March 21, the stars will align over Downtown Los Angeles, bringing together twenty-seven international celebrity chefs to cook together in the never-before-seen Restaurant Stadium and The Chef's Tasting Arena. At the French Masters Dinner, Ludo Lefebvre will collaborate with chefs Alain Passard, Marc Meneau and Iñaki Aizpitarte to prepare a five-course dinner with French wine pairings. And at the Grill & Chill international cookout, 10 diverse chefs, including Roy Choi and Ricardo Zarate, will show work their culinary magic over an open flame.