How To Make Kumquat Simple Syrup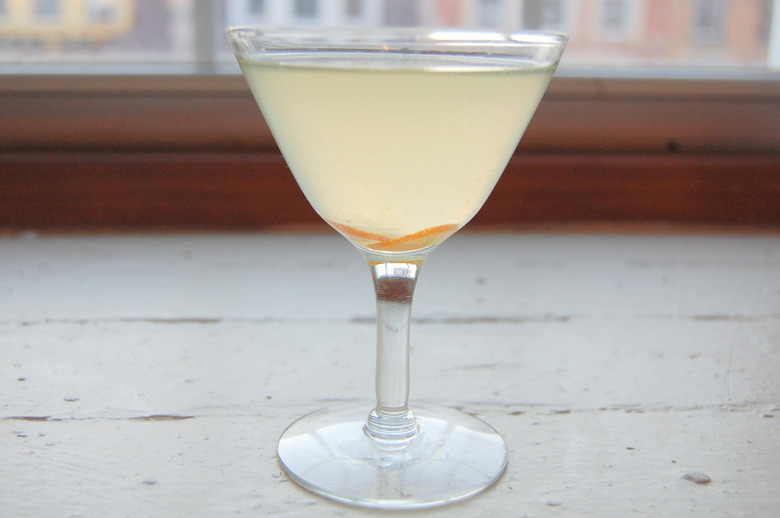 I can't remember the exact circumstances under which I first tasted a kumquat, but I do recall my astonishment at its flavor: juicy and slightly bitter on the inside with a thin, honey-sweet peel — exotic, really. I've loved the fruit ever since then, and I always buy a handful when I get the chance.
That chance doesn't come around often: these olive-sized citrus fruits have a short season, and are usually only found in stores between January and March. Luckily, we're in the thick of kumquat season, so grab yourself some.
Delicious as kumquats are, it can sometimes be hard to figure out what to do with them. Sure, they're great by themselves or sliced into a fruit salad, and then what? One of my favorite things to do with any seasonal fruit is to infuse its fresh aroma into a simple syrup to pump up cocktails. And citrus fruits, whose rinds are packed with powerfully fragrant essential oils, make especially flavorful syrups. Kumquats are the perfect candidate for this technique.
I had envisioned my last batch of kumquat syrup in a whiskey sour. But when I tasted the subtle, floral syrup, I knew that lusty bourbon would completely mask its delicate flavor. So I switched gears and shook my syrup into a gin cocktail instead, adding lime juice — what you've got there is a gimlet — and then upping the citrus ante with a dash of lemon bitters I happened to have on hand, turning the drink into what's called a gin Bennett. It's a lightweight, pretty cocktail that's perfectly appropriate for happy hour if you can't wait until nightfall to try it out.
Kumquat Simple Syrup
Servings: 1 cup syrup
Ingredients:
1 cup sugar
1 cup water
1/2 cup kumquats, rinsed
Directions:
In a small saucepan, combine sugar, water and kumquats and bring to a boil.
Lower heat and simmer syrup for five minutes.
Remove from heat and cover; let sit for 10 minutes.
Transfer syrup to a container and refrigerate for up to one month.
Kumquat Bennett Cocktail Recipe
Servings: 1 cocktail
Ingredients:
2 ounces gin
1 tablespoon lime juice
4 teaspoons kumquat syrup
Dash lemon or orange bitters
1 kumquat, sliced into thin rounds, seeds removed
Directions:
Fill a cocktail shaker with ice and add gin, lime juice, syrup and bitters.
Shake well and strain into a chilled coupe.
Float a few kumquat slices on drink and serve.
Check out these how-to drinking stories on Food Republic: