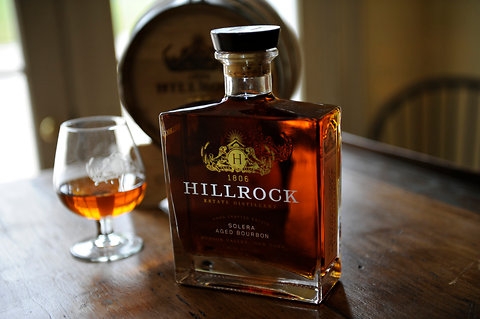 It's the brownest of the brown liquors. Sweet, stiff bourbon. Ask any proud Kentuckian and they'll tell you the real stuff must come from the heart of the Bluegrass State. And, indeed, Kentucky makes more than 95% of the country's bourbon. But legally, bourbon doesn't have to hail from Kentucky. To be called bourbon, a spirit must be made in America, from at least 51% corn and be aged in new, charred oak barrels. A growing number of small distilleries around the country are taking a stab at crafting the spirit.
Bourbon is America's only truly native spirit. First made in the vicinity of Bourbon County, Kentucky, in the 18th century, it was legally declared a distinct product of the United States in the 1960s. In bourbon's early days, it was made on farms and in small, independent distilleries. Prohibition saw great numbers of local distilleries disappear. During World War II, those that still stood were repurposed for penicillin and industrial alcohol production. Only in the last decade have many states started repealing the silly laws leftover from bygone eras that restricted local distillation, inspiring moonshiners and wannabe distillers to go pro. Consider this a new golden age of distilling. And bourbon, as she has always been, is the belle of the ball.
Now that bourbon is made in your own backyard, it's no surprise that you're more likely to try it. The craft spirits renaissance has brought about a bourbon revival, as drinkers seek out that new, local spirit they've heard so much about. Being able to visit the distillery during an afternoon drive makes these craft spirits even more exciting. We've rounded up our favorite craft bourbons from around the country, beyond Kentucky.
1. High West Son of Bourye, Utah
Located in Park City, Utah, High West Distillery & Saloon provides the ultimate après-ski experience. Sip on its Son of Bourye, named for a blend of rye whiskies and straight bourbon (legally, straight bourbon must be made with a sour mash and aged at least two years). The rye content gives this whiskey a spicy edge.
2. Hillrock Solera Bourbon, New York
Hillrock Estate Distillery, set in the Hudson Valley highlands, enlisted Dave Pickerell, the former master distiller of Maker's Mark, to make the world's first solera-aged bourbon. Solera, a gradual aging process, gives body to a bourbon that is finished in 20-year-old oloroso sherry casks for a sweet, nutty flavor.
3. Henry DuYore's Straight Bourbon, Oregon
Ransom Wine & Spirits, based on a 40-acre estate just outside Sheridan, in northwest Oregon, makes both wines and spirits. Its bourbon is aged at least four years in new American oak, some of which is finished in French oak. The result is complex: woody, fruity and spiced.
4. Hudson Valley Baby Bourbon, New York
Tuthilltown Spirits was the first legal distillery to open in New York State since Prohibition, harkening back to a time when the Hudson Valley produced more than half of the country's barley and rye, and small farm stills were commonplace. The Baby Bourbon is 100% corn, resulting in a sweet, vanilla-kissed, mild whiskey that's ideal for bourbon novices.
5. Colorado Straight Bourbon, Colorado
Peach Street Distillers, a small-batch distillery founded by three friends in the town of Palisade, makes the first ever Colorado Straight Bourbon. The mash bill contains 60% Colorado-grown sweet corn, plus equal parts rye and barley, for a robust, brightly flavored whiskey with a peppery finish.
6. Breckenridge Bourbon, Colorado
Sitting at some 9,600 feet in altitude, Breckenridge claims to be the world's highest distillery. Its bourbon is made with mineral-rich snowmelt and a rye-heavy mash bill. The result is a brown sugared whiskey with notes of dried fruit, vanilla and a hint of salinity.
7. Berkshire Bourbon, Massachusetts
As the region's first legal distillery, opened in 2007 in Sheffield, Berkshire Mountain Distillers crafts its bourbon from locally sourced corn. The rest of the mash bill must be generous with the rye: the whiskey is spicy, with fruity and nutty notes.
Read more about bourbon on Food Republic: