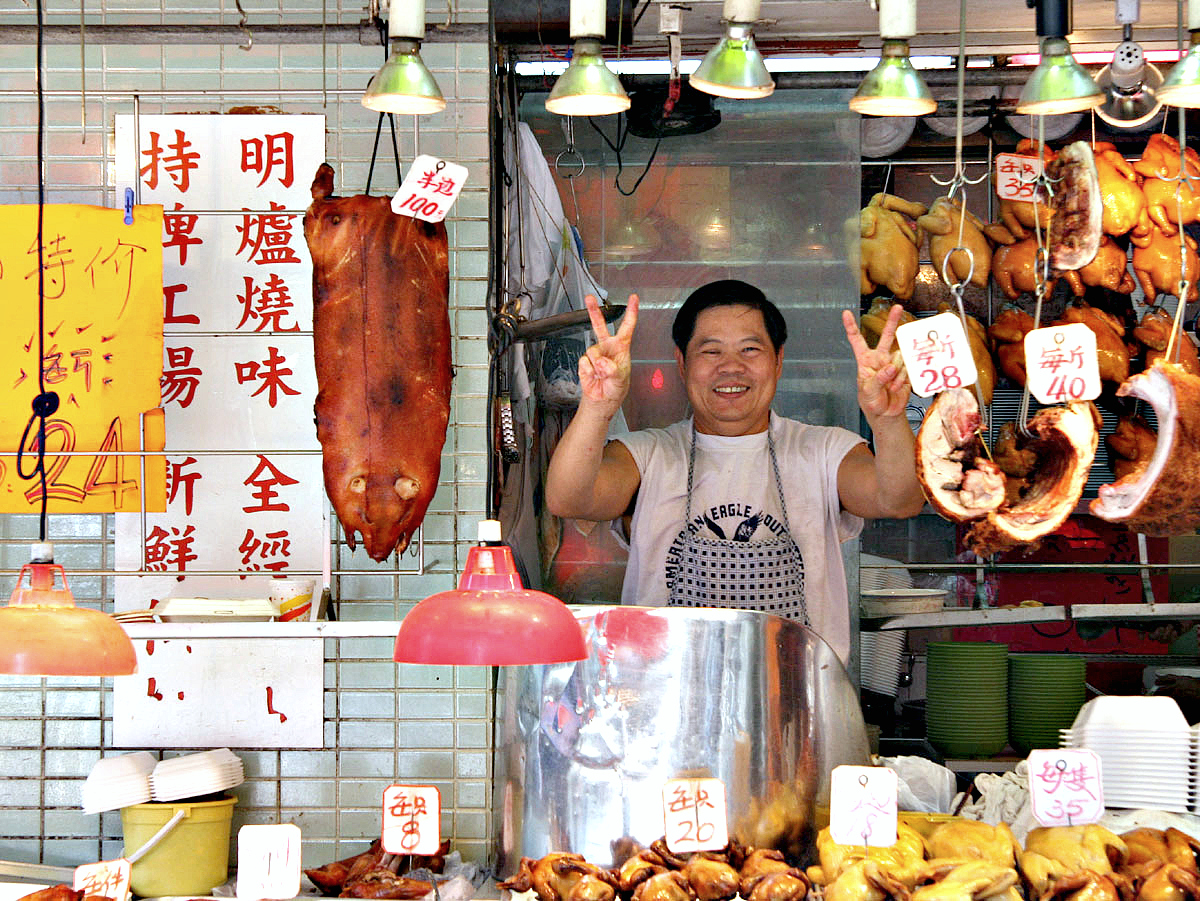 This story is part of the Food Republic Butchering and Charcuterie Series, which will run through the spring.
There are 50 ways to butcher an animal. A "correct" way? Fat chance. Which makes things really interesting. "Most cultures that haven't been globalized, like say the Japanese give a lot of value to premium cuts, but they also deem every single part desirable," says Tom Mylan, co-owner of The Meat Hook in Brooklyn. "It's much more nose to tail in other cultures outside the United States." With that, here's the breakdown of six key butchering cultures — and how it all translates to your home kitchen.
German
As you may have guessed, pork is king in Germany and the most popular way it's served at butcher shops is actually a mess of parts — livers, muscle, blood — that get stuffed into a casing and sold as sausage. The Germans make around 1,500 types of sausage, or wurst, a practice that dates back to the biblical times. You have the popular bratwurst, a typically grilled pork sausage that is traced back to the 15th century, weisswurst, a veal and pork blend that looks almost white and bludwurst, or blood sausage, to name a few. Also commonly found at German butchers is mett, a fresh ground pork spread they serve raw with salt and pepper atop a roll. As far as actual cuts of meat, you can order speck — a.k.a. German bacon, filet, or cold cuts — another form of wurst that's often served as dinner. As far as breaking down the pig, German butchers typically separate the animal into 14 different parts, almost twice as many as they do in America.
Polish
The meats eaten and prepared in Poland prove similar to their neighbor Germany, meaning they consume a lot of pork and sausages, which each local butcher creates in-house. Popular meat dishes include golonka and bigos, the former being cured ham with horseradish and the latter consisting of various kielbasa (sausage), bacon, chunks of beef, venison, veal or rabbit combined into a soup also known as hunter's stew. Most of the meat you would get from a butcher comes already cured, made into sausage or cut up for stews; though they do sell pork cutlets that commonly get breaded and fried, like most meat that isn't in a soup. Aside from pork, most butcher shops will carry an array of smoked and pickled fishes, mainly herring.
Mexican
A lot of meat in Mexico gets grilled or braised, so you find cuts in many Mexican carnicerías that reflect that. Depending on the region, in Mexico carne de res (beef) reigns, with pork coming in second. Expect plenty of thinly cut beef shoulder, tapa (top round), cubed meat and cutlets pounded thin for milanesa. If you want ground beef, they will do it with any cut under the moniker molida de res, or if you prefer chopped, ask the carnicero for picada. Unlike the United States, meat found here is rarely aged and there isn't as much succulent marbling in the meat, so marinating and braising for tenderizing remains common. You will also find plenty of fresh pork cracklings or chicharrónes, piled high, which is the perfect pre-dinner snack food.
Kosher and Halal
Each of these religious butchers largely deal with beef, chicken or lamb, and for both, pork and any animal blood is strictly forbidden. After that, the first part to understanding kosher and halal butchering is to go over the rules. The Hebrew term for slaughtering animals is shechita, and it must be done by a shochet, or religious Jew, who kills the beast by cutting its throat from the front with a sharp blade allowing the blood to drain from the body. Then the animal, usually a cow or chicken, is checked for impurities inside the carcass. Once clear of any scarring or damage, before the meat can be made kosher it goes through proging, which means all the sinew, caul fat and veins are removed. The blood must be removed from the meat before it's accepted. Also, because it's unlawful, or traif, to eat the sciatic nerve, most butchers don't deal with the hindquarters of the cow. This is why often you will only find cuts from the front half of the cow available, including brisket, bolo, rib, hump, chuck and neck.
For halal meat, the butcher must follow the Islamic laws regarding preparation of animals, which prove similar to kosher laws, save for instead of a practicing Jew doing the slaughter, the task goes to a Muslim and there are a variety of words that must be said over the animal. Unlike kosher butchering, you can eat the entire animal. Because of this, you will see many more cuts of meat at a halal butcher, including leg of lamb, whole chickens and ducks, and silverside or topside of beef.
Chinese
One of the best things about Chinese butchering is their emphatic use of the whole animal. Another unique aspect is that the Chinese tend to leave it full of bones, truly not wasting a scrap. The most common meats you find are pork, beef, duck and chicken — though in some areas of the country they also deal in dog meat. In most parts of China, any butcher shop will carry strips of fatty and thick pork belly, spare ribs, thinly sliced beef for hot pot, whole chickens and head-on ducks, usually roasted. Aside from meat, you can also find chicken bones and feet, tripe, and in some places, live frogs and turtles.
South America
Butchering varies throughout the continent, but one of the most prevalent places you find meat is in Argentina, where beef remains their bread and butter. Pork too is popular, and pretty much everywhere you go you will see jamón on menus, in the grocery stores, and of course, at the carnicerias. "In Argentina, they fetishsize flavor or tenderness," says Mylan, whose butchering book, The Meat Hook Meat Book, comes out later this year. "They cut the inch-thick short rib and grill them as tender they can, while still being medium rare. There, they are willing to chew on something because it has more flavor." For this reason, and because they marinate and stew many dishes, a lot of the butcher's cuts remain hearty and a little more primitive than in other countries. As far as more tender cuts, a popular one you will find at butcher shops is lomo, or the tenderloin of the cow or pig, ribs and steaks for grilling, spicy chorizo sausages, and sweetbreads. While beef and pork get eaten all around South America, in Patagonia they favor lamb and goat, which you will often find at the carniceria whole or cut into large segments. 
3 Butchers To Visit Around The United States
Fischer Bros. & Leslie (NYC)
For 65 years, this Upper West Side butcher has been dishing out kosher meat to the neighborhood. They serve beef, lamb, veal and poultry, and all meat preparation is overseen by the Orthodox Union of Rabbis.  230 West 72 Street, New York, 212-787-1715; fischerbros.com
Harvey Gussman Meat Company (LA)
Founded in 1939 by Abraham Gussman, this old-school butcher shop can dish out any cut of meat you may desire, be that a Mexican specialty or Argentinean lomo. It's a favorite of chefs and worth visiting. 949 South Ogden Drive, Los Angeles, 323-937-4622; harveysgussmeat.com
Joong Boo Market (Chicago)
If you are looking for Asian-style butchering, this shop has been serving customers since 1992. They offer fresh meat and skilled butchers, as well as any type of Asian condiment, prepared foods, and sweets you may need to go with your meat. 3333 North Kimball Avenue, Chicago, 773-478-5566; joongboomarket.com
Read these Butcher Block stories on Food Republic: