6 Restaurants (And One Vending Machine) Doing Farm-To-Table Fast Food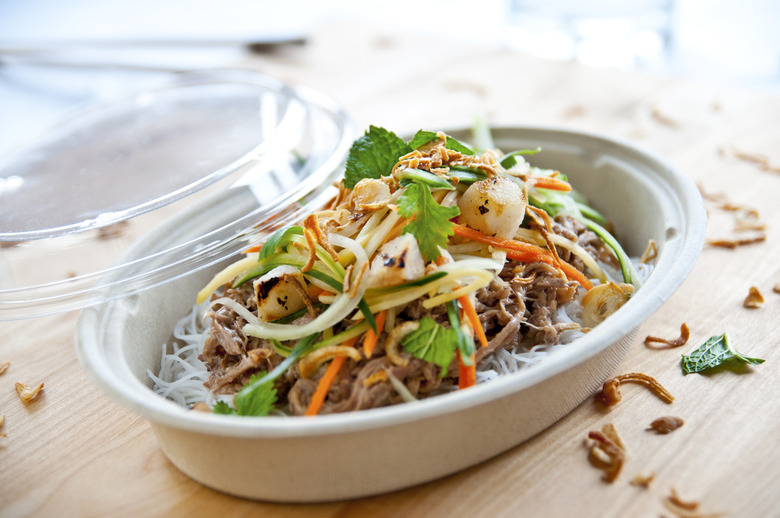 Someone call Dan Barber. For years, temples of haute cuisine — like Barber's groundbreaking Blue Hill at Stone Barns — made farm-to-table fare a decidedly formal affair. In the same way that leather-bound wine lists catalog the Medoc origins of the Chateau Margaux swirling in your stemware, dinner menus solemnly describe the acorn-laden fields where that Berkshire hog you're about to eat was raised.
But change is afoot — and afield. At drive-through windows and counter joints across the country, farm-to-table fare is going mainstream. From a New York City noodle bar poised to become the Asian Chipotle to a gas station vending machine dispensing all-natural beef burritos, these farm-fresh service joints are trying to redefine eatin' good in the neighborhood. Here are 7 places where you can eat well, really fast. 
1. Atlanta, GA: Farm Burger
George Frangos is conscientious about cows. The beef between Farm Burger's all-natural buns comes from hormone-free cattle raised on Southeastern sweet grass, and is topped with Georgia's own Decimal Place Farm goat cheese. Diners can also customize their burgers with vine-ripened heirloom tomatoes and fresh lettuces that Frangos sources from small-scale, locally owned farms. After debuting in Dunwoody four years ago, Frangos has spread the word to three more locations in the Southeast, including a newly opened branch in Asheville, NC. Various locations, Southeast, farmburger.net
2. Nashville, TN: The Local Taco
This Tex-Mex mini-chain serves sustainably sourced tacos with a Southern accent. Owner John Ko works with CSAs and privately owned farms to obtain ingredients for his five branches across the Southeast, which means menus vary by location and by season. So, at any given point, the Ashville outpost might have a sweet chili tempeh taco with Napa slaw and pickled celery, while the Lexington location serves its pulled pork taco with house-made bourbon barbecue sauce. Various locations, Southeast, thelocaltaco.com\1.
3. Chadds Ford, PA: Farmer's Road Drive Thru
Last winter, the owner of Media, PA's Lotus Farm to Table restaurant decided to reinvent eating behind the wheel. Courtney Rozsas' Farmer's Road Drive Thru serves farm-to-table eats for those who wish to dine en auto. The menu includes an all-natural beef hot dog in a whole wheat pretzel bun, and a sourdough sandwich topped with local cheddar, sliced apple and raw honey. All-natural sodas are courtesy of Pennsylvania's own New Hope Premium Fountain. 210 A. Painters Crossing Village, 610-558-2220, farmersroaddrivethru.com3
4. Los Angeles, CA: Burrito Box
This January, at an unassuming Mobil station in West Hollywood, a bright orange vending machine began quietly dispensing sustainably sourced beef burritos to the sounds of Ellie Goulding. Burrito Box, the epicurean automat, sells eight types of burritos, all of which are made with hormone-and antibiotic-free ingredients. On-the-go gourmets simply enter their selection on the machine's digital screen, make a $3 credit card swipe ($3.75 if you add a side of Wholly Guacamole), and wait while the Box heats and dispenses their order while playing a few bars of folktronica. The future is now. 8380 Santa Monica Boulevard, tastetheburritobox.com
5. New York, NY: Vien
Opened by 28-year-old Hong Kong native Mark Sy last fall, this mod counter joint serves house-made energy bars, padan tapioca pudding and customized noodle bowls filled with hormone– and antibiotic-free lemongrass chicken, seared turmeric tofu, red quinoa and sustainably sourced mangoes. The choose-your-own-adventure menu is entirely gluten-free, and best served with a cup of freshly brewed Intelligentsia coffee or cold Singha. Wall art comes courtesy of local graffiti artists Russell Murphy and Christina Wang, who tagged interiors with the names of Vien's nearby purveyors and a mural of farm-fresh produce. 220 Varick Street, 212-255-8808, vienrestaurant.com
6. Palo Alto, CA: Lyfe Kitchen
Two former McDonald's executives launched this mini-chain of quick service spots serving breakfast burritos made with locally sourced, hormone-free eggs, kale caesars made with farmers' market greens and "unfried" organic chicken with butternut squash. With their four locations in California, and a newly opened outpost in Chicago, Lyfe's mission is to change the face of organic agriculture, giving small farms the chance to partner with national restaurant chains. Various locations, California and Illinois, lyfekitchen.com
7. Boston, MA: b.good
Founded by childhood friends Anthony Ackil and Jon Olinto, b.good is a Boston-based burger chain that has been keeping things fresh for 10 years. All locations source their produce from local farms and purchase all-natural beef from Pinewood Farms, a co-op of 270 sustainable farms that also supplies to Whole Foods. Want to give b.good a try? You're in luck. In addition to their nine Massachusetts locations, the duo has some 23 franchises and 12 corporate locations opening across New England over the next five years. Various locations, Massachusetts, bgood.com
Read these Fast Food Afternoon Romp stories on Food Republic: