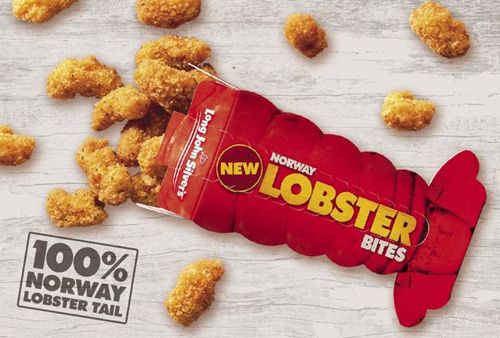 Last week, we caught up with Oceana chef Ben Pollinger as he told us about his recent trip to Norway — in which he learned about Skrei, a migratory Norwegian cod. He also visited a salmon farm and processing facility and restaurant Ylajali in Oslo, which the longtime NYC chef described as one of his most thrilling dining experiences ever. Norway, as it turns out, is not just good at kicking serious ass at winter sports. Norwegian seafood is being coveted in both rarified fine dining circles and at Long John Silver's. Wait. Long John Silver's?
According to Grub Grade, the fast food fish seller is bringing back a once-popular menu item: Norway Lobster Bites (last seen on Long John Silver's menus in 2009). From a press release:
Just in time for "Seafood Season", we're bringing back one of our favorites that hasn't been seen since 2009! Let your taste buds dive into Norway Lobster Bites – succulent, juicy chunks of 100% Real Norway Lobster. Our Norway Lobster Bites are hand-shelled and cooked up in a tasty, light breading with the perfect, buttery crunch. Best of all, they're sustainable and all-natural – no additives here! Grab these poppable pieces of deliciousness while you can!
Below is a TV commercial with all kinds of slow motion bread crumb explosions and Norwegian lobstering imagery. According to the release, Norway Lobster Bites follows the January release of Dippin' Fish Strips and the Ciabatta Jack Sandwich in September 2013. The fast food zeitgeist, you have been tapped.