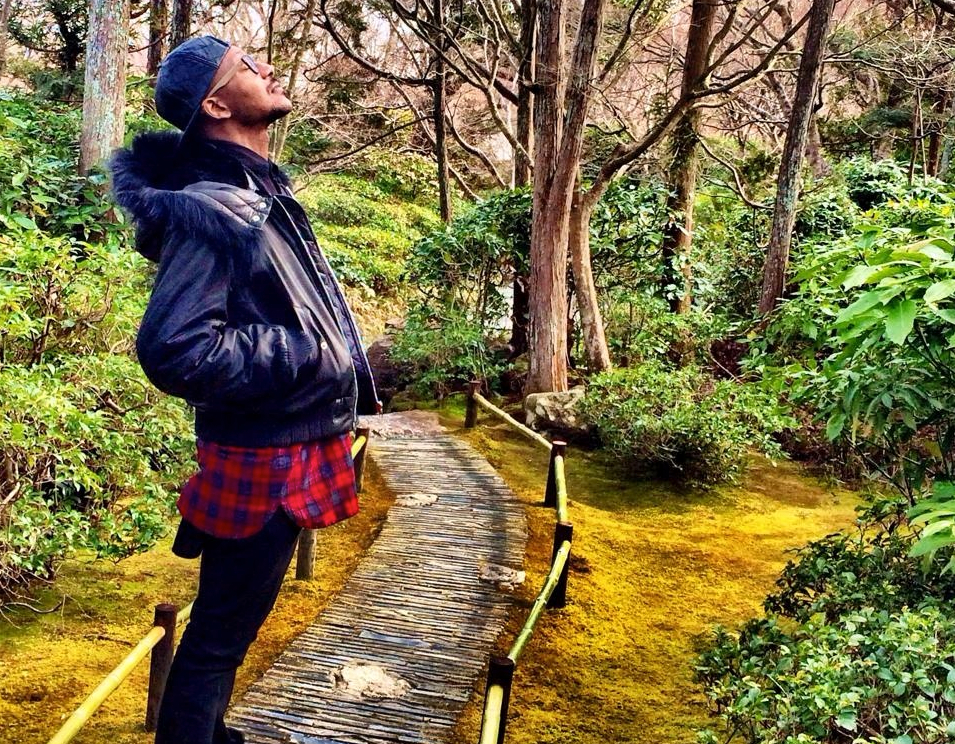 Chefs love to travel — for inspiration, to experience the cuisines of other cultures or just to get away from the heat of their own kitchens. When they return, we hit them with some questions — where'd they stay, what'd they do and WHAT DID THEY EAT?!
Portland chef Gregory Gourdet certainly makes his case for the most interesting man in the culinary world. The chef of modern pan-Asian restaurant and lounge Departure just spent a few weeks in Tokyo and Kyoto on behalf of Travel Portland, helping to promote a city guidebook for the people of Japan. In his spare time, the Jean-Georges alum – who competed on Food Network's Extreme Chef show – models his hair (that mohawk!) and runs marathons. He wrote in to us about his recent trip and upcoming plans to compete in a 100 (yes, 100)-mile race.
Related: Gregory Gourdet Takes A Departure
Where are you just back from?
Tokyo and Kyoto. With a quick stop in Anchorage, Alaska.
Was it business or pleasure?
Both! I was asked to join Travel Portland for the launch of their new Japanese guidebook, True Portland: The Unofficial Guide For Creative People. We did three events in Tokyo: a Q&A panel at a bookstore, a pop-up party with food from Oregon and my restaurant Departure, and a cooking class, again of Portland/Departure-inspired cuisine. After four days of seeking ingredients and running around Tokyo, space to space setting our events up, we boarded the bullet train and retreated to Kyoto for some down time. We visited castles and ancient temples and hiked around the bamboo forest.
How often do you travel for inspiration?
I travel for inspiration very often. I have lived on both coasts so I have reasons to travel back and forth to places like NYC and LA. NYC is always an exercise in squeezing in as many great restaurant visits into a trip as possible. There is always somewhere new and amazing to eat there. LA too. Outside of being a chef, I am an ultra-runner and I race around the Pacific Northwest. I travel to remote parts of Northern Washington and Central Oregon to race long distance in the mountains and forest. I find this as inspiring as a great meal can be. I will be racing a 100-mile race through the desert of Bryce Canyon, Utah in June, which will be epic and life-changing. I have committed myself to one international trip a year moving forward. There is so much out there to see, taste and experience! It is very important to connect to other cultures besides your own.
What was the highlight of your trip?
Eating sushi in Tokyo. Getting the authentic version of something you have experienced so many times from afar is amazing. I ate so many things I have never had before. It was all so simple, amazingly fresh and bright, delicious and interesting. Cod sperm sac, anyone? Ice fish? Blood clam? No really, delicious. Also the level of politeness and cleanliness held by the Japanese is really refreshing. Tokyo is so organized, as populated as it is. Everyone there is very respectful and kind.
Lowlight?
I have to admit I craved Western flavors. I got my full of seaweed and dried fish flavors pretty quick, about after my third Japanese breakfast. I secretly ate French fries and ketchup in my hotel. I also am gluten-free and love cake and craved it very much. Not much cake, let alone gluten-free cake in Japan. Lots and lots of mochi, however. I ate tons of that. I also don't process soy well, so I wasn't feeling so hot after my third day of miso soup. I was respectful and ate most of everything offered to me, however.
Where'd you stay and what's your mini-review of the place?
Travel Portland set up accommodations for my sous-chef and me at the Hotel Okura while we worked in Tokyo. It is a great old Japanese hotel and service was outstanding. Tidy, small rooms with low beds. In Kyoto we stayed at the Westin Miyako Kyoto and it was great! It's a huge, beautiful hotel overlooking the Kyoto hills. The staff was extremely helpful and we appreciated staying at a Western hotel as we were on our own at this point with no guides or translators. They helped us get directions around town and dinner reservations, as we spoke little Japanese. The big, fluffy Western beds, peaceful tree-lined gardens and sunset views were lovely.
What was your best meal on the trip?
Super fresh anago [sea eel] over rice at a tiny eight-seat restaurant right outside the Tsukiji Fish Market after a 6 a.m. tour as a snowstorm started. Also, sushi at Rosan in Tokyo.
Where do you want to travel to next, and why?
I have two trips getting planned. I was planning a trip to Thailand this late winter before the trip to Japan came up. I love Thai flavors and warm weather! I have always been fascinated by chilies and am obsessed with coconut and the versatility of rice. I eat lots of Thai food and look forward to tasting the authentic versions of some of my favorite dishes. I moved this trip to winter 2015. I am planning a trip to Europe in October 2014. I'm attending an electronic music festival in either Germany or France, as I am waiting for artist line-ups to be announced. I have never been to Germany, but I lived in France very briefly in college and would love to return. It is quite the epicenter of many things food, fashion and culture.
Read more Just Back From columns on Food Republic: