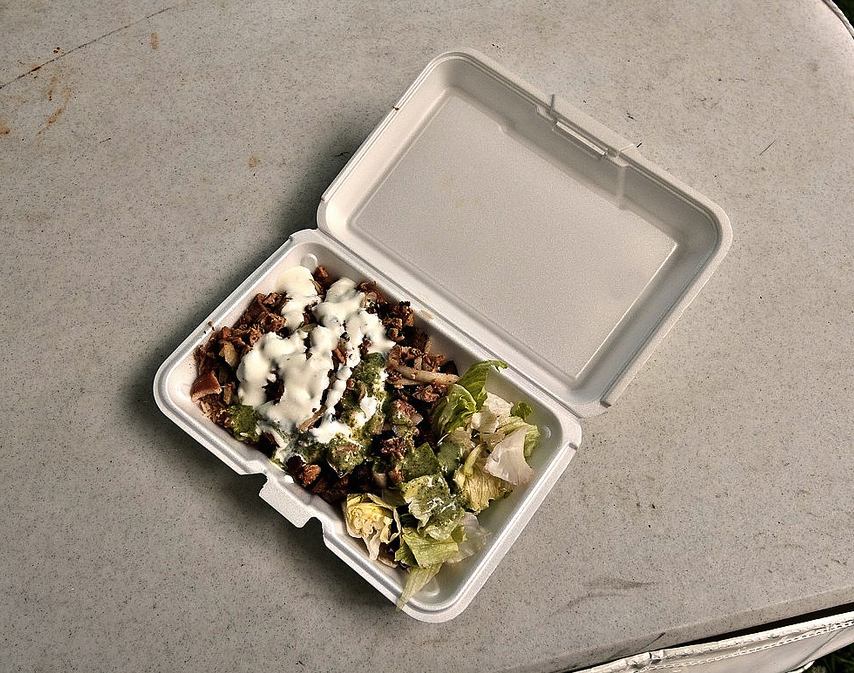 Get ready for an ode to New York. We've been curating Fantasy Travel Week for a while now, interviewing food enthusiasts and jet-setters from all walks of life on their very favorite corners of the earth. I was wringing out my brain trying to decide where I'd go if I could hop on a plane and wake up for lunch somewhere, and the strange but undeniable truth is when it comes to the midday repast, I'd really rather just stay here.
What a cop-out! Nuh-uh! Hear me out. Food Republic Headquarters is literally in the dead center of Manhattan, land of getting anything you want to eat. If you crave pizza, a bagel, specific dumplings, certain salads, deli sandwiches or a styrofoam container of chicken or lamb or rice with tart yogurt sauce and some mealy veggies you don't actually have to eat, you can't do better. I mean yeah Italy for pizza, but also duh. Whatever you end up getting — sushi, stir-fry, veggie burger, chicken tikka masala — it's going to be pretty good. There's something supremely satisfying about getting exactly what your spontaneous craving demands.
When I head outside our building for lunch, Dean Martin's "The Street Where You Live" plays in my ears and I just saunter humming "there's nowhere on earth I'd rather be" until I find something good. Something is always new, there's a taco stand that wasn't there before or a falafel pop-up in Herald Square or Bryant Park. If I walk three blocks, I'm in Koreatown, home of multi-course lunches, fried chicken, noodles and free-flowing beer. If I walk 10 blocks, I'm in Curry Hill, home of dosas, curries and other spicy friends. But I'm still in Midtown.
So yes, I'd like to tuck into a massive shellfish tower on the western coast of France if the short answer to a Fantasy Travel Week lunch column is to be addressed at some point. But the fact of the matter is, I'm grabbing Halal from the friendly dude on the corner who asks me where I'm from every time I get a combo rice, cause I work right in the middle of my favorite place to eat.
More lunch in New York on Food Republic: