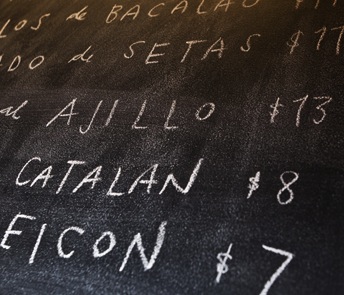 Every Wednesday, Food Republic's column "Would You Like to Hear About Our Specials?" highlights the nightly special dishes offered at popular restaurants from around the country.
This week, we take a look at tonight's specials from some of New York City, Chicago, Las Vegas, Los Angeles, Miami and Seattle's hotspots.
NEW YORK
ABBOCCATO ITALIAN KITCHEN
Chocolate Pappardelle
Vanilla-braised beef short ribs, garlic, pepperoncini, Pecorino romano
Brodetto
Saffron fish stew, striped bass, scallops, mussels, calamari
136 West 55th Street, abboccato.com
BALABOOSTA
Fluke Ceviche
Red cabbage, pistachio, sumac
Short Rib Empanada
Roasted red pepper tahini, pickled onion
Bouillabaisse
Clams, calamari, fish, shrimp, chopped vegetables, sourdough toast, saffron aioli
214 Mulberry Street, balaboosta.com
BLUE RIBBON FRIED CHICKEN
BBQ Pulled Chicken Sandwich
Hand-pulled chicken, toasted bun, special sauce
28 East First Street, blueribbonfriedchicken.com
BODEGA NEGRA
Spice-Rubbed Roasted Pork Chop
Mexican BBQ sauce, grilled onions, sweet plantains, mustard green salad, golden raisin vinaigrette
355 West 16th Street, bodeganegranyc.com
CASA LEVER
Seared Dijon-Crusted Tuna
Caramelized cipollini onions, aged balsamic vinegar, young carrots
390 Park Avenue, casalever.com
DELICATESSEN
Goat Cheese Gnocchi
Parmesan broth, duck confit, Swiss chard, caramelized onions
54 Prince Street, delicatessennyc.com
FELICE 64
Salmon Tartare
Pickled red jalapeños, cucumbers, yogurt and dill sauce, misticanza salad
Lemon Zest Tagliolini
Fresh lobster & tomato concasse, green pea puree
1166 First Avenue, felice64.com
KHE-YO
Roasted Kampachi Collar
Kampachi belly, garlic rice
Fresh Rice Noodles with Mushrooms
Good Water Farm bok choi, Thai basil
157 Duane Street, kheyo.com
SANT AMBROEUS (MADISON AVENUE)
Lombardy-Style Braised Beef
Sweet potatoes, seasonal vegetables
1000 Madison Avenue, santambroeus.com
SOTTO 13
Potato and Braised Beef Short Rib Cannelloni
Truffled fonduta
140 West 13th Street, sotto13.com
THE PEACOCK
Duck Cottage Pie
Red wine, mixed spices, root vegetables
Roasted Garlic and Sunchoke Soup
Butternut squash purée
Fish Pie
Scallops, cod, Scottish salmon, lemon, white wine, fresh herbs, grain mustard
24 East 29th Street, thepeacocknyc.com
THE SEA GRILL
Whole Grilled Rainbow Trout
Wilted spinach, tomato caper vinaigrette
Long Island Steamer Clams
Cooked en cocotte, white wine, herbs, grilled focaccia
19 West 49th Street, patinagroup.com
CHICAGO
HOWELLS & HOOD
Black Mole Empanadas
Oaxaca black mole, Berkshire braised pork, queso fresco, cilantro, Peruvian green salsa
Barbacoa Street Tacos
Dry aged prime rib, pickled red onion, queso fresco, shredded lettuce, sliced tomato, cilantro, radish, Peruvian green salsa, pinto bacon beans
435 North Michigan Avenue, howellsandhood.com
OLD TOWN POUR HOUSE
Smoked Brisket
Shaved house smoked brisket, butter pickles, Gouda mornay, Hawaiian bun
Pork Belly Grilled Cheese
Braised pork belly, butterkase & white cheddar, heirloom tomatoes, over-easy egg, smoked tomato soup, brioche
1419 North Wells Street, oldtownpourhouse.com
SOUTH BRANCH
BBQ Chicken Ranch Sandwich
Applewood smoked bacon, cheddar cheese, shredded lettuce, BBQ ranch sauce, pretzel bun, French fries
Basil Hummus Wrap
Artisan lettuce, grape tomatoes, balsamic marinated beets, red onion, grilled asparagus, goat cheese, citrus dressing
100 South Wacker Drive, southbranchchicago.com
SWEETWATER
Ginger Ponzu Glazed Chicken Sandwich
Wasabi aioli, spicy slaw
Tuna Niçoise
Ahi tuna, cherry tomato, romaine lettuce, Kalamata olives, green beans, red potatoes, hard boiled egg
225 North Michigan Avenue, sweetwatertavernandgrille.com
THE BOUNDARY
Crawfish Étouffé
White rice
Sweet Bacon Burger
Brown sugar bacon-wrapped burger, sweet coleslaw, fried pickles, pretzel bun
1932 West Division Street, boundarychicago.com
LAS VEGAS
RED SQUARE RESTAURANT AND LOUNGE
Fritto Misto
Calamari, rock shrimp, scallops, two dipping sauces
Shock Top Pork Tenderloin
Barley risotto, braised red cabbage, crispy onions
3950 Las Vegas Freeway, mandalaybar.com
STACK RESTAURANT AND BAR
Seared Day Boat Scallops
Salt-roasted baby beets, fava beans, arugula, kumquat vinaigrette
Crispy Bananas Foster Bites
Dark rum caramel, Nutella ice cream
3400 South Las Vegas Boulevard, stacklasvegas.com
LOS ANGELES
STELLA BARRA
Beef Carpaccio
Charred fennel, caper and shallot dressing, heirloom cherry tomatoes
Fritto Misto
Rock shrimp, line-caught calamari and scallops, semolina
6372 West Sunset Boulevard, stellabarra.com
MIAMI
OTC
Loco Moco Burger
Sautéed mushrooms, fried egg, sweet teriyaki sauce
1250 South Miami Avenue, otc-restaurants.com
TERRAZZA AT SHORE CLUB
Pappardelle Pasta
Sopressata, sautéed kale, lemon zest, Parmesan cheese
1901 Collins Avenue, morganshotelgroup.com
THE RESTAURANT AT MONDRIAN SOUTH BEACH
Garlic Labneh
Roasted peppers, capers, olive and tomato
1100 West Avenue, morganshotelgroup.com
SEATTLE
HOW TO COOK A WOLF
Geoduck Fritter
Bay leaf roasted lemon, preserved Meyer lemon aioli
2208 Queen Anne Avenue North, ethanstowellrestaurants.com
RIONE XIII
Vongole Y Spaghetti Nero
Manila clams, squid ink spaghetti
401 15th Avenue East, ethanstowellrestaurants.com
POQUITOS
Beef Tongue Tacos
48-hour braised and grilled beef tongue, three-chile salsa
1000 East Pike Street, vivapoquitos.com
---
Have a nightly restaurant special you want us to feature in a future column? Email george@foodrepublic.com with a dish description for possible inclusion.