Edward Lee: Cheap Suits, Mexican Booze And How To Travel Like A Chef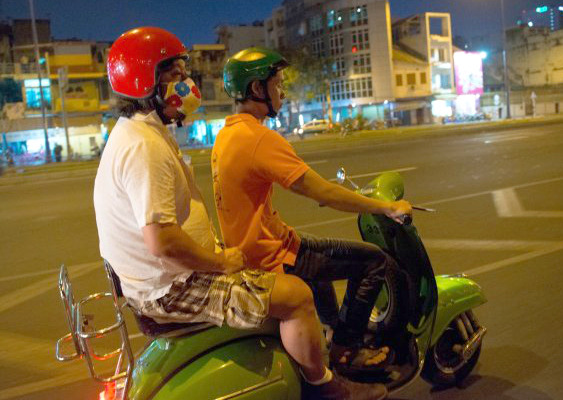 We may receive a commission on purchases made from links.
Edward Lee is a former Top Chef and Iron Chef contestant, Louisville restaurateur, fish sauce evangelist, bourbon expert and author of Smoke and Pickles, a cookbook that details his life's journey from Brooklyn to the American South through recipes and erudite story telling. After a career in book publishing, Lee worked his way through the city's kitchens, then opened an acclaimed Korean-inspired restaurant, Clay, in 1998. Five years later, after the restaurant closed, Lee took a road trip to Kentucky and has been there ever since. Traveling is crucial in keeping the chef sharp. Fresh. It's a big reason why we find chefs in constant motion. Check out our Just Back From series for proof. Lee is one of these guys, and as we find out in our interview, he's got the scars to prove it. There was mescal involved.
Where are you planning to traveling in 2014?
Argentina, Korea, London. We always do Maine in summer and then the usual circuit of food festivals around the South.
If you could travel anywhere and had infinite resources, where would you go in 2014?
To Bali, to see what my buddy Will Goldfarb is doing over there. It sounds just nutty enough to be brilliant.
Best food-related souvenir that you have ever brought back?
A deep scar on my left leg from a mescal-tinged evening in Puerto Escondito.
How much does food/drink have to do, if at all, with your travel plans for 2013?
Everything. I'm not exactly a sit by the beach and drink a piña colada kind of guy.
What was your most memorable trip from the past few years?
Vietnam. Best memory is being hijacked on a fishing boat for eight hours in the middle of the South China Sea.
What airlines do you fly, prefer to fly? Do you have any frequent flier programs?
They're all the same to me. I take a pill, shut my eyes and hopefully, when I wake up, I'm at my destination.
What about hotels? Any standout places that you've stayed or would like to stay?
Blackberry Farm is at the top of the list and 21C is the most unique hotel chain in the country. But every once in a while I like to throw myself into the lion's den and hole up in a Travel Lodge just for the seedy fun of it.
You best travel nightmare story?
My wife and I had an adventure weekend planned in the Arizona desert (we rarely do this kind of thing but we thought it would be fun). A freak ice storm canceled all flights and the only warm destination we could get to was Ft. Lauderdale. We spent the weekend at some discount Euro-trash wannabe hotel with paint chipping off the walls. But we met some nice Ukrainians and befriended the hippie octogenarian bartender who sent us to a decent Chinese restaurant on the water. It's what you make of every situation.
What are you favorite cities for food, and if not mentioned above, where are you yearning to go to try the local cuisine?
Too many to list: New Orleans, San Sebastian, Tokyo, Toronto, Los Angeles, Boston (yes, Boston!), Mexico City, and on and on.
Is there a food you have traveled over 1,000 miles for?
Years ago I went to Hong Kong to see the so-called culinary capital of the Far East, realizing that most of what I ate I could have gotten in Chinatown back home.
Best travel advice you have been given lately...by who?
I just had a baby girl and I hate being away from her. Tony Bourdain told me to travel often and early with her to get her used to being a professional traveler.
Any favorite cocktail/beer/wine spots from your travels?
I like to drop in on Bar Jamon in NYC late afternoon before the evening rush.
Have you ever brought beer/wine/booze back from someplace, and if so, how'd you carry it?
I brought back some homemade pinga from Brazil once. I had it on my carry-on bag. I find that if you wear a cheap suit and necktie, they rarely bother you at Customs.
What items do you pack for every trip?
Water, protein bars and a good book.
Here's a video of the author and Lee riding around the streets of Phu Quoc, Vietnam all Bourne Identity style.
Check out more from Fantasy Travel Week on Food Republic: