Lexington, Kentucky: There's A Lot More To The City Than Wildcat Basketball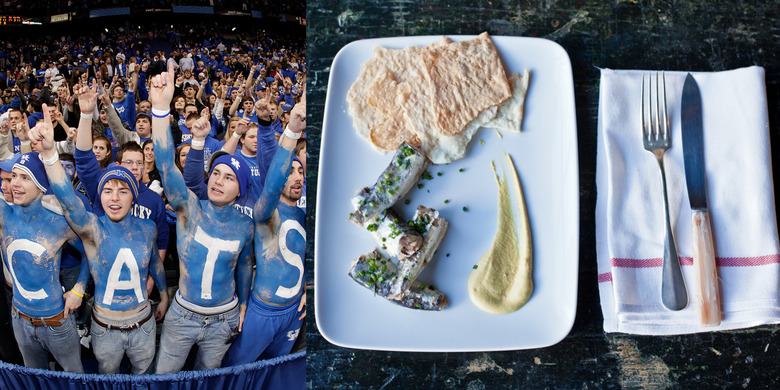 As March Madness and NCAA basketball start to take center stage of the national consciousness, eyes usually turn to the Bluegrass State for at least part of the month, specifically to Lexington, home of the Kentucky Wildcats. But there's more than roundball in Lexington, which has developed a pretty notable restaurant scene over the past decade. (Although an ex-coach did combine the two when he opened an Italian restaurant humbly named Bravo Pitino.)
From down-home to highbrow, Lexington restaurants celebrate the Southern cuisine made from the bounty of ingredients grown in the fertile earth of the region and distilled by producers all over bourbon country. On the casual end of the spectrum, it's tough to beat a stalwart like Ramsey's Diners, a small chain of casual restaurants which supplement their menu of Southern classic dishes with a full bar and some of the best happy hour deals in town. In fact, at the original location, near a fire station, beers were $1 off whenever a fire truck careened by with the siren screaming. Traditional breakfasts are over the top with each egg dish served with five eggs, prepared your way.
Even more outrageous is Ramsey's version of the Kentucky favorite the Hot Brown. Although tradition states that the sandwich originated at The Brown Hotel in Louisville, Ramsey's version may be the one that has contributed to the purchase of more cardiologists' speedboats than any other. What begins as a simple overstuffed ham and turkey sandwich ends up covered with an extravagant topping of cream gravy and a full pound of cheese, to the point where no portion of the bread is visible on the plate. Grab a knife and fork and dig in!
For slightly more refined sandwich options, try Stella's Kentucky Deli, where the Kentucky Burger is king. Made with black angus beef that has been finished on native Kentucky bluegrass, this burger is great on its own but also serves as the jumping-off point for several inventive variations. The Griff Burger is a delightfully crunchy and funky option with bacon, blue cheese, dijon mustard and apple slices. The Revro Burger tops the Kentucky Burger with a pile of bacon, a perfectly fried green tomato and basil-mayo. Stella's even serves a vegetarian version of the Hot Brown, but vegans need not apply thanks to the ridiculous amount of cheesy mornay sauce ladled on top.
For those looking for something a little more hip, Table Three Ten is the spot. The front of the restaurant opens up to the street for patrons to see and be seen, and the welcoming melange of industrial and barnwood rustic draw plenty of sophisticated diners through the door. The menu emphasizes approachable wines and creative cocktails served with small plates of French bistro food and Spanish tapas. Daily specials are displayed on blackboards to keep the menu fresh and feature local season ingredients.
Jonathan Lundy is the chef/owner at the eponymous Jonathan at Gratz Park. Lundy grew up on a Kentucky farm where members of his family were involved in the establishment of Calumet Farm, which has produced two Triple Crown winners and eight Kentucky Derby champions. So you know his veins run with bourbon and bluegrass.
Jonathan at Gratz Park exalts his home state's ingredients and culinary traditions in elevated presentations of classic Kentucky cuisine. Normally, burgoo is considered the basest of dishes, a rich stew made from vegetables and meat. And by "meat," that might include anything from mutton, venison that a neighbor pulled out of his freezer, beef, pork or chicken. A huge pot of burgoo might even contain an unlucky opossum that strayed too close to a car bumper and got thrown in the stew when the ladies aren't looking. The burgoo at Jonathan is a different story, made with savory braised cuts of premium meat and topped with fried white cheddar cheese grits to add texture. Try it and you can still get the street cred for your bravery without any risk of roadkill.
Perhaps the hottest culinarian in the Lexington area right now is a female chef with a name that is as Southern as a turnip green. Ouita ("WEE'tah") Michel and her husband purchased the Holly Hill Inn in 2000 in nearby Midway, KY and opened their first restaurant there in 2001 featuring locally grown foods in a fine dining environment. Since then, Michel has continued her support of local fare at three other establishments, Wallace Station Deli just outside Midway, Windy Corner Market in Lexington and The Midway School Bakery. She also serves as chef-in-residence at the Woodford Reserve Distillery outside Versailles, KY.
Her latest venture, however, is probably making the biggest splash. Literally. Smithtown Seafood is a unique cooperative effort between a brewery, the seafood farm-to-table restaurant and an aquaponics operation called FoodChain. In this case, the "farm" of the farm to table is, in part, flats of herbs and lettuces growing in another portion of the large converted factory building. The plants at FoodChain are watered from the tanks that also contain tilapia, which will in the future be eating the spent grain byproducts of the West Sixth Brewing Co. The closed loop ecosystem is more than a green dream, it's a good idea as the participating companies work together to attract visitors and business to the communal space.
Michel had considered opening a brewpub herself, but decided instead to partner with West Sixth and focus on frying up wild-caught catfish and African-style Tilapia to serve alongside Beer Cheese made from West Sixth's Brown Beer and a tight menu of burgers, salads and other vegetarian specials. There's no seating other than the counter at Smithtown Seafood, so you'll have to take your food to go or retire to the beer garden at West Sixth to enjoy your meal. As they taught us all on Sesame Street, "Cooperation Makes it Happen!"
Ramsey's Diners
3090 Helmsdale Place
Lexington, KY 40509
859-264-9396
ramseysdiners.comStella's Kentucky Deli
143 Jefferson Street
Lexington, KY 40508
859-255-3354
stellaskentuckydeli.comTable Three Ten
310 West Short Street
Lexington, KY 40507
859-309-3901
table-three-ten.comJonathan at Gratz Park
120 West 2nd Street
Lexington, KY 40507
859-252-4949
jagp.infoSmithtown Seafood
501 West 6th Street
Lexington, KY 40508
859-303-4100
---
It's Fantasy Travel Week on Food Republic! Check out 24 Places To Visit For Fantasy Travel
---
Read more The Hidden South columns on Food Republic: