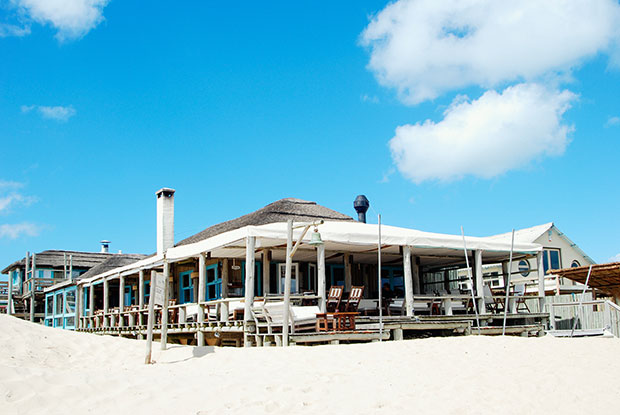 José Ignacio, once a sleepy fisherman's village on the coast of Uruguay (less than 200 miles from Buenos Aires), started becoming popular when curious tourists would stray from neighboring town Punta del Este (often referred to as the St. Tropez of the South) in search of paparazzi-free, tranquil beaches. Since then, and especially in the last few years, José Ignacio has come to be known as one of the chicest destinations in Latin America. From December to March (it's summer there when it's winter in most of the U.S.), José Ignacio buzzes with energy. Here are five spots not to miss on your vacation. 
1. Mostrador Santa Teresita 
Founded by renowned Argentine chef Fernando Trocca, Santa Teresita is what every beach town needs: a casual, airy restaurant full of fresh salads, grains and a seafood or meat entrée, open for breakfast and lunch. I opted for the cedar plank salmon and roasted cauliflower with farro, artichoke and arugula salad and roasted beets. Leave room for dessert, and choose one of the house specialities with dulce de leche. Las Garzas y Las Calandrias, José Ignacio, Maldonado, Uruguay.
2.  Parador La Huella  
One of José Ignacio's most popular restaurants, Parador La Huella, is a breezy seaside grill right on Brava Beach. The restaurant has separate menus for grilled fish and seafood, and for  asado . Generous servings of sizzling, grilled meats are piled on large plates and arrive one after the other. Chef Alejandro Morales prides himself on working exclusively with local farmers and fishermen, and one of the most noteworthy facts about this restaurant is that year after year, the staff remains the same. Literally. They even live together: Since the restaurant (and José Ignacio in general) operates seasonally, Morales rents out a few houses for the staff during the season and has done so since the restaurant opened. Playa José Ignacio, José Ignacio, Maldonado, Uruguay.
3. Francis Mallmann 
Chef Francis Mallmann may have a hot temper, but the man is also one of the most respected chefs in the world. When you see you a restaurant with his name on it, you walk right in. Located 10 minutes by car from José Ignacio is the tiny remote village of Garzón, and in it, is Mallmann's namesake Michelin-starred restaurant. In a country where most restaurants focus on throwing large hunks of animal meat on open flames (a.k.a. asado), Malmann's restaurant is a nice change of pace. A standout here is the burned carrots with goat cheese, parsley, arugula and crispy garlic chips. The restaurant is located in Mallmann's own 5-room hotel. Garzón, Uruguay (no exact address, see website for directions).
4. Marismo   
Marismo is in the middle of nowhere, beneath beachy palm trees on the sand and lit solely by candles and fire. As one might imagine, there is no sign. The directions I received were something like this: follow the only paved road on the beach, look for a blue wooden fish at the side of the road, turn left and pull over when you see parked cars. And that was just about right. Inside, everything is cooked on a single wood-fired grill. The charm of the place is unmatchable. I opted for the rack of lamb and washed it down with a few fernet brancas at the bar. Ruta 10 Km 185, José Ignacio, Maldonado, Uruguay.  
5. Lucifer  
Once an apprentice of chef Mallmann, Lucia Soria set up shop in the garden of her home, also in Garzón. After walking down a long, winding dirt road, you will spot a white and teal building surrounded by old wood farm tables and leafy, billowy trees. Lucifer's setting is quite unforgettable, as is the food. Chef Soria offers an organic, locally sourced tasting menu that rotates on a weekly basis. There are also à la carte options. Most of the food is prepared in a brick oven also located in the garden, which the chef meticulously tends. There is one sous-chef busy prepping on a butcher block also in the garden. Everything is done before your eyes. Camino a la Estacion Custeil, Casi al Final, Garzon, Uruguay. 
Read more city guides on Food Republic: