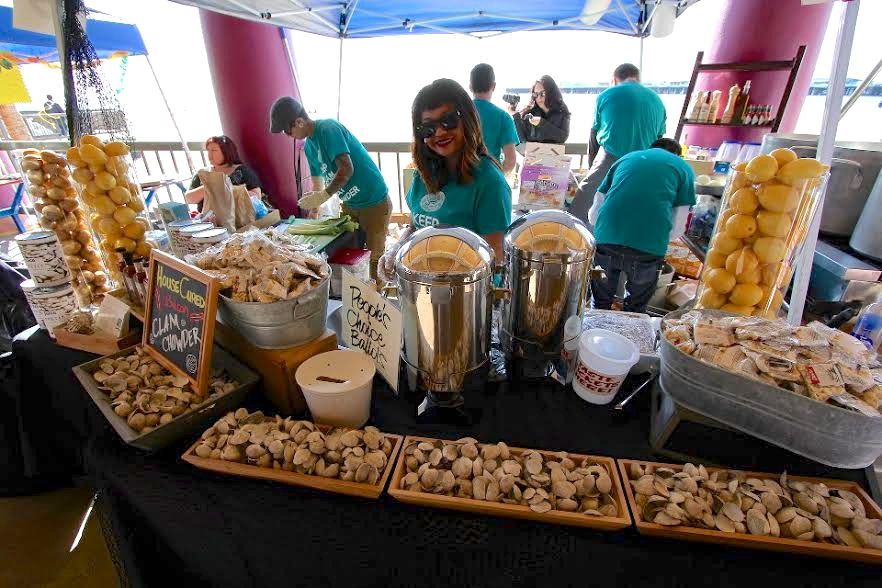 We all have that comfort food that really hits the spot when it's cold out. If yours is a strong craft beer or bread bowl of New England-style clam chowder, you're in luck this week. The New York City Brewer's Guild kicks off NYC Beer Week today at Grand Central's Vanderbilt Hall and when was the last time you had really good chowder? Don't miss the Santa Cruz Clam Chowder Cook-Off & Festival. Or rock out with Alice Cooper and Sammy Hagar. It's your food trip.
NYC Beer Week
New York, NY
Feb. 21-March 2
The New York City Brewer's Guild, which includes city favorites Brooklyn Brewery and Eataly's Birreria, celebrates craft beer over 10 days with samplings, educational seminars, parties and beer dinners. A ticket to the opening night bash, held at Vanderbilt Hall in Grand Central Station, gets you unlimited samples from local and national breweries like Dogfish, Peak Organic and Allagash. Soak it up with snacks courtesy of Murray's Cheese, GUS and Parmacotto. Keep an eye out for a special happy hour featuring KelSo Edible Ale Red Rye IPA and Cabernet-aged Rauchbier and book signing to celebrate the release of Beer Union's new book, Beer Lover's New York: The Empire State's Best Breweries, Brewpubs and Beer Bars.
Santa Cruz Clam Chowder Cook-Off & Festival
Santa Cruz, CA
Feb. 22
The 33rd annual Santa Cruz Clam Chowder Cook-Off & Festival raises money for the City of Santa Cruz City Parks & Recreation. Here, it's not just a question of New England or Manhattan-style. Chefs from all over the West Coast compete in individual and professional divisions for the distinction of "Best Clam Chowder" in both categories. $9 buys you a pass to sample five varieties of chowder, so you can judge the best for yourself.
Fight MSA
Las Vegas, NV
Feb. 27
Join Chef Kerry Simon in the fight against Multiple Sclerosis Atrophy and indulge in some delicious food. The rock 'n roll-themed cocktail party will feature artisan cocktails, wines and small bites from celebrity chefs Jean-Georges Vongerichten, Charlie Palmer and Megan Romano, plus live rock music from Alice Cooper, Sammy Hagar and more.
Upcoming:
Atlantic City Restaurant Week
Atlantic City, NJ
March 2-8
Packed with steakhouses, seafood restaurants, bistros and authentic Mexican, Cuban, and Japanese cuisine, Atlantic City offers a delicious and diverse culinary scene. The city's 6th annual Restaurant Week offers multi-course dinners for $33.14 (prix-fixe lunches are $15.14) at favorite restaurants include Wolfgang Puck's American Grille, Buddakan, Dos Caminos and The Cellar 32.
The Unbearable Importance of Soil
Pocantico Hills, NY
March 3
The Cook it Raw Community, a collective of chefs, producers and artisans committed to sustainability and culinary excellence, hosts a fundraising cocktail hour and dinner at Dan Barber's picturesque Blue Hill at Stone Barns. Enjoy cuisine by guest chefs April Bloomfield of The Spotted Pig, Mads Refslund of ACME, Amanda Cohen of Dirt Candy and other culinary authorities, and prepare to get educated.
Charleston Wine and Food
Charleston, SC
March 6-9
The BB&T Charleston Wine and Food Festival celebrates Charleston's distinctive Lowcountry cuisine while benefitting scholarship programs for the culinary and hospitality workplace. The festival kicks off with a Top Sommelier Competition where local wine connoisseurs test their tasting skills against 2013 champion Rick Rubel of Charleston Grill. More events include "Butterscotch and Barley: The Union of Candy and Beer" cooking demonstration and tasting with Chef Mindy Segal of Hot Chocolate Restaurant and a Southeast Asian street food demonstration and tasting with Chef Andy Ricker of Pok Pok restaurants in New York and Portland.