Don't Read This Almanac. Drink It.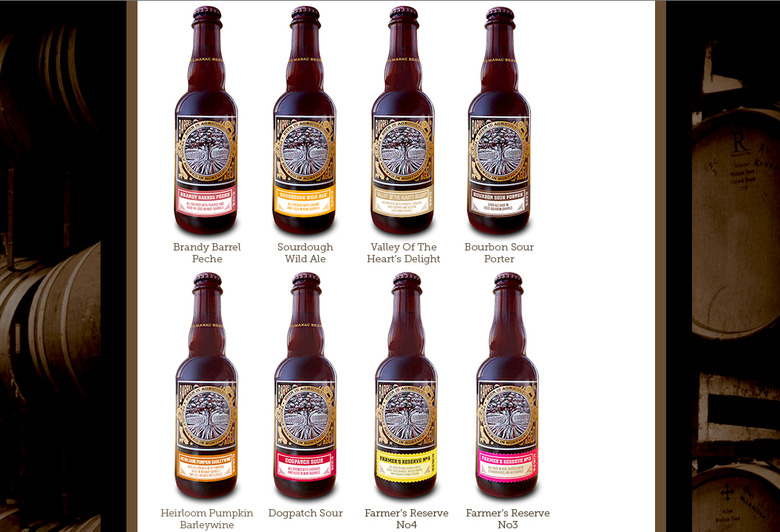 Almanac Beer Company may not yet be a household name but their delicious sour beers made them one of our favorites and one to watch in 2014. They made waves last year by producing some of the best sours in recent memory with their Farmers Reserve series: Dogpatch Sour is made with fresh cherries, and Bourbon Sour Porter is an intentionally soured dark ale. Though their other releases have been excellent, notably their Heirloom Pumpkin Barleywine and Barrel Noir, I was hoping they'd keep expanding their sour production. Thankfully, my expectations have been fulfilled in a major way.
As announced via their blog earlier this week, Almanac has over 800 wine and spirits barrels and two 1,000-gallon oak foedres — the same kind of massive barrels Rodenbach uses for their traditional sour red ale. That's not even the most exciting part: Almanac intends to release a new oak-aged beer every month for the rest of the year! These brews will be available in California and Washington, but you might be able to find them online, too.
You might ask yourself, what makes these beers special? At $10-plus for a 375-ml bottle, are they worth the price? Well, aging beer is expensive, takes up a ton of space and is time-consuming. Even more important is Almanac's commitment to local farms, orchards and small businesses, where they harvest a dizzying array of fruits and other unique ingredients like sourdough yeast from a local bakery in their recent Sourdough Wild Ale.
Each beer is literally like drinking a seasonal harvest, and this in a world where beers with fruit are often muted and bland. Almanac's offerings consistently showcase multiple layers of fruit in a single beer. Their newest brews, Brandy Barrel Peche, Valley of the Heart's Delight and Sourdough Wild Ale are all available now, and while the taste may be tart, the results are oh so sweet.
More Weekend Drinking Assignment on Food Republic: