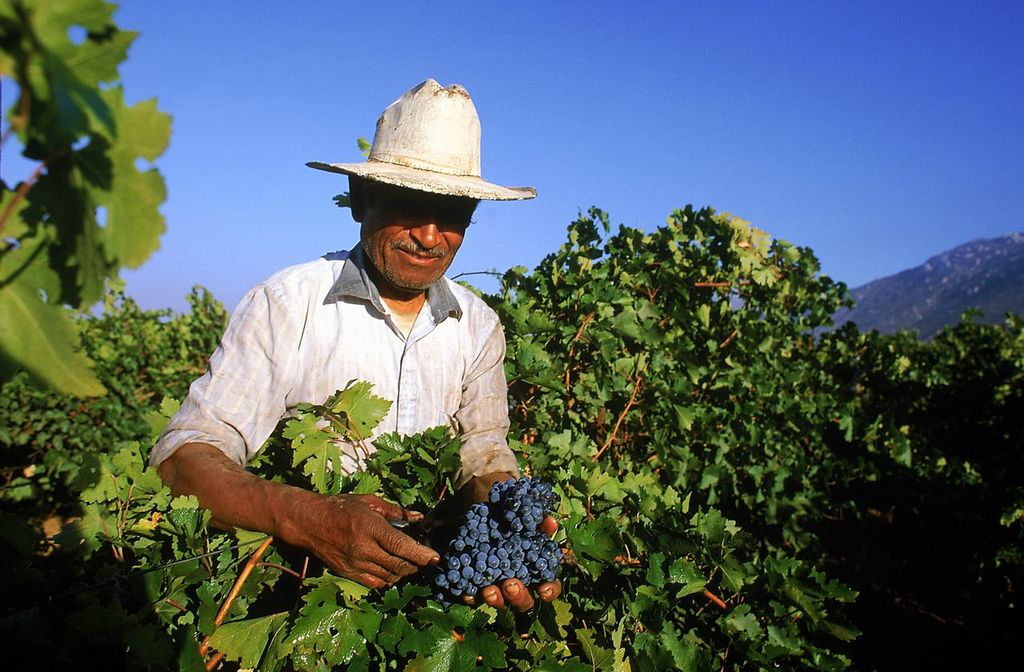 When most of us think of "drinking Mexican," we imagine ourselves sipping a refreshing margarita. Or maybe even an exotic mezcal. But Mexico's wine producers want to remind us that they have been around for a very long time. Baja is one of the oldest winemaking regions in the New World. Wineries from the region are now making a push into the American market. After several generations of big, hot, brash wines, a new generation of producers is ready to show that they can make elegant world-class wine just like their neighbors to the north.
Jesuit priests first cultivated grapes in Baja California, in and around the Valle de Guadalupe, in the 18th century. The first commercial winery opened in 1888 and is still in operation today. Over time, the Mexican wine industry came to be dominated by big companies turning out mass-produced juice. But, in the last decade, a surge of small, family-run wineries has helped change the landscape and style of Mexican wine. The high summer temperatures of Baja can, naturally, result in powerful, concentrated and high-alcohol wines. But small producers are learning to harvest earlier, implement better irrigation in the vineyard and lower yields to achieve more balanced wines.
"As a Los Angeles native, I've been going down to Baja my whole life, but I didn't really know anything about the wines until I got into the restaurant business," says Stephen Sakulsky, co-owner and wine buyer at Osteria La Buca in L.A. "Someone brought me a wine from there and it completely struck a chord with me. I think, for Angelenos, northern Mexico can be more relevant to us than Napa Valley. Mexican winemakers are kinda the underdogs. They get compared to Napa, but they're young and developing, and we shouldn't really be comparing them to anyone."
Wines from Baja are still hard to come by in the U.S. But Sakulsky hopes that will change as they continue to improve and get more attention north of the border. The region's terroir, which includes a proximity to the Pacific Ocean and a combination of clay, granite and sandy soils, can impart attractive, if surprising, flavor characteristics. An intense minerality — a saltiness, even — finds its way into many of the wines. Winemakers of the region are learning how to cope with and wield the local terroir to make better and more distinct wines.
"We are a very good and mixed community of producers from different nationalities," says Salomon Cohen, owner and co-winemaker at Vinícola Fraternidad in Valle de Guadalupe, in Baja. "I come from Chile. The biggest difference [between Mexico's and Chile's wine-producing communities] is that in Mexico you see different approaches, ideas, styles. Maybe because the winemakers come from different parts of the world, or even because not everyone is a professional. But that gives us a creative energy."
Here are five Baja wines to try now:
Monte Xanic Chenin Colombard 2011
As one of the first boutique wineries in the region, dating 1987, Monte Xanic would help pave the way for dozens more to come. The white blend is crisp and summery with plenty of fruity, floral and honeyed notes. This is your fish taco wine. Wines from Baja, $14.
Vinícola Fraternidad Nuva 2012
Founded in 2007, this winery is a modern block of a building turning out a handful of innovative blends. The white blend of Chardonnay, Sauvignon Blanc and Moscato de Canelli is lush and tropical with a voluptuous body. Wines from Baja, $30.
Malagón El Grenache 2010
A 100% Grenache made from old vines, the wine is full of red fruit flavors, but with a gently spiced edge. Very sippable given the low alcohol. Sakulsku calls this one his perfect pizza wine. K&L Wines, $17.
Vinisterra Pedregal 2008
Located in the culinary capital of Ensenada, this modern winery has installed a Swiss winemaker to turn out a three-tiered range of wines. The blend of Syrah and Mourvèdre is dark and brooding, with black fruit and tobacco notes. Still, it only clocks in at 13.8%. Wines from Baja, $45.
Casa de Piedra Vino de Piedra 2010
One of the only wineries to make bubbly, Casa de Piedra has been pushing the envelope since 1997. Its red blend of Tempranillo and Cabernet Sauvignon is ambitiously priced and very New World in style. Expect plummy fruit laced with oak spice. Wines from Baja, $58.
Read about wine around the world on Food Republic: