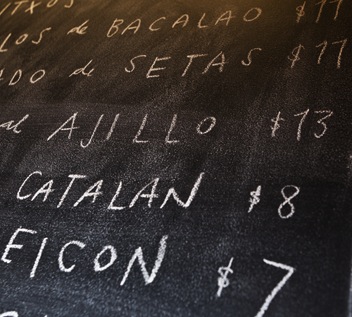 Every Wednesday, Food Republic's column "Would You Like to Hear About Our Specials?" highlights the nightly special dishes offered at popular restaurants from around the country.
This week, we take a look at tonight's specials from some of New York City, Chicago, Miami and Seattle's hotspots, with stops in Denver, New Orleans, Philadelphia, St. Louis and Trumbull, Connecticut.
NEW YORK
DB BISTRO MODERNE
Housemade Gnocchi
Langoustine, basil
55 West 44th Street, dbbistro.com/nyc
PIG & KHAO
Fried Chicken Wings
Buttermilk Southern curry sauce
68 Clinton Street, pigandkhao.com
SUSHISAMBA
Samba S'mores
Cheesecake ice cream, Peruvian chocolate, shichimi-graham cracker, flaming marshmallow
245 Park Avenue South and 87 7th Avenue South, sushisamba.com
CHICAGO
CH DISTILLERY
Seared Sea Scallops
Pork belly, Brussels sprouts
564 West Randolph Street, chdistillery.com
FILINI
Lobster Mac 'n Cheese
Cheddar, mascarpone, Parmesan cheese, truffle oil, herbed breadcrumbs
221 North Columbus Drive, filinichicago.com
HOWELLS & HOOD
Smoked Salmon Burger
House-smoked Irish salmon, king crab, sauce gribiche, shaved red onion, arugula
Gouda Popovers
Red wine mustard sauce
435 North Michigan Avenue, howellsandhood.com
OLD TOWN POUR HOUSE
Grilled Salted Cod
Malanga root puree, pickled habanero pepper and red onion, miso consommé
Chicken Roulade
Baby spinach, pine nuts, goat cheese, mushroom barley, sun dried tomato velouté sauce
1419 North Wells Street, oldtownpourhouse.com
SOUTH BRANCH
Lobster Roll
Poached Maine lobster, micro celery, French fries
Togarashi Tuna
Red apple fennel slaw, candied soy, wasabi cream
100 South Wacker Drive, southbranchchicago.com
SWEETWATER
Veal Cutlet
Shiitake mushrooms, cremini mushrooms, garlic mashed potatoes, grilled asparagus, red wine demi-glace
Vegetarian Wrap
Baby spinach, sun dried tomato, roasted red pepper, hummus, goat cheese, balsamic aioli
225 North Michigan Avenue, sweetwatertavernandgrille.com
TABLE, DONKEY AND STICK
Sea Trout Gravlax
Quark, celery aigre doux, celery leaves
Coffee-Cured Pork Loin
Egg yolk custard, fermented salsify, dill
2728 West Armitage Avenue, tabledonkeystick.com
THE BOUNDARY
Mojo Cuban Sandwich
Pork shoulder, ham, Swiss cheese, Dijon mustard
Turkey Stuffed Mushrooms
Fennel seed, onion, garlic, lemon zest, Parmesan cheese, spinach
1932 West Division Street, boundarychicago.com
DENVER
SECOND HOME KITCHEN + BAR
House-Smoked BBQ Beef Brisket
Braised greens, ranchero beans, black beer BBQ sauce
150 Clayton Lane, secondhomedenver.com
MIAMI
BULLA GASTROBAR
Pollito Campestre al Ajillo
Semi boneless fried spring chicken, Basque fries
2500 Ponce De Leon Boulevard, bullamiami.com
MICHY'S
Squid Ink Lasagnetta
Royal red shrimp, braised butter lettuce, leeks
6927 Biscayne Boulevard, michysmiami.com
OTC
Hawaiian Style Burger
Tempura spam, sliced pineapple, fried egg, cheddar cheese, miso aioli
1250 South Miami Avenue, otc-restaurants.com
VILLA AZUR
Parmesan Wheel Linguini
Cream and sage sauce, heated cognac flambé
309 23rd Street, villaazurmiami.com
NEW ORLEANS
GG'S DINE-O-RAMA
Baked Mussels
Creamed spinach, bacon, blue cheese
Thai Risotto
Chili sautéed shrimp
3100 Magazine Street, ggsneworleans.com
PHILADELPHIA
ROUTE 6
Lobster Bisque
Crème fraîche
600 North Broad Street, route6restaurant.com
SEATTLE
HOT CAKES
Turtle Sundae
House-made chocolate sauce, vanilla ice cream, salted caramel, candied pecans, whipped cream
Elysian Bifrost Float
Ice cream, local beer
5427 Ballard Avenue Northwest, getyourhotcakes.com
MONSOON EAST
Crispy Maine Lobster Wontons
Chive aioli
Fresh Washington Geoduck
Pickled cherry tomato, watermelon radish
10245 Main Street, Bellevue, monsoonrestaurants.com/east
POQUITOS
California Yellowtail Ceviche
Blood orange, radish, Serrano, avocado, chive
Chipotle Albondigas
Pork & beef meatballs, tomato-chipotle sauce, roasted cauliflower, cotija cheese
1000 East Pike Street, vivapoquitos.com
VON TRAPP'S
Pfefferwurst
Smoked beef and pork sausage, sage, black pepper, sauerkraut, fresh horseradish
912 12th Avenue, vontrapps.com
ST. LOUIS
SCAPE
Pan-Roasted Black Grouper
Deconstructed grilled vegetable ratatouille, arugula pesto
48 Maryland Plaza, scapestl.com
TRUMBULL, CONNECTICUT
PARALLEL POST
Norman Bloom Clams BLT
Smoked Benton's bacon, grilled romaine, spicy tomato broth
180 Hawley Lane, parallelpostrestaurant.com
---
Have a nightly restaurant special you want us to feature in a future column? Email george@foodrepublic.com with a dish description for possible inclusion.