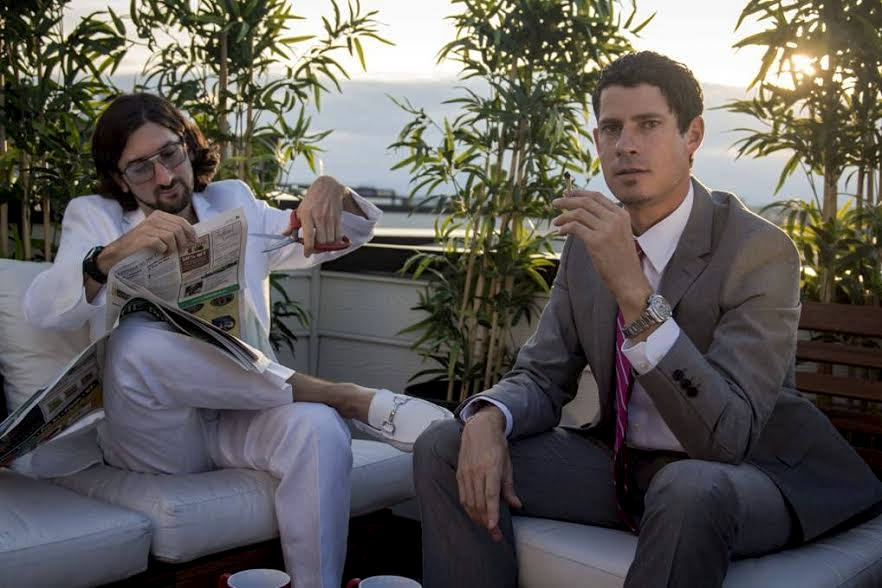 Big Gigantic doesn't play typical electronic music, which is great because in such a vast genre, it can be hard to stand out. For saxophonist Dominic Lalli and drummer Jeremy Salken, they're one of the most in-demand electronic acts around, spiking their dance-friendly tunes with dubstep, hip-hop, funk and plenty of jazz — Lalli has a master's degree from the Manhattan School of Music. The duo played New Year's Eve at NYC's soon-to-be shuttered Roseland Ballroom if you thought you went to a good party. I chatted with drummer Jeremy Salken about the duo's newest album, The Night Is Young, released last Monday. Oh and why he won't eat kangaroo on tour in Australia, even though he was told it was tasty.
My first call ended in phone tag while I listened to his outgoing voicemail message, a full minute of confused grandpa assuring you it's all going to be okay. Then he laughed at me for listening to the whole thing. Then we dove right into the most specific request I've ever heard on a tour rider.
So what's on your rider, and what on that list could you not live without?
Peanut butter pretzels are a must, coconut juice, Odwalla, deli meats, Sour Patch Kids, chips, salsa and guac, and queso. Definitely queso. We specifically ask for white cheddar.
Which city you've performed in has the best food?
New York is probably my favorite place to eat just because of the variety, but we live in Colorado and between Denver and Boulder, the food is great — specifically there's a lot of great spots in Boulder, but Denver in the past few years is starting to catch up.
Any recommendations in Boulder? You know, in case we get hungry for whatever reason?
1. Moon Gate
This place has been there forever and it's not super-fancy. They have this thing called Little Moon Shrimp: tempura-battered shrimp with egg and bok choy and it's freaking amazing, like nothing I've ever had. I always try to get people to go there and they won't, cause it doesn't look like it would be that great, but it is.
2. Oak 
The meatballs with marinara, burrata and grits and it comes out in a little-cast iron skillet. It's mindblowing and will fill you up immediately.
3. Brasserie 1010 
It's a French spot, they do this chicken called Brick Poulet with an incredible sauce served with squash and fries.
Which music festival you've played has the best catering backstage?
Hangout Festival, it's in Gulf Shores, AL. A lot of places have good catering but because they're on the beach and they have a restaurant on-site, they were shucking fresh oysters. The first couple of years they were doing filet and lobster, now they've dialed it down but it still has the best food. The Big Day Out Festival in Australia had incredible food, too. They did a lot of lamb and goat and some stuff you don't usually see, like kangaroo. But I didn't want to eat it cause I played with one while I was there.
You must be a pro at eating on the road after all these years. Any advice for other musicians on tour?
I would recommend bringing a blender on the road, cause it's really easy to get frozen fruit, OJ, a banana and some yogurt. Inexpensive meals. And don't eat fast food. Also, Yelp is your best friend on tour.
What's a food you didn't always like?
Brussels sprouts. I didn't know I liked them until everyone started frying and seasoning 'em right. I hated them growing up, but they're the new thing. Before, everybody had some kind of roasted beet thing on their menu, now I feel like Brussels sprouts are taking the place. I like when they chop them up and take them apart, deconstruct them. Or obviously fried.
If it's 3AM, what are you probably eating? 
If we're on the road and there's pizza left over from the gig, I'll eat that. When I get off stage and I'm craving food, it's either pizza or sushi. Dom tends to go for candy, he's always eating some kind of sweets. He'll pick up a box of ice cream sandwiches and eat the whole thing.
Is there something you like to snack on if you're really hungry during a show?
I've eaten and played at the same time. With drums sometimes you can play one-handed. When I'm been starving at little bar gigs I keep a basket of fries behind me and just munch on them. I've put a piece of pizza on plate on top of the floor tom and just take bites when I can. You wouldn't really notice it.
Big Gigantic's The Night Is Young is out now on iTunes
More Good Food, Rocks on Food Republic: