Give Your Someone Special A Chocolate Beer For Valentine's Day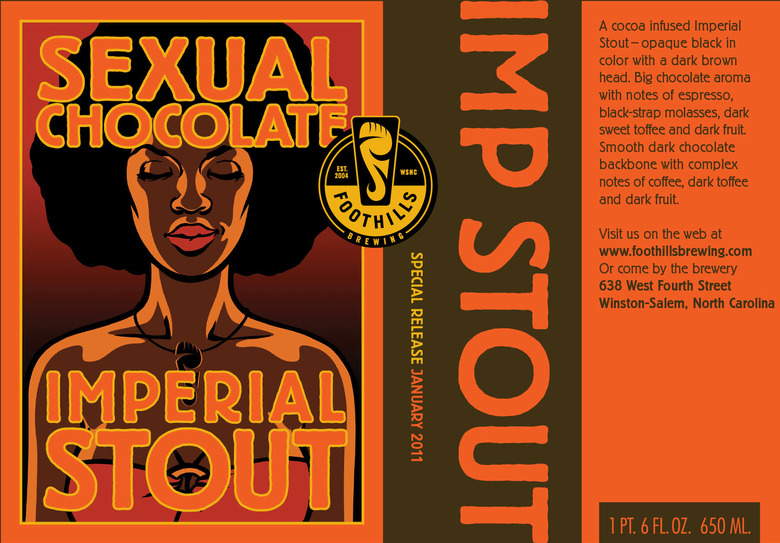 Perhaps more than any other holiday, Valentine's Day is defined by a very specific set of gifts: sappy cards, flowers and chocolate. Save for that one time a singing cupid was sent to your office by that special someone, there's simply not a ton of originality when it comes to Valentine's Day gifts. But we've got the solution. Nothing says "I love you" more than a thoughtfully selected craft brew, and nothing sets the mood better than a sexy chocolate beer. If you need a last-minute gift or just want to spice things up tonight, here's how to make your Valentine's Day the sweetest.
Southern Tier Brewing Company: Choklat
No one does sweet stouts better than Lakewood, NY's Southern Tier. While their Crème Brûlée could work in a pinch, this is the absolute king of big chocolate imperial stouts. There's massive milk chocolate and vanilla for a brownie-like flavor. There's a hint of coffee, too, but it's the cocoa that steals the show. If the 11% is too hot for your liking, pick up a few for next Valentine's Day, as it will smooth out considerably.
Foothills Brewing Company: Sexual Chocolate
This one is pretty self-explanatory. Yes, it's limited-edition and you can only get it once a year at the brewery in North Carolina, but chances are that if you waited in a long-ass line at the release on February 1st, this is the moment you've been waiting for. Pop open this 10% cocoa-infused imperial stout and let the chocolate lovefest commence.
Samuel Smith Old Brewery: Organic Chocolate Stout
Now's the time to throw that notion out the window that your significant other might not enjoy chocolate beer. This English ale is literally a milkshake of a beer with huge taste akin to biting into a premium milk chocolate bar. Rich, decadent but so drinkable at just 5% and it's organic, too!
Half Acre Beer Company: Chocolate Camaro
What's sexier than a muscle car? A chocolate muscle car! This gorgeous milk stout from Chicago's Half Acre clocks in at just 5%, so can drink more than one without impairing your...performance. It's a milk stout, so expect lactose sweetness and lots of milk chocolate and cocoa notes. Tip: If you can find this on nitro pour, get it.
Great Divide Brewing Company: Chocolate Oak Aged Yeti
Imperial stouts can be overwhelming, but the entire Yeti series from Denver, CO's Great Divide comes with our highest recommendation. The chocolate version in particular is exceptional with tons of cocoa, vanilla, oak and a little pepper to keep things steamy. Like its namesake mythical creature, this beer is big at 9.5% but for its size, it's smooth. One or two of these and you'll be irresistible. We're looking at you, Romeo.
More Weekend Drinking Assignment on Food Republic: