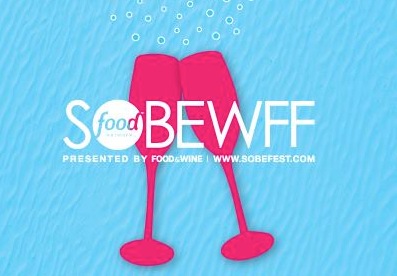 Just in case Valentine's Day has you considering a romantic weekend in…allow us to change your mind. This week's food festivals give you good reason to get out of the house. If you happen to be in the nation's capital, don't miss the D.C. International Wine & Food Festival. If you find yourself further south, don't miss the star-studded SOBEfest in South Beach, starting next week. And don't worry, you can still get romantic at the Yakima Valley Red Wine & Chocolate Festival, which celebrates the holiday's best accoutrements in the best possible way.
Washington D.C. International Wine & Food Festival
Washington, D.C.
Feb. 13-15
Named one of Washington's top events, the International Wine & Food Festival is back for another weekend of tastings, food pairings, seminars, and winemaker meet and greets. The festival kicks off with Thursday night's main event, with live music and wine, beer and artisanal spirit tastings. Catch a Pinot Noir seminar with MacPhail Winery's local expert Doug Mason, and a cocktail-crafting class sponsored by Hendricks Gin.
Yakima Valley Red Wine & Chocolate
Yakima Valley, WA
Feb. 15-16
The population seems to be evenly split between Valentine's Day enthusiasts and curmudgeons. But despite your take, everyone can find a reason to dedicate a day (or entire weekend) to the consumption of chocolate and red wine. The Yakima Valley Red Wine & Chocolate Festival is bringing acclaimed chocolatiers to more than 50 local wineries in Washington's Yakima Valley, with access to exclusive tastings, pairings and winery tours. Be sure to make a reservation for a fondue dinner with pairings from Treveri Sparkling Cellars or opt for a sweet and spicy mole dinner paired with reds from Knight Hill Winery.
SOBEfest
South Beach, FL
Feb. 20-23
The Food Network South Beach Food & Wine Festival reels in the world's most talented wine and spirits producers, chefs and culinary personalities. This year, the festival will host stars like Giada De Laurentiis, Tyler Florence, Amanda Freitag and Masaharu Morimoto. Attend a cake-decorating master class with "Queen of Cakes" Sylvia Weinstock, feed your chi (and then actually feed yourself) at YogArt's Buddhas and Bellinis event and sample steak from both coasts at Michael Mina and Marc Forgione's East "Meats" West dinner.
Upcoming:
NYC Beer Week
New York, NY
Feb. 21-March 2
The New York City Brewer's Guild, which includes city favorites Brooklyn Brewery and Eataly's Birreria, is celebrating craft beer with 10 days of samplings, educational seminars, parties and beer dinners. A ticket to the opening night bash, held at The Vanderbilt Hall in Grand Central Station, offers guests unlimited samples from local and national breweries like Dogfish, Peak Organic and Allagash. Soak it up with snacks courtesy of Murray's Cheese, GUS, Parmacotto and Whole Foods. Keep an eye out for a special happy hour (featuring KelSo Edible Ale Red Rye IPA and Cabernet-aged Rauchbier) and book signing to celebrate the relsease of Beer Union's new book, Beer Lover's New York: The Empire State's Best Breweries, Brewpubs and Beer Bars.
Santa Cruz Clam Chowder Cook-Off & Festival
Santa Cruz, CA
Feb. 22
The 33rd annual Santa Cruz Clam Chowder Cook-Off & Festival raises money for the City of Santa Cruz City Parks & Recreation. Here, it's not just a question of New England or Manhattan-style. Chefs from all over the West Coast compete in individual and professional divisions for the distinction of "Best Clam Chowder" in both categories. $9 buys you a pass to sample five varieties of chowder, so you can judge the best for yourself.
Fight MSA
Las Vegas, NV
Feb. 27
Join Chef Kerry Simon in his fight against MSA (Multiple Sclerosis Atrophy), and indulge in some delicious grub in the process. The "rock & roll cocktail party" will feature artisan cocktails, wines and small bites from celebrity chefs including Jean-Georges Vongerichten, Charlie Palmer and Megan Romano, plus live rock music from Alice Cooper, Sammy Hagar and more.