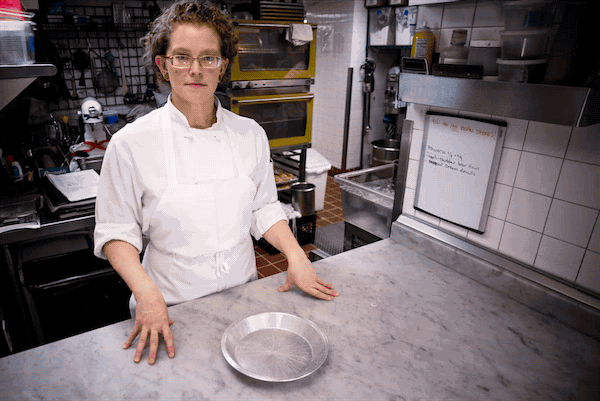 After a successful career in photography, The Dutch's pastry chef Kierin Baldwin pursued her love of desserts fulltime while working at Cafe Boulud, A Voce and eventually under Karen Demasco at Locanda Verde. We recently spent time with her to find out how she makes the delicious pies Andrew Carmellini's Soho restaurant has become famous for. With that, here's a guide to making a kickass winter berry pie, in animated gif format. (Photography and gifs by Mark Shaw for Food Republic.)
Step 1: We separate the dough into packets, which are pre-weighed, so we use the exact amount every time. For the top shell, we roll it out rough and trim using a large bowl.
Step 2: For the filling we use a mix of cranberry, huckleberry, blueberry and raspberry. We add lemon and orange zest for a little extra flavor. The citrus gives the berry blend a sort of fruit punch kick to it, which is what you want in a pie served in the middle of winter. The bottom crust is pre-baked and we use an egg wash as a sort of glue between the par-baked bottom layer and the fresh top layer.
Step 3: We add the perfectly cut top layer and crimp the crust along the edge, which then gets a light egg wash and a dusting of sugar in the raw. Once the pie is in the oven, we know it is done when the filling is just starting to leak out of the vents.