Gallery: Drawing On The Walls At These 5 NYC Restaurants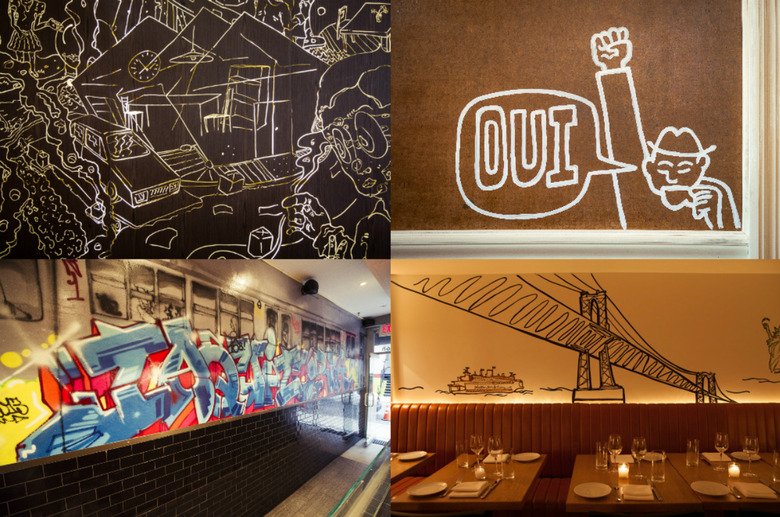 Long before Banksy and Neckface came along, NYC had been fertile ground for graffiti and renegade street art. What's new, however, is the emerging wave of looser, street-influenced artistry coming in from the cold to find a home on walls at some of the city's recently opened dining establishments.
In the days leading up to Lafayette's debut last spring, Andrew Carmellini and his team first enlisted Eric Junker to draw up an unusual take on the typical signage required of all restaurants — the employee handwashing sign and choking aid sign — before flying the LA-based poster artist out to have an all-out go at the NoHo brasserie's freshly painted walls. "They had had these beautifully prepared masonry panels that were just awesome to paint on," recalls Junker of the Roman & Williams–designed space. "They were spontaneous — as all good wall drawings should be. The work reflects the energy and the excitement of the place as it was getting ready to open," he adds.
Throughout the city, there's a growing number of restaurants embracing this more casual form of illustrative artwork, whether it's to lend a cheeky dose of lightness to an otherwise elegant Greenwich Village supper club or to recall an urban trainyard at a late-night Lower East Side taquito spot. Check them out below.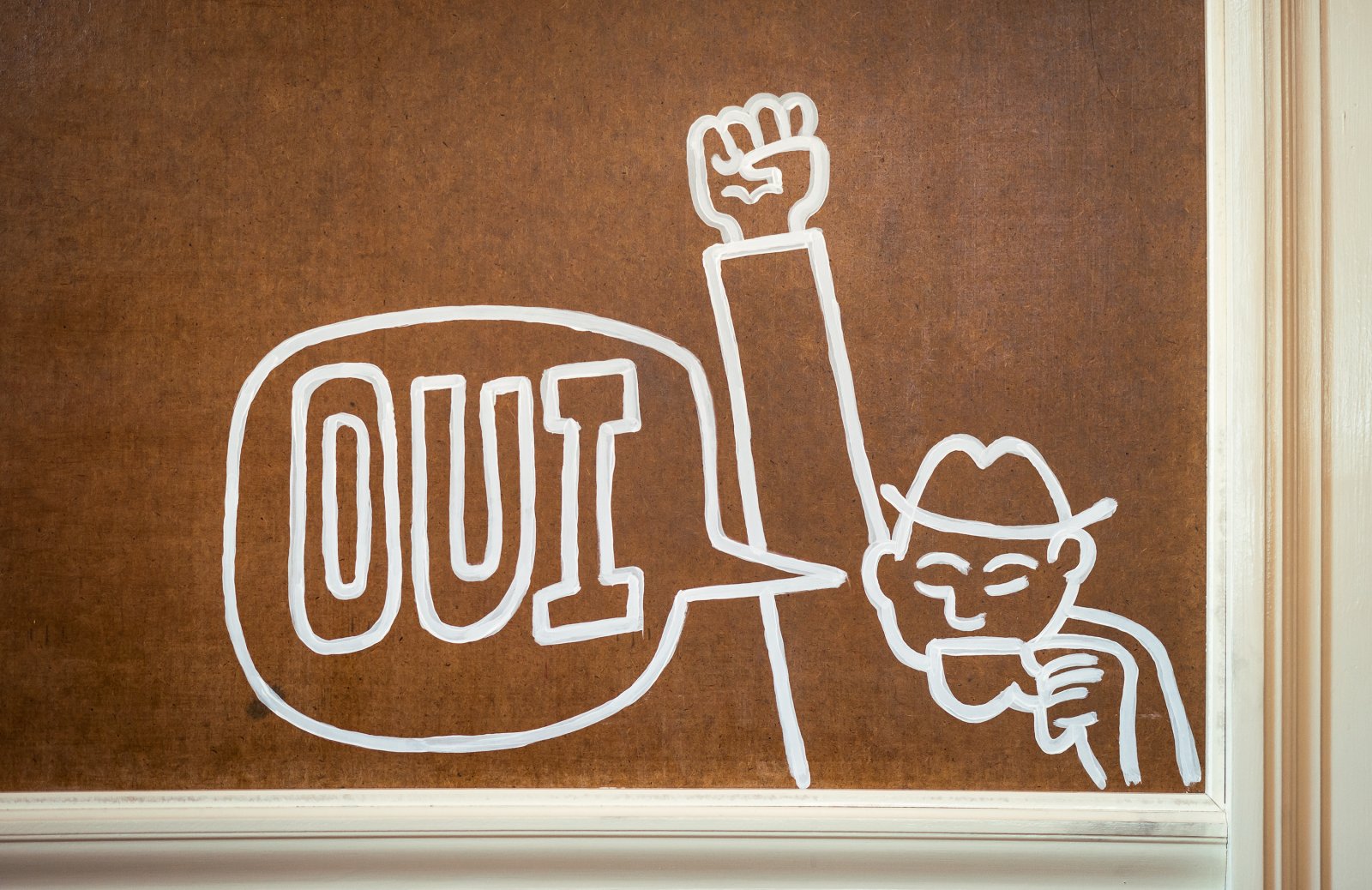 Artwork by Eric Junker
In the days leading up to the French restaurant's opening, Junker took to the walls, scribbling out imagery ranging from the fictional revolutionary "M. Oui" (shown here) to a collage of flowers.
Two elements that are practically synonymous with French cafe culture: coffee and cigarettes. Inspiration for Junker's illustration at Lafayette also came by way of the 2003 Jim Jarmusch film bearing the same name.
At Lafayette, a fresh, hand-scrawled riff on standard safety signage.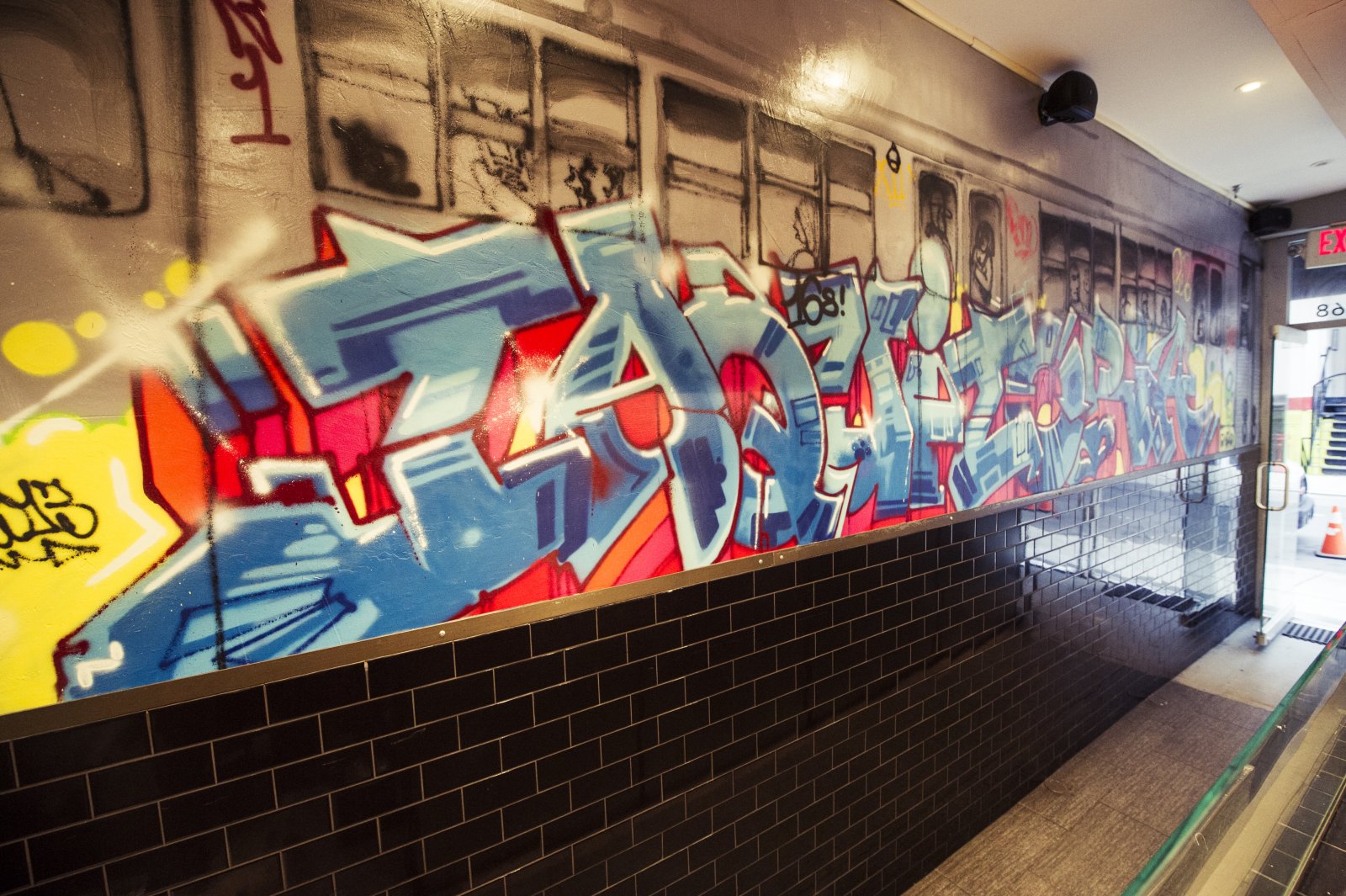 Artwork by Seb Gorey and Delancey Birzin
"The mural is meant to give the viewer the feeling of being in a train yard," explains one of the late-night taco spot's owners. "When you stand on the tracks between two cars you are in a long and narrow space, similar to Taquitoria."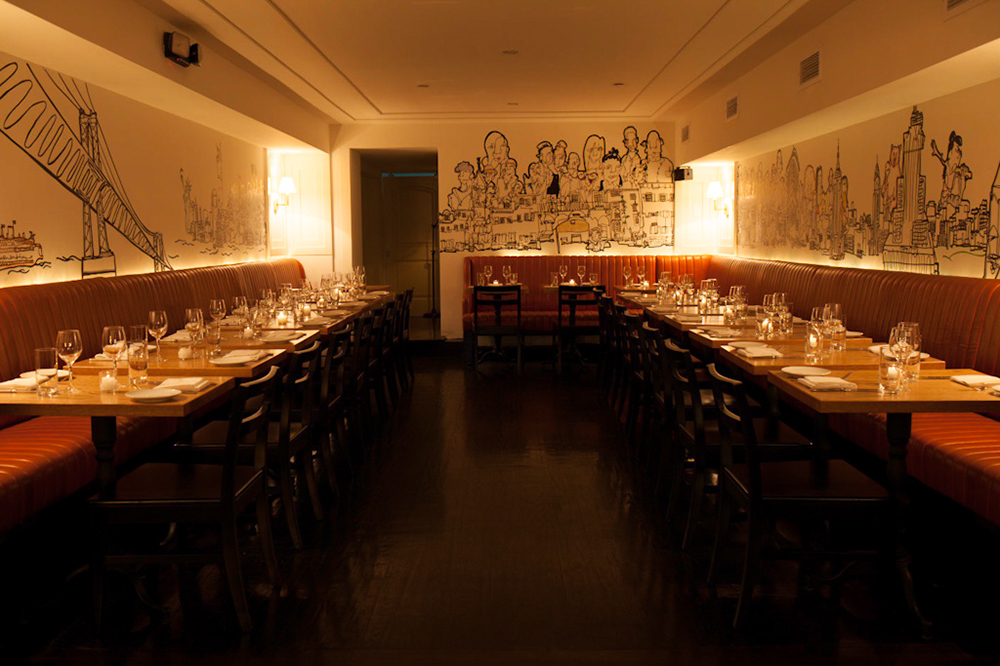 Artwork by Ian Sklarsky
The people of NYC and classic hometown landmarks like the Brooklyn Bridge take on a fun, scribbled appearance at the swanky Greenwich Village restaurant and supper club.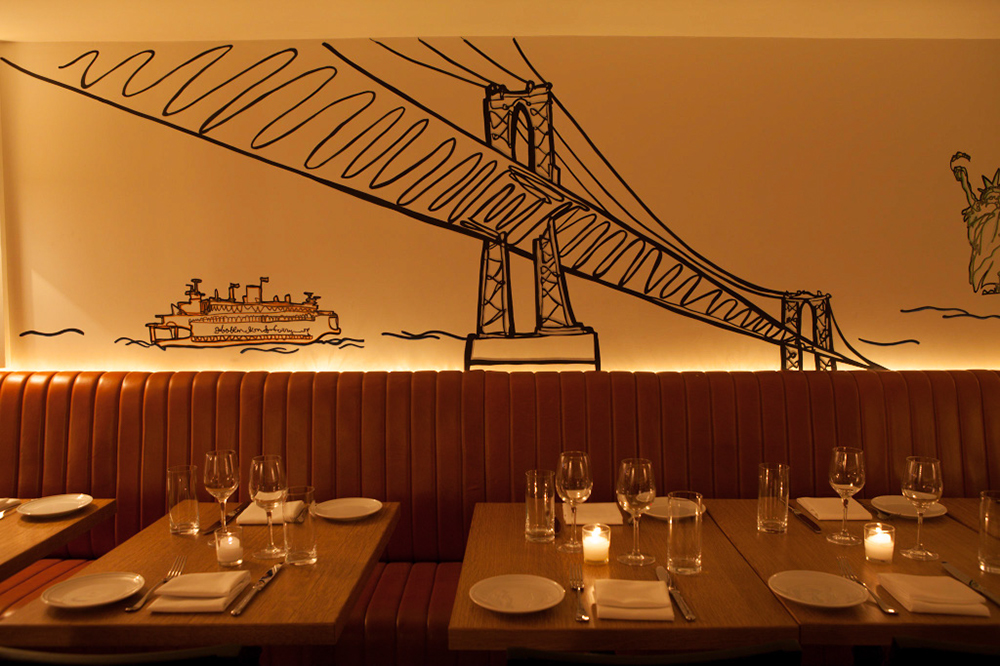 More of Sklarsky's illustrated backdrops at Omar's La Ranita.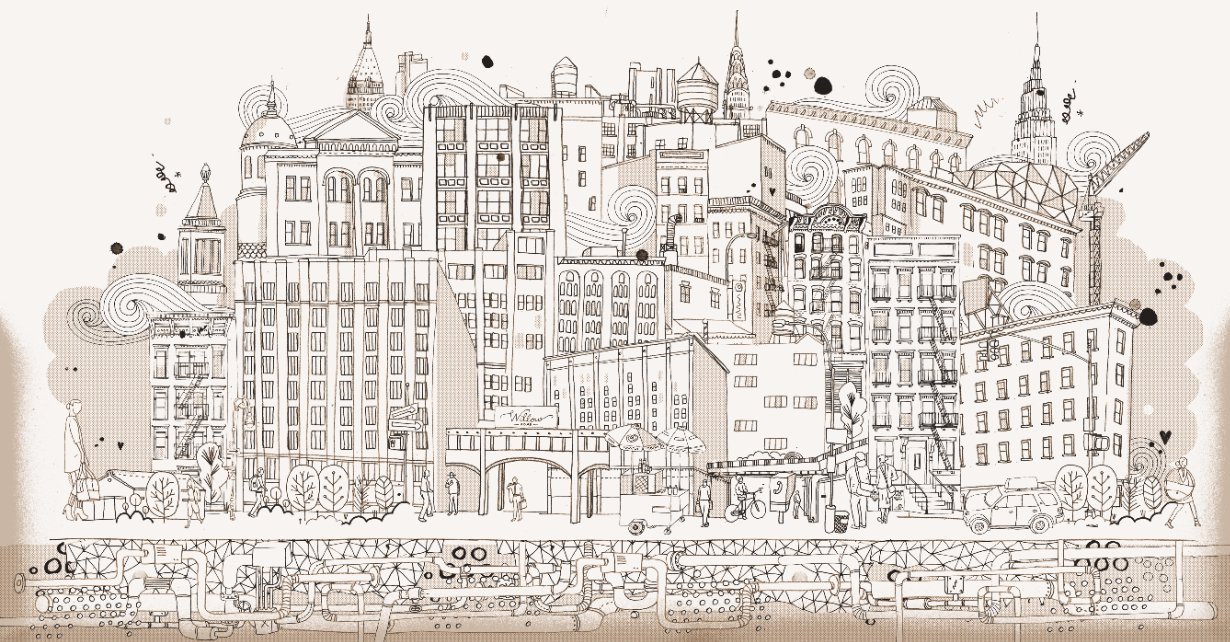 Artwork by James Gulliver Hancock
Originally drawn out in charcoal before being digitized and printed onto wallpaper, Gulliver Hancock's sketch of the restaurant and its surrounding neighbors in the Meatpacking District goes hand in hand with the ambitious artist's own personal project to draw every building in New York.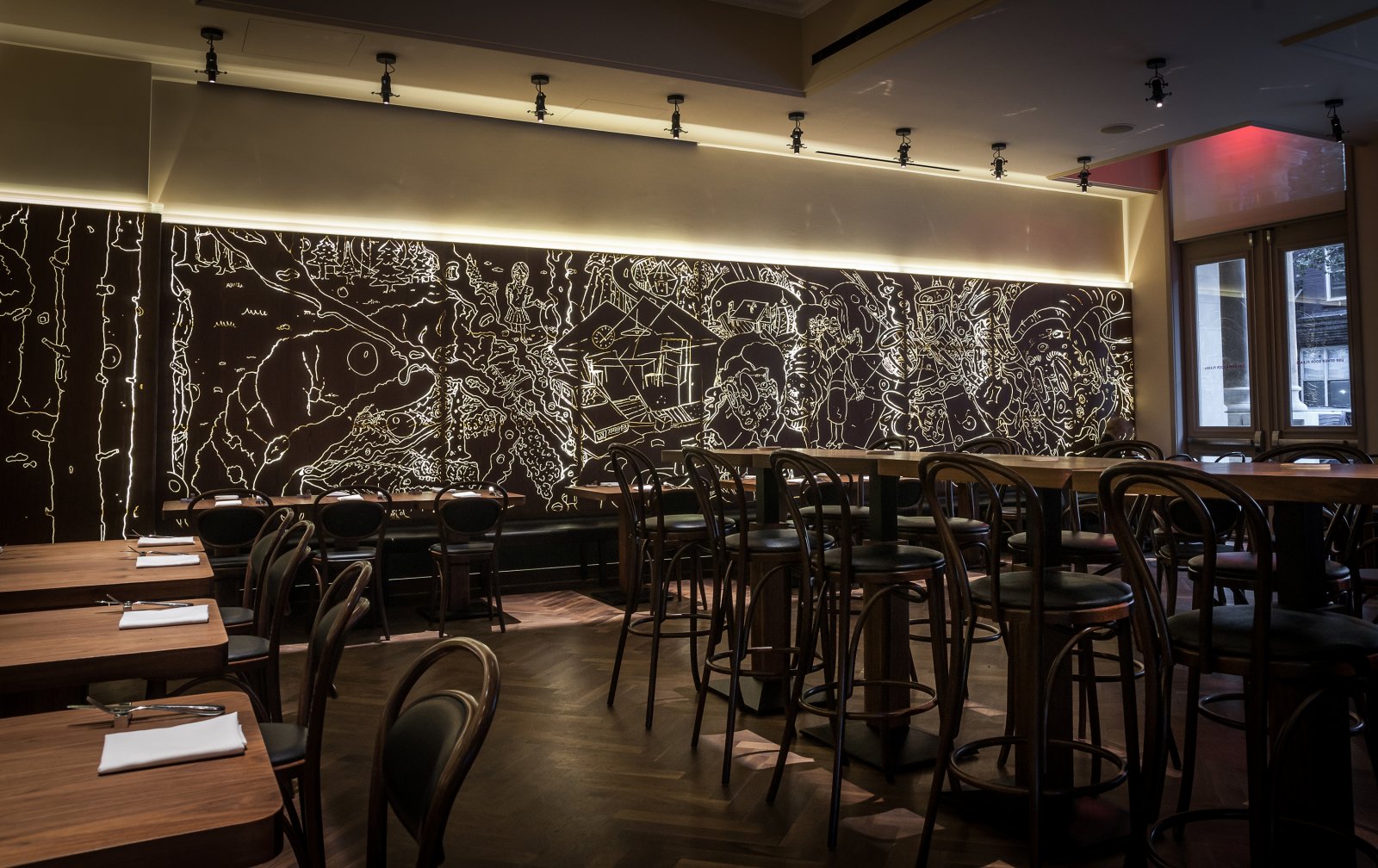 Artwork by Jakub Matuska a.k.a Masker
Czech graffiti artist Masker drew inspiration from the Upper East Side restaurant's beer-influenced menu, as well as the lightness of beer bubbles, to create this busy graphic design. Here, Masker's work is actually carved into the wooden walls and illuminated with lights from behind.