Ninjas Vs. Unicorns: My Awkward Childhood Fantasy Played Out In Craft Beer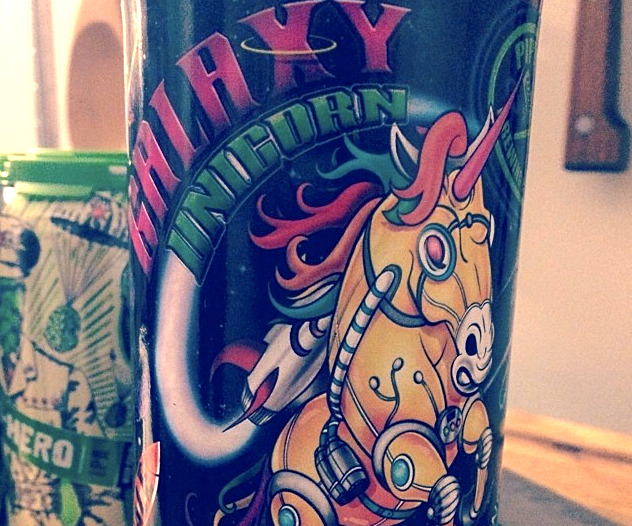 Okay, let's get this out of the way first: I was really into Teenage Mutant Ninja Turtles as a kid, pretty much anything ninja. I also watched My Little Pony (and now my secret's out). Why am I telling you all this? Because it's been my fantasy for years to see ninjas and ponies duke it out, and thankfully there's now a series of beer helping me live out this perfectly normal fantasy.
If you have been reading our beer coverage lately, you might already be familiar with Chicago, IL's Pipeworks Brewing Company, who make a lot of noise with flavorful, inventive brews like Chai Dog Milk Stout, which showcases Cacao nibs, green cardamom, vanilla bean, star anise, black peppercorn and cinnamon. Yes, many of them are more like recipes than brews, but Pipeworks' best beers might be their simplest. Enter: the Ninja vs. Unicorn series, which showcases the Double IPA in all its glory as well as allowing bronies* and Ninja fans to settle the debate once and for all.
Ninja vs. Unicorn is the name of a single beer as well as the title of the series. It's an excellent place to start before venturing out to the others. It's a more balanced 8.5%, compared to the other entries, which are typically around 9.5%. Flavors of grapefruit, pine and bready malt make it a perfect combination of light bitterness and caramel malt sweetness. There's also a dark version of this beer called Ninja Vs. Unicorn Pajama Party. Yes, they're fighting with pillows.
The other Ninjas focus on single-hop beers, like Citra, Simcoe, Centennial, Australian Summer and Cascade. All are worth checking out (the Citra kicks ass) and any combination of these beers makes for an awesome side-by-side tasting. Of course, ninjas, like hops, need sidekicks. There are a few great hop-combo releases, like the German hop-based Deutch Hopfen Ninja, and a collaboration with Tired Hands Brewing and MariLime Law Ninja that's made with limes.
As much love as I have love for ninjas, Pipeworks' badass Unicorns have something good going on too with their Unicorn Galaxy. What's special about this beer is that it's made with 20% wheat and a ton of galaxy hops. I was blown away by the tropical fruit in this double IPA and the 9.5% ABV is almost nonexistent. As unicorns have a habit of doing, this side of the series gets more than a little frisky with each entry, like their massive 10% Unicorn's Revenge, and an homage to fallen unicorn soldiers in Blood of the Unicorn. There's a whole war story with battle brews like Uncle Sam in Sam vs. Unicorn; Santa in Santa vs. Unicorn; and death itself in Reaper vs. Unicorn. Ultimately what you'll take away is that they don't mess around and never back down.
So who wins? Right now, I'd say it's all evened up. I haven't been so excited for a beer series in a long time and with awesome artwork to match, this is a battle I hope to see rage on for a long, long time.
*Editor's note: this is the second time this week we've referenced bronies. We stand by it.
More Weekend Drinking Assignment on Food Republic: