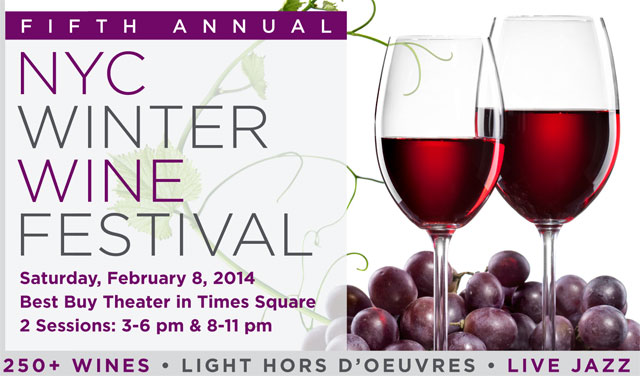 This week is all about the fine line between sweet and savory. Enjoy a bowl of white chocolate parsnip soup at Wisconsin's In Celebration of Chocolate Weekend, or pick up a beer-flavored doughnut at San Francisco's Beer Week. And The NYC Winter Wine Festival offers guests the chance to scout out more unlikely flavor pairings with an extensive selection of hors d'oeuvres and specialty food samplings.
In Celebration of Chocolate
Kohler, WI
Feb. 7-9
Valentine's Day: time to get a jump start on chocolate consumption. The American Club and Inn on Woodlake's In Celebration of Chocolate Weekend celebrates the ingredient by slipping it into every meal in both traditional and unexpected ways. Don't miss the Duck with Torke Coffee and Chocolate Mole at Chef Alexander Glass' sweet and savory cooking demo. Learn to drink your chocolate properly at Choc-tail Mixing with sommelier and mixologist Jason Van Auken. Really get into it.
SF Beer Week
San Francisco, CA
Feb. 7-16
Sponsored by the San Francisco Brewer's Guild, SF Beer Week is a celebration of the Bay Area's brewing heritage and craft beer scene. Over a 10-day period, the festival will host over 500 events including a Mexican Cuisine and Craft Beer Pairing seminar (tacos and a Corona is a no-brainer, but what to pair with a sweet-and-smoky chocolate mole crepe?) and a Brew It Yourself — Beer Making at Home Workshop. All this, plus beer doughnuts from Almanac Beer Co. and Dynamo Donut.
Winter Wine Festival
New York, NY
Feb. 8
The NYC Winter Wine Festival is back in its fifth year, turning the Best Buy Theater in Times Square at into a makeshift vineyard. Guests enjoy three hours of tasting over 200 wine varietals, a selection of hors d'oeuvres and specialty food samplings and live contemporary jazz music from Brian Simpson. Sign up for additional blind-tasting classes to enhance your sampling experience and impress at your next dinner party.
Upcoming:
Washington D.C. International Wine & Food Festival
Washington, D.C.
Feb. 13-15
Named one of "Washington's Top Events 2013" by BizBash Event Planning, the International Wine & Food Festival is back for another weekend of tastings, food pairings, seminars and winemaker meet and greets. The festival kicks off with Thursday night's main event, complete with live music and wine, beer and artisanal spirits tastings. Catch a Pinot Noir seminar with MacPhail Winery's local expert Doug Mason, and a cocktail-crafting class sponsored by Hendricks Gin.
Yakima Valley Red Wine & Chocolate
Yakima Valley, WA
Feb. 15-16
The population seems to be evenly split between Valentine's Day enthusiasts and curmudgeons. But despite your take, everyone can find a reason to dedicate a day (or entire weekend) to the consumption of chocolate and red wine. The Yakima Valley Red Wine & Chocolate Festival is bringing acclaimed chocolatiers to more than 50 local wineries in Washington's Yakima Valley, with access to exclusive tastings, pairings and winery tours. Be sure to make a reservation for a fondue dinner with pairings from Treveri Sparkling Cellars or opt for a sweet and spicy mole dinner paired with reds from Knight Hill Winery.
SOBEfest
South Beach, FL
Feb. 20-23
The Food Network South Beach Food & Wine Festival reels in the world's most talented wine and spirits producers, chefs and culinary personalities. This year, the festival will host stars such as Giada De Laaurentiis, Tyler Florence, Amanda Freitag and Masaharu Morimoto. Attend a cake-decorating master class with the "Queen of Cakes" Sylvia Weinstock, feed your chi (and then actually feed yourself) at YogArt's Buddhas and Bellinis event and sample steak from both coasts at Michael Mina and Marc Forgione's East "Meats" West dinner.