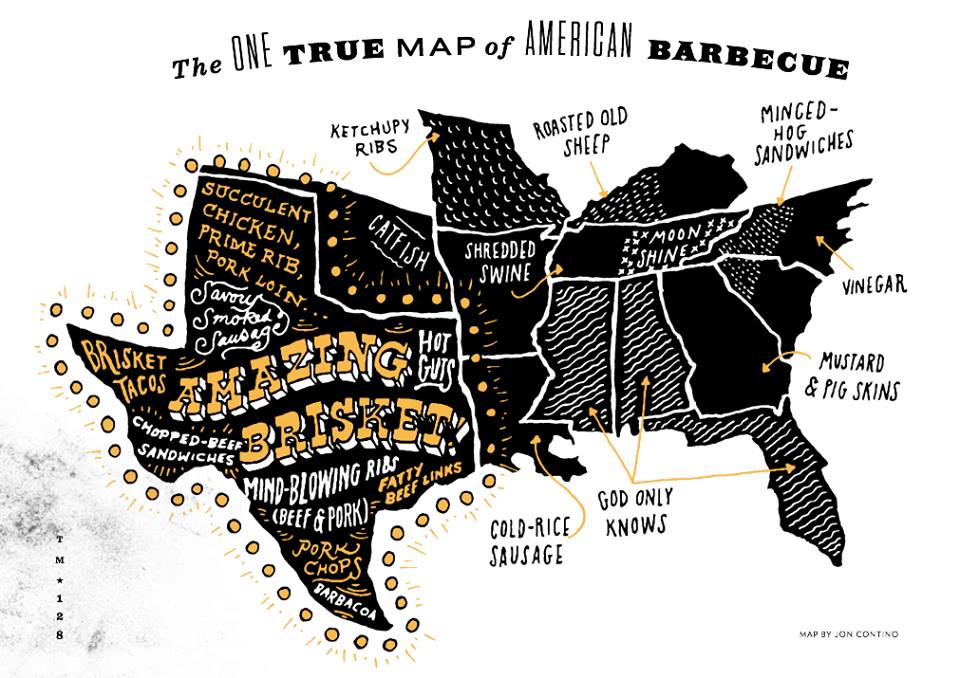 Here is a map that pulls no punches, and of course it's from Texas Monthly. TM is a fine magazine that publishes well-reported think pieces, political takedowns and '70s punk retrospectives that has given it a sort of New York magazine of the South reputation. One of the initiatives that sets it apart from other sleepy regional magazines is the editor's obsession with the barbecue of their home state, mostly an all-beef affair with pork and seafood sneaking in here and there.
This obsession jump-started last year when the editors named blogger and author Daniel Vaughn as the publication's first full-time barbecue editor. Hell, he's the country's first full-time barbecue editor. This makes more than a little sense. Texas has a formidable barbecue scene, which we've covered many times at Food Republic. See here, here, here, here. So naming Vaughn as the editor of the state's beyond-official foodstuff is not really a stretch. Today, we came across this barbecue map that basically carves up the country's barbecue scene in half. There's Texas and there's not Texas.
"It's a declaration of supremacy," said Monthly editor Jake Silverstein in an interview. And indeed, the map takes shots — and not just at the hog-centric smoking of the Carolinas. There's Missouri's "ketchup ribs" and the "roasted old sheep" of Kentucky — a reference to the smoked mutton at Old Hickory Bar-B-Q in Owensboro, which we personally found pretty amazing.
You can follow Vaughn and company's barbecue adventures at: tmbbq.com