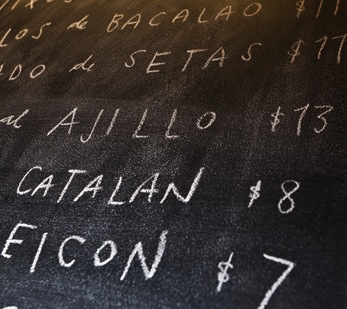 Every Wednesday, Food Republic's column "Would You Like to Hear About Our Specials?" highlights the nightly special dishes offered at popular restaurants from around the country.
This week, we take a look at tonight's specials from some of New York City, Chicago, Los Angeles and Miami's hotspots, with stops in Philadelphia, San Francisco, Seattle, St. Louis and Washington, D.C.
NEW YORK
ARLINGTON CLUB
Adobo Marinated Hanger Steak
Tomatillo, green tomato salsa verde
1032 Lexington Avenue, arlingtonclubny.com
BLUE RIBBON SUSHI IZAKAYA
Hotaruika Sashimi
Firefly squid, miso vinaigrette
187 Orchard Street, blueribbonrestaurants.com
BOQUERIA (Flatiron)
Braised Pork Shank
Winter vegetables
BOQUERIA (SoHo)
Sea Cucumbers
Roasted sunchokes, salsa verde, bacon
53 West 19th Street and 171 Spring Street, boquerianyc.com
BOULUD SUD
Braised Short Rib Ravioli
Celery, walnut, gorgonzola fonduta
20 West 64th Street, bouludsud.com
CASA LEVER
Fish Three Ways
Seared tuna tartare with oven-roasted eggplant, pan-seared red snapper with dried Taggiasca olives, Carabineros shrimp with peperoncino Swiss chard
390 Park Avenue, casalever.com
DBGB KITCHEN AND BAR
Bone Marrow
Smoked beef heart, gooseberry and black truffle jam, country toast
299 Bowery, dbgb.com
PEARL & ASH
Kaffir Lime Donuts
Fresh lime juice gel, dehydrated kaffir lime leaves
220 Bowery, pearlandash.com
SANT AMBROEUS (West Village)
Risotto Ai Frutti Di Mare
Aquerello risotto, mussels, clams, shrimp, sea scallops
Chilean Sea Bass
Potato vellutata, portobello mushrooms, spring onions, broccoli
SANT AMBROEUS (Upper East Side)
Wild Striped Bass
Pan-seared bass, shrimp, baby artichokes, shrimp reduction
259 West 4th Street and 1000 Madison Avenue, santambroeus.com
CHICAGO
AMERICAN CRAFT KITCHEN & BAR
Patty Melt
French fries
151 East Wacker Drive, chicagoregency.hyatt.com
LITTLE GOAT
Chicken Pot Pie
Chicken stew, Rghaif filled with potato and winter squash
820 West Randolph Street, littlegoatchicago.com
OLD TOWN POUR HOUSE
Grilled Cauliflower Steak Sandwich
Red & green apples, brie cheese, curry aioli, wheat bread
Hickory Plank Smoked Salmon
Apple fennel slaw, roasted marble fingerling potatoes
1419 North Wells Street, oldtownpourhouse.com
SOUTH BRANCH
Grilled Atlantic Salmon
Wild mushroom risotto, sautéed green beans, thyme butter sauce
Orange Cinnamon Apple Crisp
Vanilla bean ice cream, candied orange zest, caramel sauce, fried mint
100 South Wacker Drive, southbranchchicago.com
SWEETWATER
Italiano Burger
Angus beef, crispy fried salami, fried mozzarella cheese, arugula, herb marinated tomato, balsamic glaze
Fried Chicken & Red Velvet Waffles
Breaded chicken tenders, honey butter, maple syrup
225 North Michigan Avenue, sweetwatertavernandgrille.com
TERRACE RESTAURANT
Szechuan Chicken
Forbidden rice, stir fry bok choy
521 North Rush Street, conradhotels3.hilton.com
THE BOUNDARY
Blue Cheese Bacon Dip
Mayo, sour cream, green onion
Grilled Mahi Mahi
Pinto bean smoked Andouille sausage ragu, basil
1932 West Division Street, boundarychicago.com
CHARLESTON, SOUTH CAROLINA
BLOSSOM
Pan Roasted Local Golden Tilefish
Johns Island baby carrots, wilted spinach, lump crab, brown butter
171 East Bay Street, magnolias-blossom-cypress.com
CYPRESS
Cajun Boudin
Salt & pepper shrimp, spicy rémoulade
167 East Bay Street, magnolias-blossom-cypress.com
LOS ANGELES
EVELEIGH
Hoggett Chops
Harissa aioli, frilly mustard, salad burnet, Israeli za'atar
8752 Sunset Boulevard, theeveleigh.com
LITTLE DOM'S
Ricotta Ravioli
Herb ricotta, tomato sauce with basil and parmesan
2128 Hillhurst Avenue, littledoms.com
MIAMI
MEAT MARKET
Mixed Grill
Charbroiled ribeye, glazed lobster tail, blackened wood-grilled snapper
38-ounce RR Tomahawk
28-day aged, charbroiled
915 Lincoln Road, meatmarketmiami.com
PHILADELPHIA
PIZZERIA STELLA
Seafood Brodetto
Shrimp, clams, oysters, octopus, scorpion fish, fregula, tomato, green onion pesto
420 South 2nd Street, pizzeriastella.net
SAN FRANCISCO
TBD RESTAURANT
Duck Confit
Chicken Liver Toast
1077 Mission Street, tbdrestaurant.com
SEATTLE
POQUITOS
Pork Belly Sopes
Crispy pork belly, black beans, chorizo, queso fresco, three-chile salsa
Albacore Tuna Tostadas
Chipotle mayo, avocado, crispy shallot, cilantro
1000 East Pike Street, vivapoquitos.com
ST. LOUIS
SCAPE
Pan Roasted Golden Tilefish
Creamy potato risotto, caramelized leek, broccoli rapini nage, sundried tomato pesto
48 Maryland Plaza, scapestl.com
WASHINGTON, D.C.
BOQUERIA
Roasted Pork Belly
Artichokes, day boat squid, smoked paprika vinaigrette
1837 M Street Northwest, boquerianyc.com/dupont
---
Have a nightly restaurant special you want us to feature in a future column? Email george@foodrepublic.com with a dish description for possible inclusion.