Back Forty Brewing Company Has Helped Change The Course Of Craft Beer In Alabama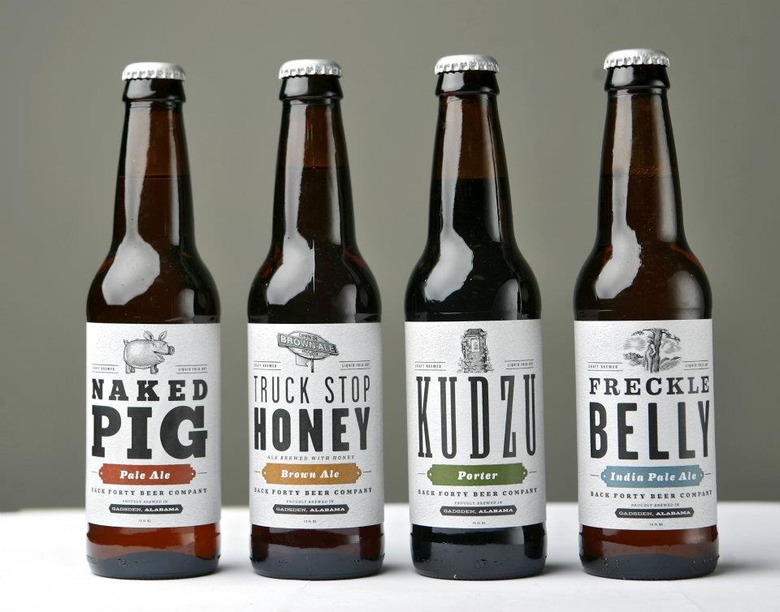 In agricultural parlance, the "back forty" is the plot of land that is the most remote from the rest of the farm. Because it is often overlooked and underused, sometimes this land has the most fertile soil of the entire operation.
When it comes to craft beer, the state of Alabama could certainly be regarded as the back forty of the U.S. Prior to a grassroots "Free the Hops" campaign organized late in the last decade, Alabama's beer laws were basically written specifically to allow low-alcohol, low-flavor beers to dominate the state. The first change was the raising of the maximum alcohol level from 6% to 13.9% ABV in 2009. This high-gravity evolution was followed by what was called the "Gourmet Bottle Law" in 2012.
This regulation finally allowed beer to be sold in containers larger than 16 ounces for the first time, opening the door to craft breweries to bring in their 750-millileter "bomber" bottles, the preferred size for their packaging. Sadly, you still cannot buy a 40 of Schlitz malt liquor in The Yellowhammer State. To boot home brewing was still illegal in Alabama only until last year, certainly stunting the growth of the craft beer industry and the palates of beer enthusiasts.
Since these changes took effect, craft brews have taken off in the state. Over 20 new breweries have opened in the past few years and consumers are clamoring for new experiences like an amorous teenage boy discovering his Camaro has a back seat.
One of the notable new breweries is the aptly named Back Forty Beer Co. Owner Jason Wilson took a trip to visit his family in Crested Butte, CO and fell in love with the craft beer culture. He immersed himself in the brew community and returned to the Coorsmillerwesier wasteland of his home state determined to create something special.
After working with the legislative efforts to change the oppressive anti-competitive beer laws, Wilson was ready to brew up his first product. Unfortunately, he didn't have a brewery yet, so he contracted out the manufacturing to Lazy Magnolia Brewing Co. in Kiln, MS. There he perfected the recipe for his Naked Pig Pale Ale and learned even more about the brewing process.
By 2012, Back Forty was ready to open their own production facility in Gadsden, AL, a backwater town that fits perfectly with the back forty metaphor. Located about an hour northeast of Birmingham, Gadsden was a blue-collar town that had fallen upon hard times after the closing of the biggest factory in the area. The downtown emptied and restaurants closed, so community officials committed themselves to the revitalization of the town. Back Forty acquired a 70-year old 27,000-square foot warehouse and worked hard to convert the space into a working brewery and navigate the morass of alcohol regulations which still slowed their efforts.
The next big obstacle that Back Forty faced was getting their product into bars and stores. After decades of Big Beer domination, bar managers and store owners were quite comfortable with their stacks of cases of pale, watery beers and were unwilling to make waves with the huge distributors by taking on new craft beers to displace the big boys' spots on their taps.
So Back Forty took a novel approach, totally bypassing the front door and bar managers and heading straight to the kitchen. Knowing that the palates of the chefs would better appreciate the nuanced flavors of hops and malt, Back Forty worked with the kitchen to develop beer pairing menus, to incorporate beer into their recipes and to plan beer dinners to educate their customers.
Big time Alabama chefs like Chris Hastings of Hot & Hot Fish Club, Chris Newsom of Ollie Irene, Chris Harrigan of Stones Throw and Nick Pihakis of Jim 'N Nick's Bar-B-Que, all of Birmingham, joined Rob McDaniel from SpringHouse in Alexander City, David Bancroft of Auburn's Acre and Wesley True from True in Montgomery to become early advocates of Back Forty Beer. In fact, the three Chrises and McDaniel featured Back Forty at their "Hot and Hotter Alabama" dinner at the James Beard House last June.
After achieving domination in the white tablecloth restaurants in Alabama, Back Forty is now taking aim at the fine dining establishments of their neighbors down I-20 in Atlanta. They have already expanded their distribution of their five primary brews to Florida and Mississippi with Tennessee and Canada in their plans for a thoughtful expansion. A Kickstarter campaign to raise $15K for a new fermenter to aid their growth was fully funded late last year, so their capacity should continue to increase.
See what happens when you invest your time and effort into the back forty?
Read these beer stories on Food Republic: