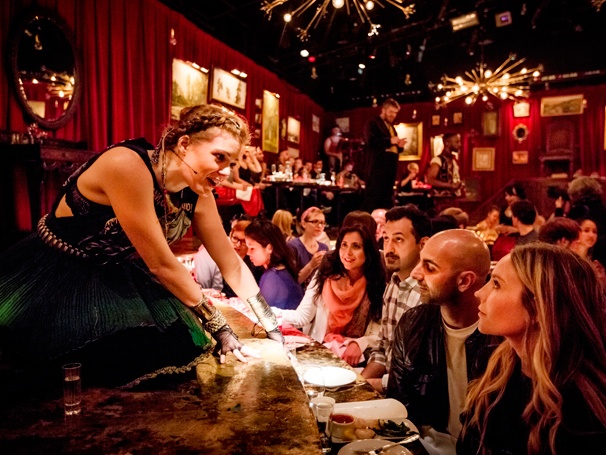 The experience starts with a veiled topless woman stalking the room and ends with lithe young nymphs spoon feeding you a delectable chocolate-hazelnut dacquoise cake. In between, Queen of the Night, at the restored Diamond Horseshoe Club in New York City's theater district, takes the audience through a whirlwind of acrobatics, dance and sad-clown comic relief in a performance very loosely based on Mozart's Magic Flute.
Before you even sit down to the show, it's begun. The bar, done up like Dr. Who's lab on pixie dust, serves up signature cocktails in whimsical glasses. Waiters who double as dancers circulate canapés of foie gras gougères and deviled eggs with crispy chicken skin. And don't be surprised if someone takes you by the hand, leads you to a secluded back room and performs a seductive dance for you before drawing a 'Q' on your hand and flouncing off.
Queen of the Night is the latest in a series of immersive theater experiences that are popping up in several cities around the country. What these shows have in common, other than audience participation in some form or another, is the featuring of food and/or drink as part of the experience. In addition to cocktails and canapés at Queen of the Night, the audience is treated to a full meal, including a choice of suckling pig, melting-off-the-bone whole smoked short rib complete with roasted marrow bones, or steamed Maine lobster served with beurre monté and traditional red potato and corn-on-the-cob fixings. The table then gets stripped so that a pair of dancers can use it as a stage.
Here are five other theater performances around the country where you can eat, drink and be part of the show.
1. Sleep No More, NYC (ongoing)
If you haven't yet seen this play-slash-dance performance-slash-kinky haunted house spread over five floors of the McKittrick Hotel in New York, then you're missing out on an important point of reference for every other immersive theater experience out there. The immersion trend started in London with the Punchdrunk theater group. The New York installation of its vaguely Macbeth-themed Sleep No More starts with absinthe cocktails in the Manderley Bar. The once-empty sixth floor of the venue now houses The Heath, a restaurant that opened late last year and carries the eerie magic of the show into the dining room. The pre-show menu includes mini pork pies and bread and butter pudding for dessert. The staff is in character and you're welcome to be, as well.
2. Natasha, Pierre and the Great Comet of 1812, NYC (through March 2)
Tolstoy's War and Peace is probably not a book you'd expect to be adapted into a musical. But the red velvet-draped salon and plates of Ukrainian vareniki (potato and sweet potato-stuffed pirogies) make it work. The atmosphere here is true dinner theater, with glasses of bubbly served as you watch. Or carafes of vodka, if you prefer to go all the way with the theme.
3. Vegas Nocturne, Las Vegas (Thursday through Sunday, ongoing)
When this show at Rose. Rabbit. Lie., the new venue at The Cosmopolitan of Las Vegas, opened in January, the media scrambled to describe it, billing it a nightclub, restaurant, cocktail bar, burlesque show, performance art, nouveau circus, dinner theater and all-around kink fest. The menu, like the bawdy humor, is served with a wink: vintage dishes like Lobster Newburg, Oysters Rockefeller, classic cocktails, each with a modern twist. For dessert, there's a $35 black truffle ice cream sundae. Indulge in these delights while surrounded by a cast of characters that might include a contortionist, magician, pair of acrobats or fire-breathing burlesque dancer. And Neil Patrick Harris, who has been spotted at more than one of the shows on this list.
4. The Strange Undoing of Prudencia Hart, Santa Monica, CA (through February 8)
The National Theatre of Scotland has relocated temporarily to Santa Monica for this folk music-filled play set in a Scottish pub. The beauty of it is that, as a spectator, you get to sit in the pub along with the characters and watch Prudencia become undone while you sip on a beer and snack on some beer nuts. The main character must face the devil. You need only face the music: a ballad about ballads.
5. The Speakeasy, San Francisco, CA (through April 19)
A text comes through disclosing the secret location in San Francisco's Tenderloin district and you're on your way. Once arrived, you get the full speakeasy experience, including a deceptive storefront entrance, secret password requests, cabaret performances and casino games. Plus, of course, old-timey cocktails. The audience meanders from room to room where scenes are being played out by a cast of chorus girls, bouncers, gamblers, bootleggers and other colorful characters. Just like you were in a real speakeasy.
Take a look at these art stories on Food Republic: