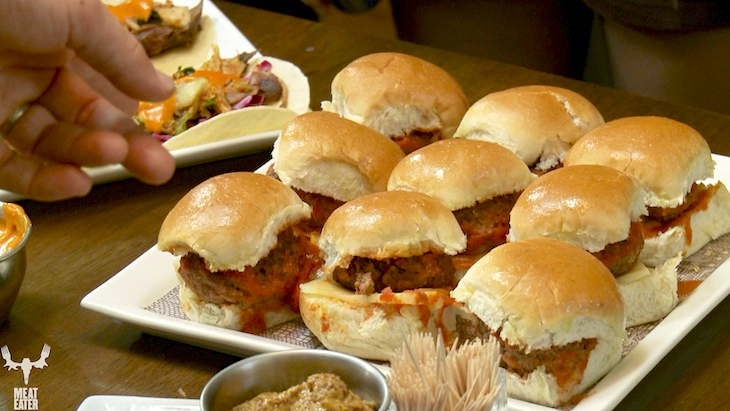 Just because Steven Rinella took down a Dall sheep, holy grail of any wild game hunter, and made meatballs out of it doesn't mean you have to. You can use the meat from that moose or buffalo you shot. But the unique flavor of game meat mixed with the old standby of pork fat makes for some seriously delicious party food, and there's an important football game right around the corner. Check out the Meat Eater's how-to video, and try your hand at whipping up these wild sliders for your next crowd.
MeatEater Meatball Sliders Recipe

serves 6-8 as an appetizer
2 pounds ground Dall sheep (or venison, elk, buffalo — really any lean game meat)
1/3 pound pork fat
10 cloves garlic
1 cup breadcrumbs
1 dozen slider buns or small dinner rolls
1/2 pound provolone cheese, sliced thinly
2 eggs, beaten
32 ounces crushed tomatoes
salt and pepper
oil
Grind your meat and fat together and mix into burger form. This is a meat-to-fat ratio for a fairly lean burger; you can also use whatever burger mix you like. For this recipe I like to grind garlic right into my meat mixture. Mix eggs and bread crumbs into mixture.
Make ¼ lb patties from your burger and shape them into big, thick, half-burger/half-meatball-looking monsters.
Salt and pepper them liberally and brown them in oil in batches. When all are browned, put them all back in the pan and cover the whole lot with crushed tomatoes. Let these simmer and bubble on low until they are cooked through.
In the meantime, cut your buns and place them on a cookie sheet.
Cover with sliced provolone and toast in the oven until cheese is melted and buns are toasted.
Put a ball on each bun and add another scoop of tomato sauce.
More videos on Food Republic: