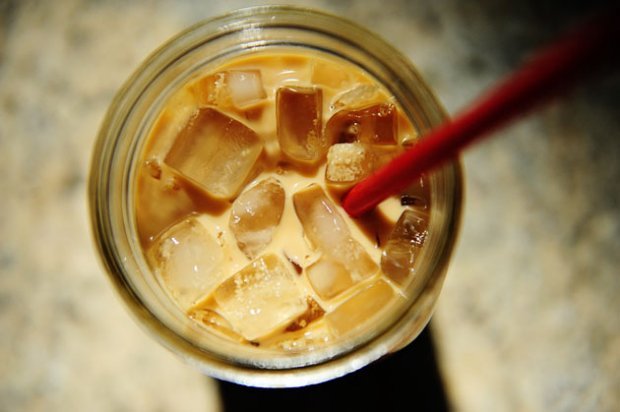 A new year brings a new set of hot coffee luminaries. We've been scouring the country and beyond for the tastemakers and trailblazers in the field of coffee brewing, roasting, marketing and technology. Find out who is on our radar, from microroasters of the moment to badass baristas to those who grow the precious cherries that will eventually become your morning pour over. Behold, the Food Republic Coffee Power Rankings (early 2014 edition):
10. Khristian Bombeck | Steampunk
The first Steampunk was unveiled last year and the Salt Lake City company, headed up by Khristian Bombeck, is already working on the second edition — called 2.1 — which will be unveiled later this year. The idea is to reverse the attitude that the better the coffee we drink, the longer we all have to wait to drink it. With beans ground and brewed to order using low-tech equipment like pour overs and siphons, a coffee break can be quite the time commitment. This semi-automated machine acts like a siphon or vacuum pot, but is programmable, eliminating the long waits and brewing inconsistencies associated with infusion-style brewing.
9. Tony Konecny | Tonx
That Starbucks gift card you got over the holidays that's been rotting in your wallet? Cash it in. Not for a Grande Caramel Flan Latte, but for craft-roasted beans from Tonx delivered to your door. This past year, one in 10 Americans received Starbucks gift cards. To counter the madness, Tony Konecny and his Tonx team started offering "Better Bucks" in exchange for the cards: a dollar-for-dollar credit to use towards a Tonx coffee subscription. Subscribers get a 12-ounce bag of beans every two weeks for $38, shipping included.
8. Abigail Forsyth | KeepCup
All this great coffee is great and all. But it sure translates into a ton (well tons and tons) of waste. Abigail Forsyth is behind the Melbourne-based company that invented the KeepCup, a reusable coffee cup with an eye to reducing coffee drinkers' carbon footprints. In Australia, the KeepCup spawned a trend: Aussies started carrying their KeepCups with them to refill at will and Australian coffee shops obliged. Now that the company has manufacturing facilities in the U.K. and Los Angeles, the word is spreading without spreading increased emissions from shipping materials.
7. Dawn Shanks & Christy Pelton | The D.C. Disloyalty Program
Starbucks is not only raking it in on its gift cards. It also benefits from its loyalty card program. A microtrend bucking these ubiquitous cards involves indie coffee bars banding together to offer a "disloyalty card." Instead of encouraging repeat visits to one establishment, they incent people to visit multiple coffee shops. The latest city to get in on the trend is Washington D.C., thanks to local baristas Dawn Shanks and Christy Pelton, who with half a dozen local cafés created the D.C. Disloyalty Program. Patronize all six to earn your free coffee reward.
6. Connie Blumhardt | Roast Magazine
This bi-monthly magazine is pretty damn flashy for a trade magazine. Founder and publisher Connie Blumhardt has worked in the coffee industry for more than a decade and in publishing even longer. She launched Roast in 2004 to cater to the growing specialty coffee industry. But where most trade rags are flat and boring, Roast is filled with great photography and good writing. Ten years later, it's still as inviting to coffee geeks as it is to buyers and shop owners.
5. Benjamin Paz | Beneficio San Vicente
This coffee grower in Honduras is yet another of the next-generation farmers who not only get their hands dirty on the farm, but also rub elbows with on-the-pulse baristas during visits to the U.S. His family has been growing beans since his grandfather's day, but built its own mill in 2000. Since then, it has provided support and advice to the handful of surrounding farms, which have won the Cup of Excellence a total of five times. Paz now has his own farm, although it's not yet productive. But the expectations for it are high. In the meantime, you can buy Beneficio San Vicente coffee at craft roasters around the country.
4. Corey Waldron | Modbar
The best part of the Modbar modular brewing system, that has coffee geeks around the country drooling, is what you don't see. From where the customer stands, all that's visible are the espresso, steam and pour-over taps. Everything else is under the counter. The idea, according to creator Corey Waldron, is to open up the space between barista and customer, and, in turn, the conversation. Nerds will love the Kelvin temperature display. But everyone can feel good about how fast it reaches operating temperature: five minutes (some machines take so long to heat up, they're left on 24/7 – not so eco-friendly).
3. Counter Culture Coffee
Is there any part of coffee culture Counter Culture isn't involved in? J. Park Brannen is the roaster's latest staffer to place in the Regional Barista Competition, winning for the Northeast and moving on to nationals in Seattle this April. And late last year, the company introduced its sleek new New York training center, complete with Modbar (see #4), custom water-filtration system, a composting program and even bike storage. Perhaps most exciting is all the research the company does, like its microlot research project, which involved collecting data from more than 120 producers and analyzing how different microlots are cared for, and a recently released a modified Taster's Flavor Wheel to help cuppers better express a coffee's character.
2. Doug Zell | Founder and CEO of Intelligentsia
The Chicago-based coffee company started with a single coffee shop and in-house roaster. It now has a handful of locations around Chicago and Los Angeles, as well as an outpost in New York, and its beans are available throughout the U.S. and Canada. Doug Zell and his team are known for pioneering the direct-trade model and have just unveiled the Café Inmaculada collection, made up of three über-rare coffee varieties. The Sudan Rume, Laurina and Maragesha cultivars will be sold in 50-gram bags as a package for $50. Pre-order yours now; the coffees will be roasted and shipped on February 7.
1. Todd Carmichael | La Colombe Torréfaction
The outspoken co-founder of this Philadelphia-based roaster is more than just a purist and a peddler of meticulously sourced beans. He's also a reality TV star – his extreme-coffee Travel Channel show Dangerous Grounds features him traveling the world looking for that perfect cup – and an award-winning barista, to boot. That's right: the coffee bigwig laid it all down on the line when he entered the Northeast Brewer's Cup earlier this year, competing against eager young go-getters for the chance to go to the U.S. championships in Seattle in April. To everyone's surprise, he won.