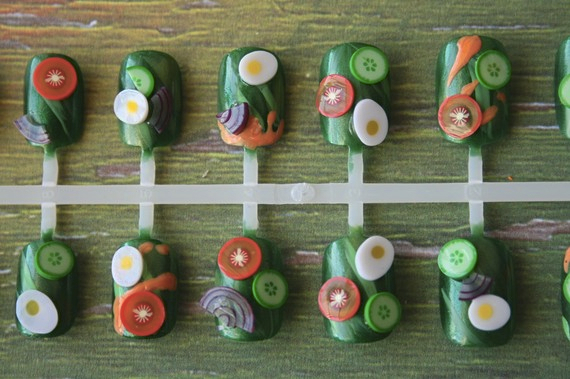 Saturday night I had five IPAs in quick succession, a full giant steak dinner, then most of a platter of chili cheese fries at some godforsaken bar at 1 a.m. In the morning, huevos rancheros. Last night, fried chicken. What is my problem? I'm tired of being cold and snowed-upon and I have zero inspiration to even piggyback onto George's midday Sweetgreen run, where the rare and elusive "really good salad" is guaranteed.
Cue falling down the Etsy rabbit hole because that's what you do on a fat Sunday after a fat weekend, possibly while watching Adventure Time. I found this crazy nail artist making ridiculous press-on nails, and while press-on nails and recipe editors kind of have conflicting philosophies, nails with sushi rolls on them. But about the ones I ended up buying:
"These funky press-on nails are made up of 3 colors of green, with random splashes of Russian dressing, hard-boiled eggs, cucumbers, onion and tomatoes. So fun! I could also change the dressing to Ranch, raspberry vinagrette, etc. or make these on a larger/longer nail if you prefer."
Dude, make me 3-inchers! I'll wear them to the James Beard Awards. Can you do a truffled remoulade? Can you make me Niçoise nails!
My salad enthusiasm back from the dead, I recommend the following lunch-decorated press-on nails.
And if you encounter a crouton you don't remember adding…well, that's why recipe editors don't necessarily wear press-on nails. Except this time.
More vegetables for lunch on Food Republic: